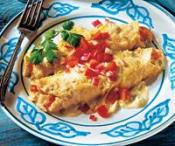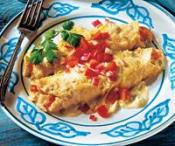 Quick Seafood Enchiladas
Ingredients
1 pound cooked shrimp – peeled, deveined and chopped
1 (4 ounce) package cream cheese, softened
2 cloves garlic, minced
2 teaspoons chopped fresh cilantro
2 teaspoons lime juice
1 (10 ounce) can green chile enchilada sauce
6 (8 inch) flour tortillas
Directions
Preheat oven to 350 degrees F (175 degrees C).
Stir shrimp, cream cheese, garlic, cilantro, and lime juice in a skillet over medium heat until cream cheese is smooth and shrimp are heated through, 5 to 7 minutes.
Divide shrimp mixture evenly onto each tortilla. Roll tortilla tightly around the filling to form an enchilada. Arrange enchiladas seam sides down in baking dish.
Pour enchilada sauce over tortillas.
Bake in preheated oven until bubbly, about 20 minutes.