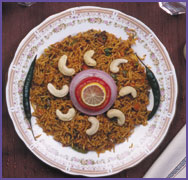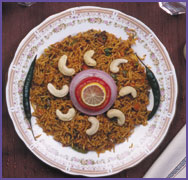 Ingredients :
¼ tsp fenugreek seeds
¼ sesame seeds
½ tsp jeera
4-5 green chilli as per taste
1 tsp tamarind paste
Salt to taste
1 tsp jaggery
1 cup basmati rice
2 tbsp freshly grated coconut
Coriander leaves
for the seasoning :
3 tbsp oil
1 tsp mustard
1 pinch asafoetida
1 pinch turmeric
1 tbsp groundnut
1 tbsp bengal gram
1 tsp urad dal
Curry leaves
Method :
Dry Roast Fenugreek, sesame, jeera and green chilli and make a paste. Keep it aside.
Boil tamarind paste, turmeric, salt and jaggery in 1 cup water till it becomes a thick paste.
Heat oil and add mustard seeds.
Add curry leaves and asafoetida and rest of the seasoning ingredients subsequently.
Mix cooked basmati rice with the above pastes and seasoning uniformly.
Add grated coconut and coriander for garnishing.