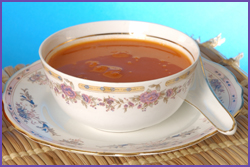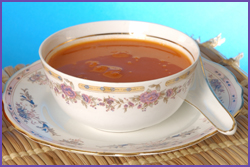 Ingredients :
500 gms red pumpkin
1 small potato
2 flakes of garlic chopped
1 medium onion chopped
1 tbsp butter
¾ cup low fat milk
A pinch of ground nutmeg
Freshly ground black pepper
Chopped coriander leaves for garnishing
Salt to taste
Method :
Wash and remove the skin and the seeds from the pumpkin, and cut it into cubes.
Peel the potato and cut into small pieces and cook it with the pumpkin in a pan by adding water.
When the pumpkin and potato are very tenderdone off the burner.
Heat butter in another pan and add garlic. Fry this for few seconds.
Now add onions and fry till light brown in colour.
Next add cooked pumpkin and potatoes and stir for 2 minutes.
When the mixture is cool grind it into a smooth paste.
Transfer the paste back into the pan, add water and milk.
To this add salt pepper and nutmeg and give it a boil.
garnish it with chopped coriander leaves.