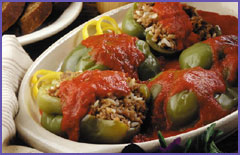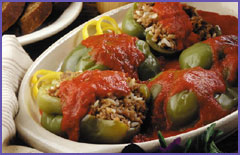 Ingredients :
¾ tsp pepper
3 tsp urad dal
1 tsp toovar dal
2 red chillies
3 tsp iImli paste
a few curry leaves
a small pinch hing
1 tsp salt to taste
¼ tsp haldi
Mantha-kalika seeds (optional)
½ tsp rice flour
2 tsp cooking oil
1 tsp ghee
Method :
Fry pepper, urad dal, toovar dal, red chillies, hing and curry leaves in oil and finely grind them.
Boil 3 cups of water and add imli paste, salt and haldi to this.
After boiling, put the above ground masala and cook for 10 minutes until the flavour comes out.
Combine rice flour in little water and add this to the sambhar.
Heat some ghee, splutter mustard, mantha-kalika seeds, then add curry
leaves, and add this to the sambhar.