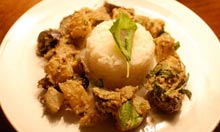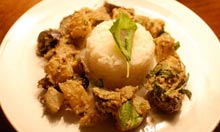 Ingredients :
Grind coarsely
1/2″ piece Ginger
5-6 Big Green Chillies
6-8 Small Red Onions
1 tbsp Red Chilli Powder
Turmeric – a pinch
3/4 tsp Corriander Powder
Other Masalas :
Curry Leaves
Salt to taste
Dried Mango Powder or tomato puree
1/2 Coconut Milk
Method :
Marinate fish in the ground masala for 10 minutes.
Remove coconut 1st milk and keep aside.
Cook the fish with the masala in 2nd or 3rd coconut milk.
When cooked, add 1st milk and boil on full flame for 2-3 minutes.
For Seasoning
Slice small red onions and fry in a little oil.
Pour over fish curry.