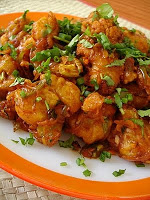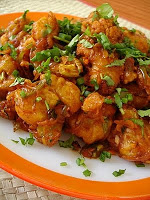 Ingredients :
1 small Cauliflower, cut into flowerets
2 tbsp garlic paste
2 tbsp ginger paste
2 tsp red chilli powder
½ tsp turmeric powder
2 tbsp green chilli paste
½ bunch coriander leaves, finely chopped
A pinch of saffron, dissolved in milk
2 to 3 green onions, chopped finely
1½ tsp garlic, chopped
2 tsp soya sauce
1½ tbsp of cornflour , dissolved in water
1 tbsp chapati atta(wheat flour)
½ cup rice flour
½ tsp baking powder
½ cup cornflour
juice of ½ lemon
salt to taste
oil for deep frying
2 tbsp oil for sauce
Method :
In a large bowl, mix the chapati atta , rice flour, ½ cup cornflour, baking powder, salt, soy sauce, 1 tbsp garlic/ginger paste, 1 tsp chilli
powder, turmeric powder and 1 tbsp green chilli paste.
Combine well with water, till you get the consistency of thin batter.
Dip the cauliflower flowerets in this batter and deep fry in oil, drain and set aside.
In an open pan, put some oil and when it smokes add the remaining garlic and ginger paste.
The minute it starts turning brown, add the chopped onions and fry only till they start becoming translucent.
Now add the chopped garlic and green chilli paste and fry for a minute.
Add the soy souce and stir for a minute.
Bring down the heat and then add the cornflour-water paste and the red coloring.
The mixture will start to thicken keep on stirring on low heat and when the mixture turns thick enough, add the chopped corainder
leaves and stir for 20 seconds.
The leaves should not lose their color.
Take this mixture from the heat and pour it onto the fried cauliflower.
If you desire, you can add the cauliflower when the mixture is in the pan itself in the last stage.
But this will turn the cauliflower soggy.
It all depends on how you like to eat the Cauliflower Manchurian soft or crispy.