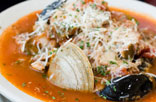 Ingredients: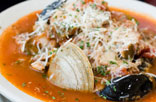 1 pint fresh Alaska Oysters
1/4 cup Butter
1 quart Milk
1/2 cup Celery, thinly sliced
1/2 cup Onion, chopped
1 cup Potato, diced
1 ½ tsp Salt
1/8 tsp Pepper
1/2 tsp Paprika
Method :
Drain oysters reserving liquor. Chop oysters into bite-size pieces. Boil diced potatoes until almost done. Sauté celery and onions until
tender and translucent. Sauté oysters and liquor in butter for about 2 to 3 minutes until edges curl. In a large pot, add the sautéed
oysters including the butter and liquor. Add the milk, sautéed onions and celery, potatoes, and salt & pepper. Heat thoroughly but do not
boil. Serve in large bowls with thick slices of homemade bread. Garnish each bowl with a then slice of butter in the middle and pinch of
paprika on top. Makes 6 delicious bowls.