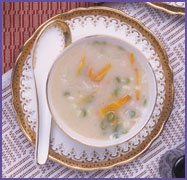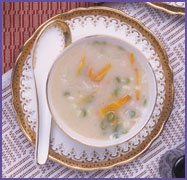 Ingredients :
4 cups vegetable broth
2 tbsp soya sauce
½ tsp salt
½ tsp white pepper
½ cup corn
1 cup shredded cabbage
2 tbsp lemon juice
2 tbsp cornstarch
¼ cup water
1 tsp oil
Method :
Mix vegetable broth, soya sauce and seasonings in a saucepan.
Keep it to boil and add vegetables. Cover and simmer for 15 minutes.
Put lemon juice, and cook uncovered for 5 minutes.
Mix together cornstarch and water. Stir the paste into the soup, and continue to cook until the soup becomes slightly thicker, for about 3
minutes.
Mix in oil and serve hot.