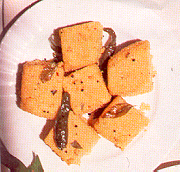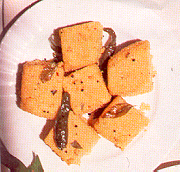 Ingredients:
Chana dal 250 gms
Urad dal 80 gms
Ginger 10 gms
Rai 1 teaspoon
Sugar 1/2 teaspoon
Curry leaves 5 or 6 leaves
Soda 1 teaspoon
Asfoetida 2 gms
Turmeric powder 1/2 teaspoon
Curd 250 gms
Lemon juice 3 teaspoons
Oil 1 tablespoon
Method :
Soak both the dals overnight.
Grind the dals with curd, sugar, salt, ginger, and asfoetida and green chillies.
Add the rest of the ingredients except the lemon juice and soda and leave for about 12 hours.
Then add the lemon juice and soda and steam on power 48 for 9 minutes and allow it to stand for 5 minutes.
In another dish take the oil, rai, curry leaves, and cook covered on high for 1 minute.
Add this to the steamed dhoklas and serve with chopped coriander.