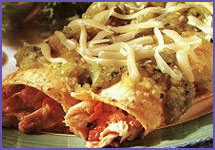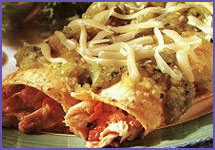 Ingredients :
For the dough :
1 teacup maize flour (makai-ka-atta)
¾ teacup maida
3 tsp oil
¾ tsp salt
oil for deep frying
For the stuffing :
250 gms (9 oz.) panner, finely chopped
1 onion, chopped
2 green chillies, chopped
salt to taste
For baking :
6 tbsp grated cooking cheese
For the hot sauce :
1 kg. (2¼ lb.) red tomatoes
6 red dry chillies
1 onion, chopped
¼ tsp ajwain
3 tsp sugar
2 tbsp oil
salt to taste
Method :
For the dough :
ombine the flours. Put the oil and salt to make a soft dough by using enough water.
For the stuffing :
Combine all the ingredients together.
For the hot sauce :
Soak the chillies in ½ teacup of water for 15 minutes.
Heat the oil in a vessel and sauté the onions for some time.
Put the tomatoes and the chillies (with the water) and cook till the tomatoes becomes soft.
Blend the mixture in a liquidiser and strain the sauce.
Put the ajwain, sugar and salt and boil for 10 minutes.
How to proceed :
Roll out the dough into thin rounds about 100 mm. (4″) in diameter with the help of maida.
Prick lightly with a fork. Deep fry in oil very lightly.
Dip immediately into the hot sauce, fill with a little stuffing and place on a well greased baking dish.
Pour the remaining hot sauce and sprinkle the cheese over it.
Bake in a hot oven at 450ºF for 20 minutes.
Ready to serve hot.