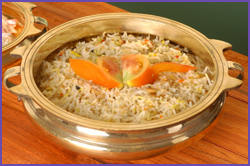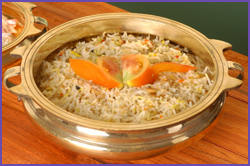 Ingredients :
1 cup basmati rice
2 cups water
¼ tsp saffron threads
1 cinnamon stick
5 cloves
½ cup maple sugar
1 tsp crushed cardamom seeds
3 tbsp silvered almonds
3 tbsp raisins
Method :
Boil water in a big saucepan.
Soak the saffron threads in 2 tbsp of boiling water.
Put the rice, cinnamon stick, cloves and salt in the remaining water. Allow it to boil.
Reduce the heat to the low flame, cover and simmer until rice becomes tender and all the water is absorbed.
Remove from heat and allow it to set for at least 5 to 10 minutes.
Mix the saffron, sugar and cardamom in a saucepan.
Heat on medium flame until the sugar gets dissolve.
Lower the heat and boil for a minute.
Pour this syrup over rice and cover again.
Heat the ghee and sauté almonds and raisins till almonds becomes golden brown and raisins swell.
Pour the almonds, raisins and ghee over hot rice and gently fluff with a fork to mix.
Ready to serve.