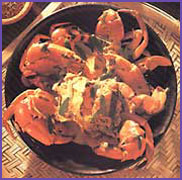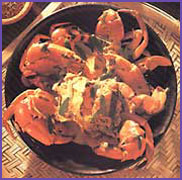 Ingredients :
1½ cups long grain rice
155g can crab meat
2 tbsp oil
1 onion, grated
2 eggs
6 spring onion, chopped
1 tbsp soy sauce
Method :
Add rice to large pan of boiling water, boil, uncovered, 12 minutes; drain.
Spread rice evenly over large shallow tray, refrigerate until cold.
Drain crab, remove any fibrous tissue; flake crab.
Heat oil in work or pan, add onion stir-fry until softened.
Beat eggs, pour into work over onion, stir lightly, cook until set.
Remove from work, cut omelette into large strips and sauce, mix lightly; cook further minute.