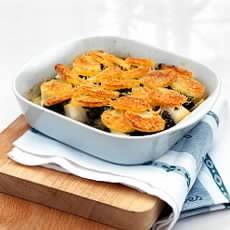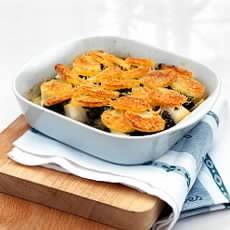 Ingredients:
1 lb (450 g) cod fillet, skinned
1 lb 4 oz (570 g) Desirée or King Edward potatoes
1 tablespoon olive oil
1 heaped tablespoon finely grated Parmesan (Parmigiano Reggiano)
salt and freshly milled black pepper
For the salsa verde:
1 clove garlic, peeled
1 level teaspoon Maldon sea salt
2 anchovy fillets, drained and chopped
1 level teaspoon wholegrain mustard
1 level tablespoon salted capers, rinsed, drained and roughly chopped
1 heaped tablespoon finely chopped fresh basil
1 heaped tablespoon finely chopped fresh parsley
2 tablespoons olive oil
11/2 tablespoons lemon juice
freshly milled black pepper

You will also need an ovenproof baking dish measuring 71/2 inches (19 cm) square and 2 inches (5 cm) deep, lightly buttered.
Method :
To begin this recipe you need to set to work preparing the salsa verde ingredients and have them lined up ready.
Now crush the garlic with the salt using a pestle and mortar and, when it becomes a purée, simply add all the prepared ingredients and
whisk well to blend them thoroughly.
Now turn the oven on at gas mark 6, 400°F (200°C).
Next prepare the potatoes: put the kettle on, then peel and chop the potatoes into 1/4 inch (5 mm) slices.
Place them in a shallow saucepan, then add salt and just enough boiling water to barely cover them.
Simmer, with a lid, for 7-8 minutes – they need to be almost cooked but not quite – then drain off the water and cover them with a cloth
2-3 minutes to absorb the steam.
Now arrange half the potatoes over the base of the baking dish and season well, wipe the fish with kitchen paper, cut it into 11/2 inch
(4 cm) chunks and arrange it over the potatoes, seasoning again. Next spoon the salsa verde all over and arrange the rest of the potato
slices over, overlapping them slightly.
Then brush them lightly with the olive oil, season once more and sprinkle the cheese over.
Now
bake the whole lot on a high shelf of the oven for about 30 minutes, by which time the fish will be cooked and the potatoes golden
brown.