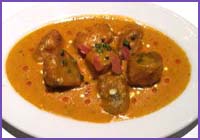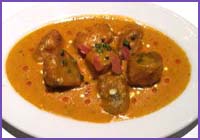 Ingredients :
2 to 3 washed plantain, peeled and diced
½ tsp cumin seeds
¼ cup grated coconut
2-3 red chillies
½ tsp urad dal
¼ tsp mustard
a small pinch hing
¼ tsp turmeric
a few curry leaves
3 tsp cooking oil
½ tsp salt
Method :
Boil plantains with turmeric and salt.
Wet grind cumin seeds, coconut and red chillies and keep aside.
Heat 3 tsp of oil in a pan and put mustard.
When they crackle, then add hing, urad dal, curry leaves, turmeric, and the diced plantain.
Sprinkle water and allow it to cook for 5 minutes.
Now, put the ground masala, and allow it to cook for another 5 to 10 minutes.