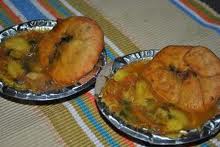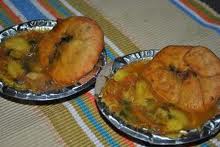 Ingredients
1/2 kg Potatoes
1 fresh grated coconut
2-3 nos. Green chillies
100 grams Arrowroot
1 teaspoon Cardamom seeds
1-2 tablespoons Lemon juice
1-2 teaspoons Sugar
As per requirement Salt
How to make aloo kachori:
Boil the potatoes and mash them.
Add 50 gms arrowroot to the mashed potatoes and knead into firm dough. (This is used for outer covering of the Kachori. )
Mix up the grated coconut with crushed green chillies, sugar, lemon, cardamom and salt to make the filling mixture.
Take a small portion of the dough and press it between palms to make a small puri, stuff with coconut mixture and form into a ball.
Repeat for the rest.
Roll the balls in the remaining arrowroot and deep fry in hot oil till golden brown in colour. Serve hot with chutney