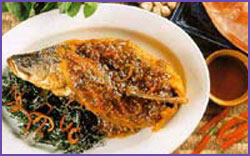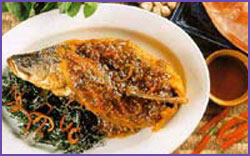 Ingredients :
2 whole fish
1/2 tsp salt
1 tbsp lemon juice
Corriander leaves for garnishing
For Stuffing :
1 onion, chopped finely
1 sprig spring onion, chopped finely
3 green chillies, chopped finely
1/2 tsp ginger paste
1/2 tsp garlic paste
1/4 cup boiled peas
1/4 cup boiled french beans
1/2 cup cooked minced meat
1/2 cup chopped mushrooms
2 tbsp chopped corriander leaves
1/2 tbsp lemon juice
1 tbsp butter
Salt as per taste
For Sauce :
1/2 cup sour cream
Salt as per taste
1/2 tsp white pepper powder
Method :
Clean the fish, remove the scales and fish. Slit the fish lengthwise.
Marinate the fish with salt and lemon juice for ½ hour.
Heat butter in a pan. Fry onion till transparent.
Simmer green chillies, garlic and ginger for 2 mins.
Add vegetables, mushrooms and meat. Cook for 5 minutes.
Add mushrooms and salt. Cook for 2-3 minutes.
Add lemon juice and corriander leaves. Mix it well.
Remove from fire. Stuff the fish with the above stuffing mixture.
Butter the baking fish. Place the fish. Spread little butter on the top of fish.
Bake at 350 degree F for 45 mins. Mix the mixture for sauce.
After the fish is cooked, pour the sauce over it.
Let it bake for another 5 mins. Remove the fish into serving dish.
Garnish with chopped coriander leaves