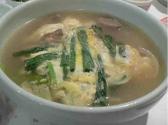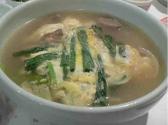 Ingredients:
1/4 lb. pork
5 c. water
16 oz. can abalone, sliced
4 – 6 oyster mushrooms, sliced
1 tsp. soy sauce
1 lb. Chinese cabbage, chopped into 1 1/2 inch pieces
Directions:
Boil pork, including bones, in water for about 20 minutes.
Remove bones.
Add abalone plus liquid, oyster mushrooms, and soy sauce. Bring to boil.
Add Chinese cabbage stems and abalone to soup, simmer for 5 minutes.
Add tops and continue cooking until tender. Serve hot.