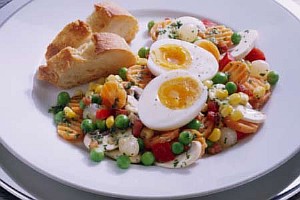 This article was last updated on April 16, 2022
Canada:

Oye! Times readers Get FREE $30 to spend on Amazon, Walmart…
USA:

Oye! Times readers Get FREE $30 to spend on Amazon, Walmart…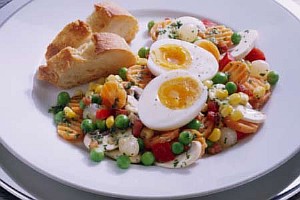 It's time for a new slim-down funda: Eat more to weigh less. Eating the right foods help you shed weight by increasing your calorie burn and cutting down food cravings.
1. Steak : Contrary to popular perception, eating a beef stake may help you drop weight. In a study published in The American Journal of Clinical Nutrition, women on a diet that included red meat lost more weight than those eating equal calories but little beef. The protein in steak helps you retain muscle mass during weight loss.
2. Eggs : Dig in to eggs, yolks and all: Eggs do not harm your heart, they can help you trim inches. Women on a low-calorie diet who ate an egg with toast and jelly each morning lost twice as much weight as those who had a bagel breakfast with the same number of calories but no eggs, a study from Louisiana State University in Baton Rouge reports. Egg protein is filling, so you eat less later in the day.
3. Oats : "Oatmeal has the highest satiety ranking of any food," Grotto says. Unlike many other carbohydrates, oats—even the instant kind—digest slowly, so they have little impact on your blood sugar."
4. Lentils : Lentils are a great tummy flattener. "They're high in protein and soluble fibre, two nutrients that stabilise blood sugar levels," says Tanya Zuckerbrot, R.D., author of The F-Factor Diet (Putnam Adult). Eating them helps prevent insulin spikes that cause your body to create excess fat, especially in the abdominal area."
5. Apples : An apple a day can keep weight gain at bay, finds a study from Penn State University at University Park. People who chomped an apple before a pasta meal ate fewer calories overall than those who had a different snack. Apples are high in fibre—4 to 5 grams each—which makes them filling. Plus, the antioxidants in apples may help prevent metabolic syndrome, a condition marked by excess belly fat or an "apple shape."
6. Chiles : A great reason to spice up your meals: You'll increase your metabolism. A compound in chiles called capsaicin has a thermogenic effect, meaning it causes the body to burn extra calories for 20 minutes after you eat the chiles. Plus, "you can't gulp down spicy food. Eating slowly gives your brain time to register that your stomach is full, so you won't overeat.
7. Yogurt : Dietitians often refer to plain yogurt as the perfect food. With its trifecta of carbs, protein and fat, it can stave off hunger by keeping blood sugar levels steady. In a study from the University of Tennessee, people on a low-calorie diet that included yogurt lost 61 per cent more fat overall and 81 per cent more belly fat than those on a similar plan but without yogurt.
8. Parmesan : Women who had one serving of whole milk or cheese daily were less likely to gain weight over time, a study in The American Journal of Clinical Nutrition finds. Lowfat-dairy fans didn't experience the same benefit. Whole dairy may have more conjugated linoleic acid, which might help your body burn fat.
9. Avocado : Don't let the fat content of an avocado (29 grams) scare you—that's what makes it a top weight loss food. The heart-healthy monounsaturated fat it contains increases satiety.
10. Olive oil : Like avocados, olive oil has healthy fat that increases satiety, taming your appetite. But that's hardly its only slimming feature. Research shows it has anti-inflammatory properties.
You can publish this article on your website as long as you provide a link back to this page.