We often run into products that not only have to be seen, but must be put to the test to be believed. For our series Tried and True, we suss out trending goods & services, and take them for an honest-to-goodness spin IRL to find out if they're up to snuff.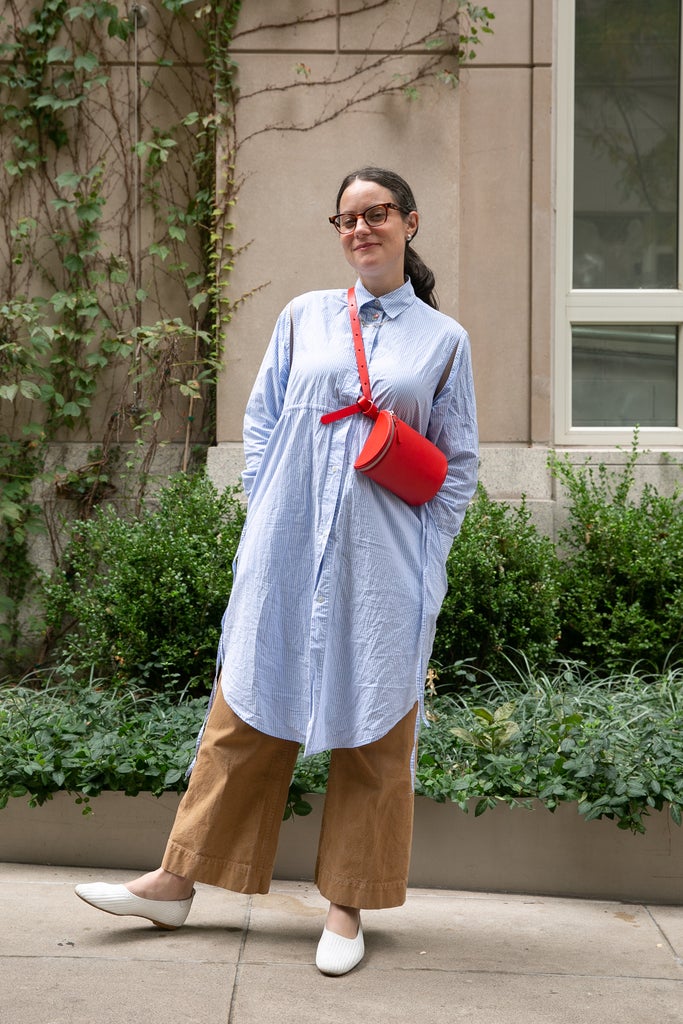 Have you noticed that, in the past few years, a certain type of shoe has become pretty ubiquitous among office types? Flat and foot-hugging, they're available in a rainbow of shades and often woven from a mysterious fabric upper. Turned out by direct-to-consumer startups like Everlane, Allbirds, and Rothy's, their bells and whistles run the gamut from eco-friendly fabrication, indestructibility, portability, blister-free comfort, and washability.
Efforts to bucket shoes like this are sometimes challenging because they're not all totally identical — some are fabric, some are leather, and price points are all over the map. They do all seem to promise the same thing: supreme comfort and ease of use paired with a minimal design suitable for a multitude of occasions. We wanted to acquaint ourselves with the pros and cons of each style, so we rounded up five pairs that we felt checked all the boxes of what we're calling the "technical commuter flat" — Allbirds' Tree Breezers, Everlane's Day Glove in the ReKnit fabric, Rothy's Point style, Skechers' Cleo line, and Tieks' folded leather flat.
About our test: I wore each shoe for roughly two weeks each to give them a fair shake, and incorporated them into whatever bipedal activity my day required, including walking, biking, taking the subway, and even going out dancing on a few occasions. I'm known to prize aesthetics over comfort — more on this later — and I don't have a particularly high-maintenance foot to cater to. So bear all of this in mind as you read my unscientific-but-honest gut reactions to all of these shoes; listed in alphabetical order by brand name.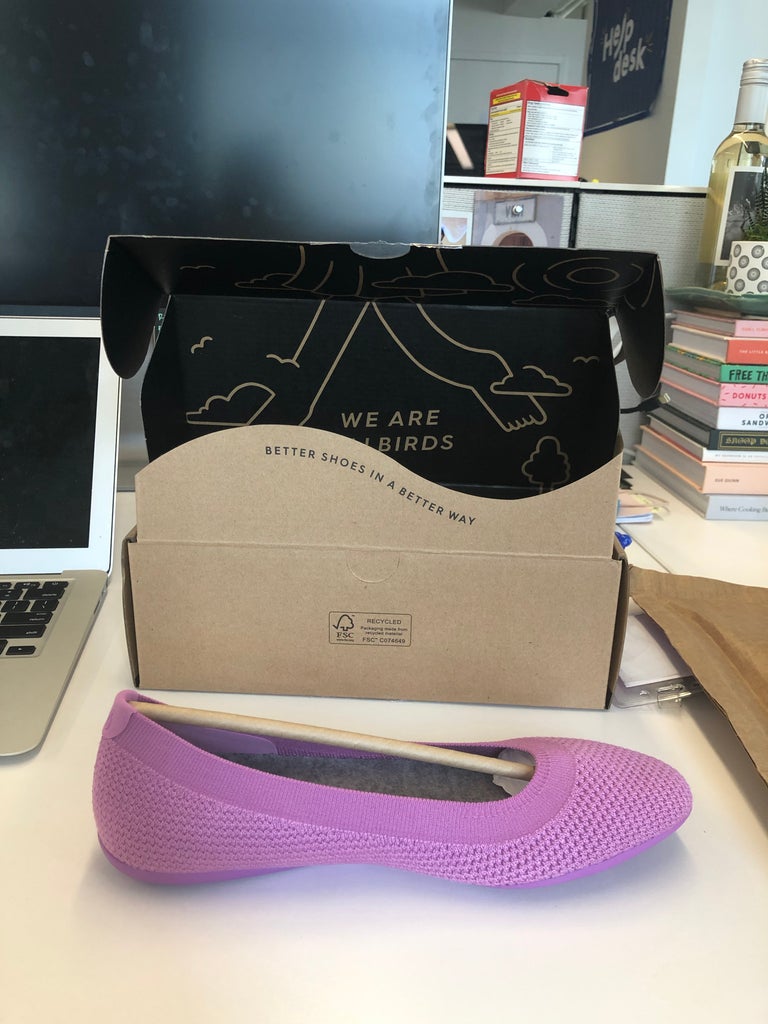 Retail Price: $95
The Specs: The sustainable comfort-focused direct-to-consumer brand Allbirds launched these fabric flats earlier this year in response to fanatic customer demand for an office-friendly style. They're made from the brand's signature eco-friendly materials: a sugarcane-derived outsole, merino wool insole, and eucalyptus-tree fiber upper.
The Pros: I guarantee that you will experience an endorphin rush when putting these flats on for the first time — the soft, super-cushiony merino wool soles are no freaking joke, and certainly the most padded out of all of these minimally supportive shoes. (The brand calls them "bouncy.") Given everything I'd read about Allbirds, I had really high expectation for the comfort of these, and was surprised that they felt quite snug when I put them on — more like shoe shapewear than a shoe bra, according to my notes. My surprise turned to disappointment after a few days when my feet started to feel uncomfortably constricted. But I found out that you've got to give these "Breezers" time — with a few more wears, they relaxed and started to feel — what's the scientific term? — fucking amazing. Aesthetically, they were not my personal favorite, but I'd definitely recommend these flats to anyone who likes the cut of their jib; both based on their environmentally friendly properties and what turned out be, as promised, superior comfort.
The Takeaway: Given a few days to stretch out, these shoes will conform to your foot for a supremely comfortable fit; the cozy, foot-soothing sole is an added dose of self-care.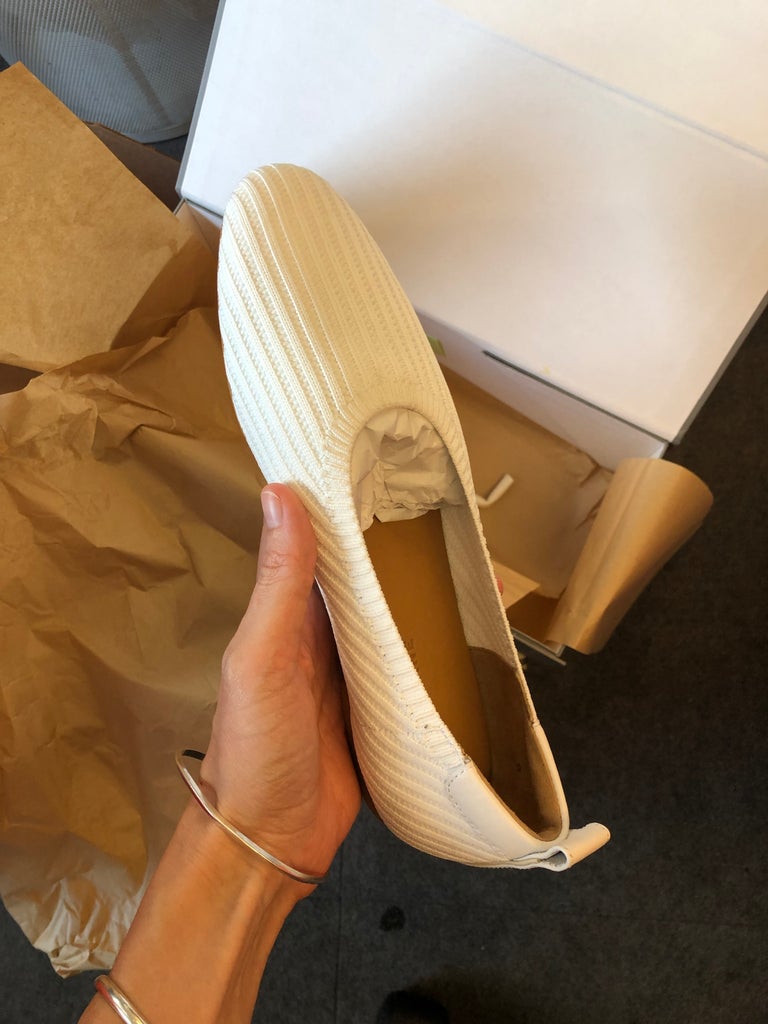 Retail Price: $98
The Specs: Everlane's signature ReKnit fabric was made from recycled plastic bottles, and lends a lighter, more casual quality to their existing all-leather Day Glove style.
The Pros: After days of testing out synthetic insoles that left my arches swampy and suffocating, the Day Glove's buttery leather soles felt really, really, really nice. The famously lightweight ReKnit fabric was just as airy as promised, giving them a top-notch breathability that I was craving. I also loved the way they looked — ballet flat-esque but with more substantial foot coverage and a shape that was just plain cool. Here's where I have to confess one flaw: these shoes almost instantaneously shredded my heels. But in all honesty, I didn't care. I happily applied a Hydro-Seal and continued wearing them for much longer than the testing period required, because I simply liked the way they looked and felt on my feet. I even wore them on a one-hour walk to the office one morning, and I am actually wearing them right now (with healed feet). Blisters will go away eventually, but a well-designed shoe that agrees with your foot is eternal. We're not creating a hierarchy here, but these are probably the only pair I'll return to after this test based on both style and, believe it or not, comfort (heel rub notwithstanding).
The Takeaway: Just wear the Band-Aids for a few days — the Day Glove is a cool and luxurious shoe that checks the boxes of both aesthetics and comfort.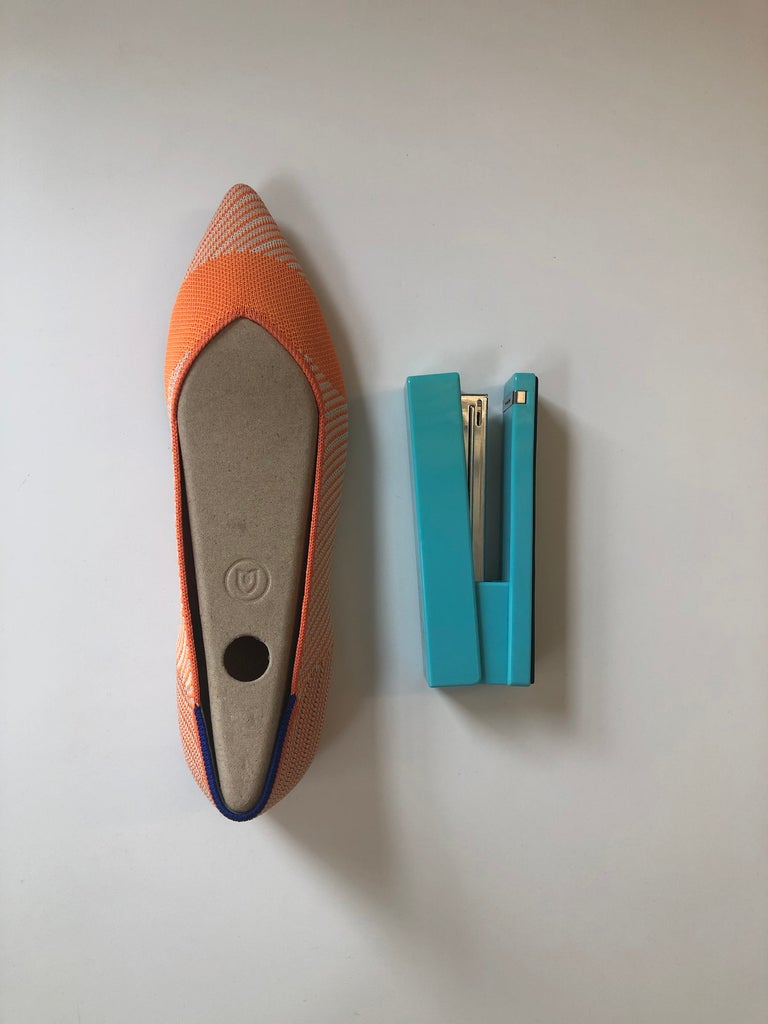 Retail Price: $145
The Specs: Feel good about buying these shoes! Rothy's yarn is made from recycled PET plastics — over 37 million bottles to date, according to the brand — with a waste-reducing knitting process. They make five different styles out of this proprietary process — a round toe ballet flat; a fuller-coverage loafer; a slip-on style sneaker, a just-launched Chelsea-style boot; and The Point, which is the silhouette that we ultimately tested.
My Thoughts: Overall, I really appreciated the thoughtful and luxurious construction details of this shoe. I got more compliments on the elegant flats than any other shoe I wore during the test — the extra-pointy toe is an elevated touch that sets the style apart from the more functional pack. Despite being woven from plastic, the shoe's fiber feels smooth and almost velvety, which was a treat. One of Rothy's greater claims to fame is that the shoe is washable — so it seemed like fate, then, that I was wearing The Point on the one and only day that I got caught in a rainstorm during the entire duration of this test. My shoes were, in fact, dry as a bone within a few hours, with no evidence of the torrential downpour I'd experienced the previous day. Cushioning is minimal on these soles, which wasn't an issue for me, but something to take into consideration if you plan to walk a lot in this particular style. Price points are higher compared to some of the others we tested, but is backed up by excellent quality.
The Takeaway: A well made, well-designed, rigorously sustainable option that can take a beating from the elements without losing its integrity. It's also the most feminine-looking of the bunch, if that's your thing.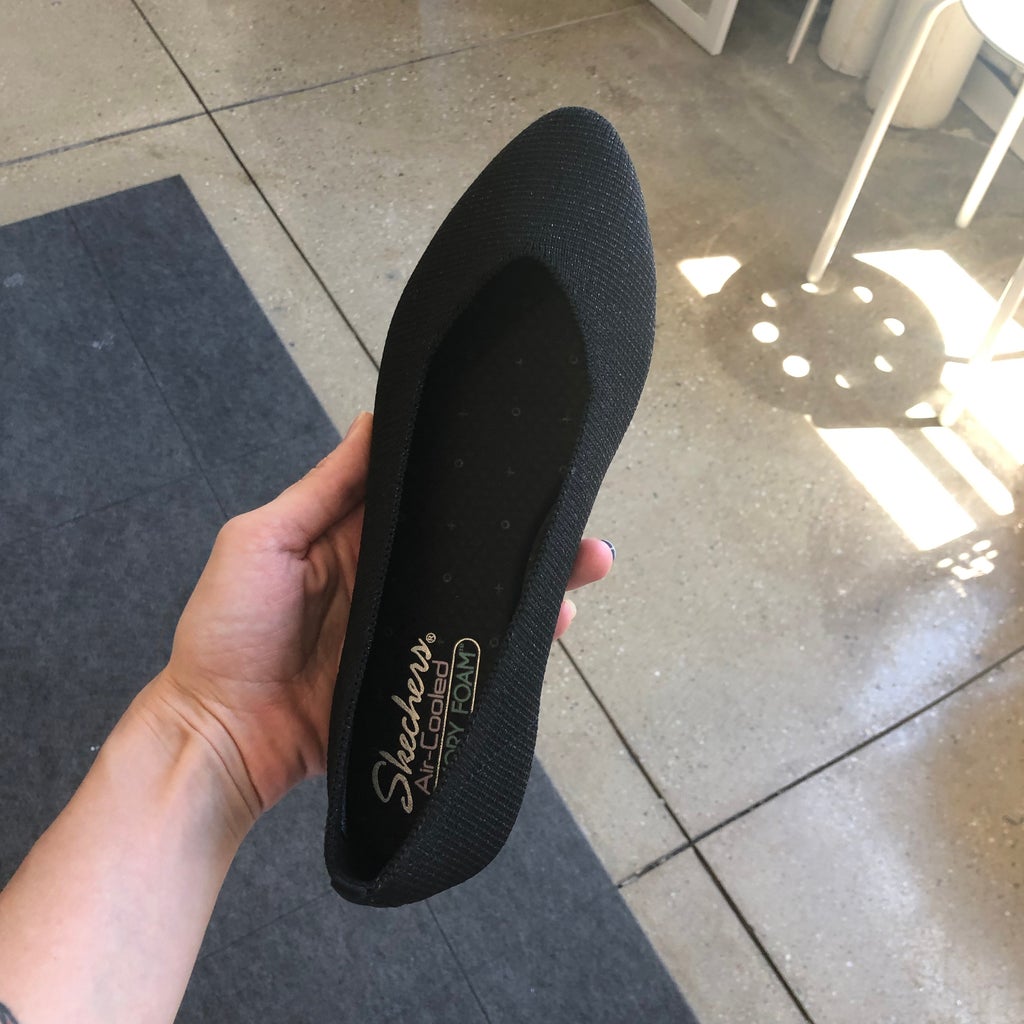 Retail Price: $45
The Specs: Skechers' "Cleo" line is the affordable answer to the technical fabric shoe — with a similar fiber construction, low profile, they could be mistook for a pair of Rothy's.
My Thoughts: Chronologically, these were the first pair I tested. As the most affordable shoe in the bunch, I didn't have high expectations, and I found these to be perfectly appropriate for the price. They were adequately comfortable, but not remotely supportive — it did not feel like much was separating my foot from the pavement or the pedals of my bike when I wore them out and about. (Not the best feeling when you're sprinting through Penn Station trying to catch a train.) I'm also pretty squirrely about synthetic fibers, and my skin quickly rejected whatever mystery "fabric" these flats were constructed from. (In fairness, it didn't help that we started this test in July. I wouldn't recommend any of the shoes that we tested for long wear in the height of summer — sandals were invented for a reason.)
The Takeaway: An affordable and perfectly adequate option for someone who needs an inexpensive, crushable flat for commuting.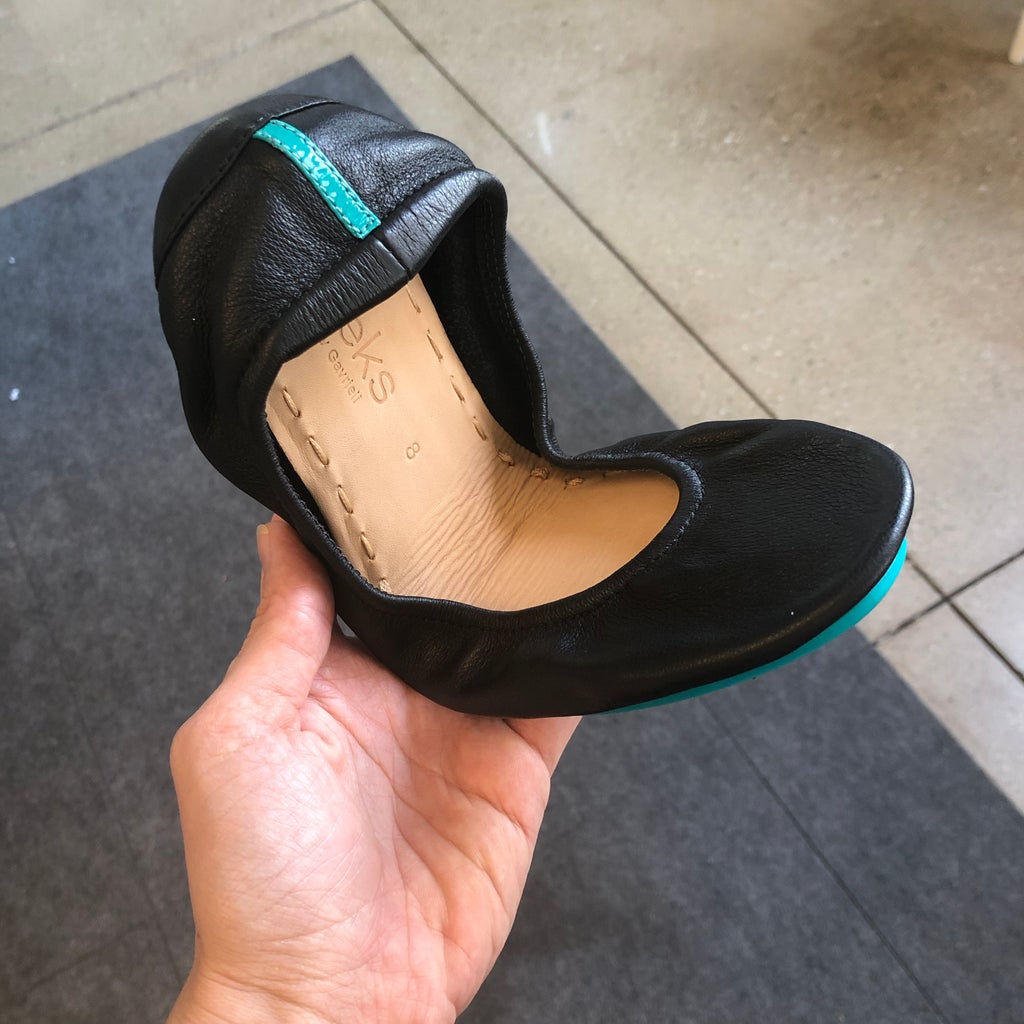 Retail Price: $175
The Specs: Made entirely from Italian leather, each of these premium flats takes about three days to construct, and have a unique split sole design that allows them to fold in half. They also come with little sleeper pouches for clean and neat storage when thrown in your handbag. Social good bonus: they're also affiliated with the Gavrieli Foundation, which supports women entrepreneurs around the globe through Kiva.
The Pros: OK, why would I do this shoe the disservice of presenting it on the internet bent in half? Hear me out — such is the beauty of Tieks. The bifurcated (and, for some reason, always turquoise) soles enable the shoe to fold double, allowing the heel-obligated among us to collapse their commuter footwear into a compact bundle once they've arrived at the office. (I don't personally have this need, but I imagine it's a godsend for some.) The collar is fully elasticized to accommodate different foot shapes and gave me no discomfort whatsoever. I found the all-leather construction to be incredibly comfortable and, like the Everlane shoes, actually felt more breathable than some of the fiber options. In terms of style, they are probably the most traditional — this is a classic, no-frills ballet flat in the truest sense.
The Takeaway: A premium, highly-engineered shoe that offers comfort and classic style while solving a very specific office-wardrobe malfunction.
Promote your product line on a page similar to this. Contact matt at oyetimes.com for more details.
Click HERE to read more from Refinery29


Loading ...