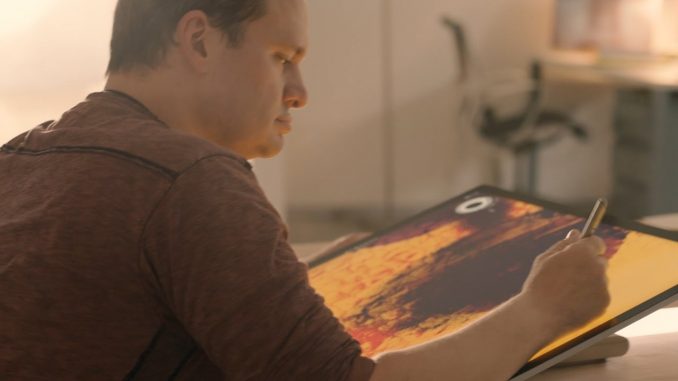 Girl drawn on Sketchable by Don Seegmiller
By Stephen Pate – For quick and easy sketching there is nothing like the freeware app Sketchable now available for the Microsoft Surface Studio and Surface Dial

.
Sketchable works on any Surface including the Microsoft Surface Pro 4

and Microsoft Surface Book

but it's a special treat on the Surface Studio. The 28″ screen that becomes a work surface and Surface Dial

are a game changing combination. Computers just got exciting again.
The developers of Sketchable believe you're most productive when using both hands in drawing and sketching, including the non-dominant hand. With Surface Studio both hands are at work on the drawing.
"All of a sudden the keyboard and mouse go away and its all you and the device with pen and the Dial," said the developer.
Sketchable is not for precise professional artwork – that's for Adobe CC. Markus Weickenmeier sliced and diced the difference on sketchable.
"It goes without saying that for the serious artisan and professional alike, the depth of functionality across the Adobe Creative Cloud offers the industry standard for creative workflows."
"Often though I speak with hobbyists and those that love to doodle, sketch, or draw as a means to relax or express their creativity. The focus being on casual, fun, and easy. That's where Sketchable comes into the picture."
"Sketchable is easy to use, has a simple UI, and an incredible drawing algorithm that delivers one of the, if not the best, inking experiences on Surface and Windows 10."
"Sketchable 3.0 brings a host of new features like Symmetry which allows you to toggle between one or two axis of mirroring. Masks make it super easy to choose a shape and then mark off a section of the canvas so it can't be edited. Stencils make it simple to draw crisp lines or fluid curves. I know many will also be excited about Layers – Sketchable supports up to 32 layers and has a host of blending modes.
"To get started you can simple drag and drop a file into the canvas and start drawing on top, and then easily share your creation on Facebook. " Check out some of the pro artists examples on Markus blog post.
Here's Brad Colbow's review of Sketchable –
The developers describe
Sketchable
as "Seamlessly fusing the freedom and romance of your physical notebook with the power and flexibility of the digital world, Sketchable provides the best creative experience on the market. Sketchable's comprehensive yet clean interface is carefully crafted to harness the full potential of you and your device, making sure nothing comes between you and your imagination. Part journal, part canvas, Sketchable allows you to scribble a note, snap and edit a pic, import and augment an image, or paint a masterwork—easily sharing it all with your friends and family. Open the app, pick a tool, pick a color, and delve into a limitless world of creativity."
Creative Bloq reviewed Sketchable early last year and called it "Doodle Power! Sketchable is a simple yet powerful program for quick sketching and drawing."
The Microsoft Surface Studio and Surface Dial

is available for pre-order and delivery in early 2017. Starting from $2,999.
Click HERE to read more.