This article was last updated on April 16, 2022
Windows 8 Consumer Preview is a big step ahead of last year's Developer release. While not ready for prime time it is an exciting look at where we will be this Fall.

Like Windows 3, Windows 8 is a re-imagining of Microsoft's flagship operating system and it's still a work in progress.

What Microsoft have set out to accomplish is far beyond what or Apple or Android have done. Windows 8 will change computing forever not only with a new interface but with a single interface across desktop, laptop and mobile computing.
Along with more than 1 million people, I downloaded the Windows 8 Consumer Preview (Win8CP – almost a rhyme with 3-CPO) a week ago and have struggled to learn how it works. I've spent hours every day tinkering with Win8CP. It's been a learning experience I wouldn't miss.
If you are trying to use Win8CP, that's great, Don't be surprised when things don't work or you find it hard to learn. It's a still a beta product. All of the issues and comments from users will help Microsoft finish Windows 8 for Fall 2012.

Here are a few of the things I can pass on after one week.

Hotmail and Windows Live accounts
You need two Microsoft accounts. One for the administrator and one for the Local user. For some reason only Local Accounts can install Metro apps from the Microsoft Store.
However, Win8CP needs the administrator password, which pops up during installation, to install legacy software such as Office 2010 or iTunes.
Win8CP is installed with the administrator account, which I suggest is a new one you don't intend to use much.


Once Win8CP is loaded, add a local user with your normal Windows Live or Hotmail account. Only local users can upload Win8 apps from the Microsoft Store.
If you used your primary email account, that can be changed. Add a new local account user with the same email address. Almost at the end of the process, Win8CP will tell you that the email account is in use. Great!
Now switch to the Admin account and change it to Local Account. Then create a new Windows Live email account to attach to it.
Once that's done, switch back to the other account and assign your old Windows Live or Hotmail Account to it. You will be able to install Metro apps, which are free during the Win8CP period.
There are several corners you can get locked into with Win8CP like this but there is always a way out.

Go to your corners ladies and gentlemen
Each of the 4 corners of your screen is a hot spot for changing the desktop, setup or going to applications already open.


Try it, move your mouse or finger if you have a touch surface to the corner, right into the corner and explore what you find.
From the lower left hand corner (going clockwise), I found: Start, open apps, and setup on the right. It changes depending on the context. If I have several sessions, there is a hint of them when the mouse or finger touches the left screen edge. Presto – icons appear.
Some people are crying about the Start button. It's gone. Try to forget about it and get used to the new navigation. It doesn't take long for it to become second nature.
In order for things to get better, they must change. I believe along with others that Windows 8 will be a better operating system. Pining away for Windows 7 or Windows 95 isn't going to move the ball forward, in my opinion.

It's better with Touch

Touch is something people with iPad's are used to using to start a program or select an item to view. They swipe the screen and it moves sideways.

In Win8CP, there is a partial implementation of Touch.

To try it, you need a Windows 7 compatible Touch device. It could be a Multi-Touch monitor. It could also be an
Apple Magic Trackpad
which is a $69 Bluetooth device Apple designed to allow Mac users to get the Touch experience with OS X. Ironically, it works quite well with Windows 7 and Win7CP.
With the Trackpad or similar device you can start apps, move around the screen, selecting items and swipe the screen up/down and sideways using the scroll bars. There is no implementation of Swipe from any place on the screen yet. Will we get it in the final release is anyone's guess. Microsoft videos show it but I haven't seen it working yet.
I found I used the Trackpad a lot but still found a mouse handy and of course there is always the keyboard.

Metro Apps are a cool work in progress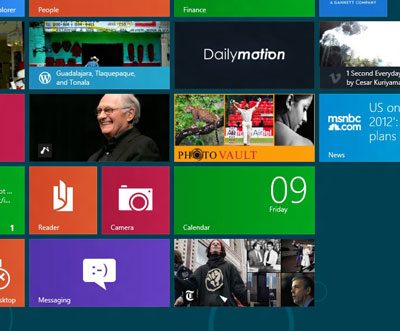 Win8CP delivers something unique in computing – live applications.

The pictures change, the weather is updated in real time, messages and mail change. It's great for news hounds who want to see the latest stories without opening the program.
I have the
Microsoft Answers
forum in a tile. If an answer is posted to one of my questions, I can see it right away. On my Windows 7 computer, I get an email message telling me an answer is posted, open the email, click on the link, launch IE9 and get to the answer.
With Win8CP, those answers are right on the desktop and live.
This is all done with the magic of HTML 5 which is slowly establishing itself as the new standard for internet experience.

Microsoft Answers
is an essential link to have on the desktop since questions are being asked and answered every day. Your questions may have already been answered. The Win8CP community is an interesting and helpful place.
The Metro apps on the Microsoft Store are not final versions. Some lack navigation tools, others crash unexpectedly. It's beta code right?. A few I was using disappeared. One can assume that the programmers removed them to fix the bugs.
I'll add to this series regularly with observations and tricks I learn.
You can publish this article on your website as long as you provide a link back to this page.