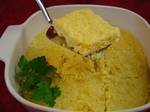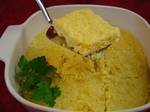 Sweet Corn Tamalitos
Ingredients:
5 tablespoons margarine , softened
1/3 cup sugar
2 cups corn kernels (fresh or frozen, thawed)
1/2 cup cornmeal
1/2 cup water
1/4 cup masa harina flour
2 tablespoons milk
1 teaspoon milk
1 teaspoon baking powder
1/2 teaspoon salt
Preparation:
In a small bowl, mix the margarine, masa and sugar with mixer until light and fluffy, about 1 minute. Blend 1/2 the corn kernels with the water in a blender until smooth. Combine with margarine mixture, stirring well. Add the remaining corn, cornmeal, baking powder, salt and milk. Bring a medium saucepan of water to a boil. Pour the mixture into an 8-inch baking dish. Tightly cover with plastic wrap and set atop the saucepan of boiling water. Keep pan tightly wrapped and steam for 50 minutes to 1 hour. Check water level often, until a toothpick inserted into the center comes out clean.