Thanks to the unbridled patriotism of one major and nearly ubiquitous American corporation, American voters can now rest assured that democracy is safe during the 2020 election. Let's take a look at ElectionGuard™, the latest in election-guarding technology.
Here we go: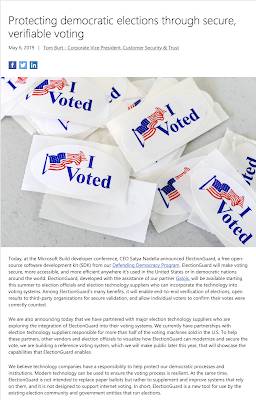 According to Microsoft, ElectionGuard has five major benefits that "…will protect the vote against tampering by anyone, and improve the voting process for citizens and officials…":
1.) Verifiable: Allowing voters and third-party organizations to verify election results.
2.) Secure: Built with advanced encryption techniques developed by Microsoft Research.
3.) Auditable: Supporting risk-limiting audits that help assure the accuracy of elections.
4.) Open source: Free and flexible with the ability to be used with off-the-shelf hardware.
4.) Make voting better: Supporting standard accessibility tools and improving the voting experience.
How can Microsoft ensure that ElectionGuard is secure? Here's the company's answer to that pressing question:
"ElectionGuard uses something called homomorphic encryption – which enables mathematical procedures – like counting – to be done with fully encrypted data. The use of homomorphic encryption in election systems has been pioneered by Microsoft Research under the leadership of Senior Cryptographer Josh Benaloh. With homomorphic encryption, individually encrypted votes can be combined to form an encrypted tabulation of all votes which can then be decrypted to produce an election tally that protects voter privacy. By running an open election verifier, anyone can securely confirm that the encrypted votes have been correctly aggregated and that this encrypted tabulation has been correctly decrypted to produce the final tally. This process allows anyone to verify the correct counting of votes by inspecting the public election record, while keeping voting records secure. The use of homomorphic encryption to enable verification is separate from and in addition to the process of paper ballots counted as an official election tally."
Microsoft claims that its mission is to "empower every person on the planet to achieve more" and that this can be accomplished by improving access to disabled persons who wish to vote among other things. The company also wants to make the voting experience easier and more modern for everyone.
To that end, ElectionGuard will showcase its ability to allow people to vote at home, then bring a QR code to their local polling place to scan and prepopulate their ballot. ElectionGuard will support the use of both PCs and standard tablets running a variety of operating systems as a ballot marking device. By doing this, ElectionGuard will create an interface that looks very similar to the interface that people are familiar with on their phones and tablets. After people select their preferred candidate on a ballot marking device, they can then print off their ballot on a sheet of paper which is humanly readable so it can be reviewed to ensure that it is accurate before being dropped into the ballot box located at their polling place. Most importantly, Microsoft notes that the ElectionGuard software can be incorporated into any existing or newly developed voting system at the local, state and national level.
Microsoft is working with a number of partners to complete the development and testing of ElectionGuard including Galois, a Portland, Oregon-based, privately-held software company which has received millions of dollars from the Defense Advanced Research Projects Agency (DARPA) to develop improved hardware security as well as a system that will secure computer hardware against software attacks that exploit hardware vulnerabilities. While all of this seems arcane, it is interesting to note that on its website, Galois lists only U.S. government entities as its clients:


According to D&B Hoovers, Galois clients also include the United States Navy, United States Air Force, members of the intelligence community as well as major U.S. defense contractors General Dynamics and Rockwell Collins as shown here: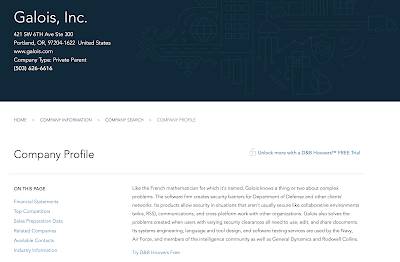 One might almost think "Deep State actor" if one were so inclined.
Here is Galois' announcement about its partnership with Microsoft and the development of ElectionGuard: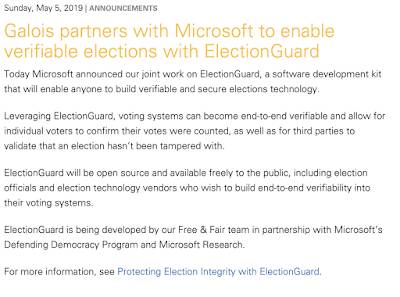 Galois claims that Microsoft's Defending Democracy Program team is creating a product that will be usable by anyone and that ElectionGuard can be used as the core of most of today's election systems including those around the world. The product will be open source which will allow hobbyist programmers to develop and share open election systems, right down to elections that are held in high schools. Isn't that cute?
The ElectionGuard system is being hyped by Washington-funded media outlets as shown here: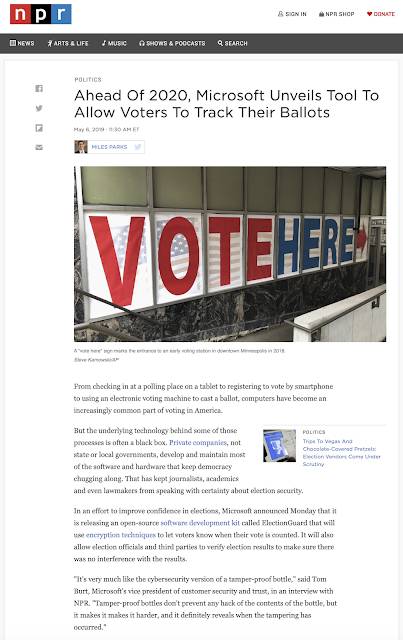 …as well as by the American mainstream media as shown here: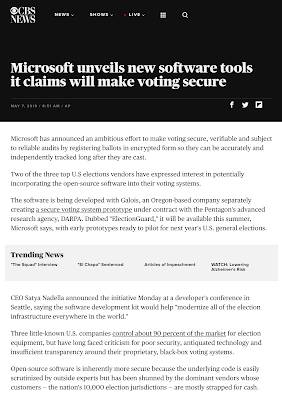 …and here: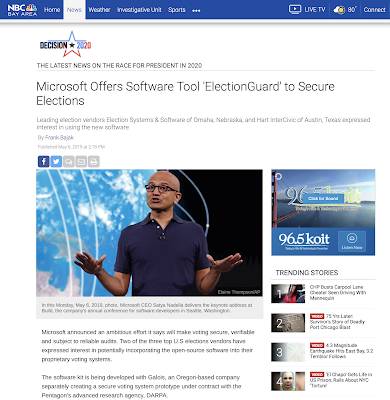 The software development kit or SDK version of ElectionGuard will be available later this year with early prototypes scheduled for pilot programs during the 2020 election cycle. As an added benefit, not only is the ElectionGuard software free, Microsoft is also offering a cut-rate Office 365 application suite called Microsoft 365 for Campaigns for political parties and campaigns. According to Microsoft, the software can be set up in less than five minutes and is available for $5 per month per user, a 75 percent discount off of the price that the sweaty masses pay. Even if the software is hackable as shown here, that's still a deal that's hard to pass up!
It is rather fascinating to see that American electoral security is now being placed in the hands of a very powerful software company with a record of producing products that are regularly hacked including this recent breach of security and this warning from the National Security Agency: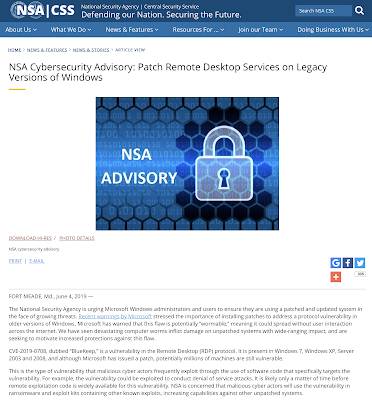 No matter how capable this new software will be at ensuring an untarnished election, there are still multiple ways that an American election can be tarnished. For example, while ElectionGuard may successfully defeat the alleged attempts by Russia to defeat American Democracy, I wonder if it can protect American voters against the clearly non-democratic practice of gerrymandering as you can read about in this posting.
Click HERE to read more from this author.


Loading ...