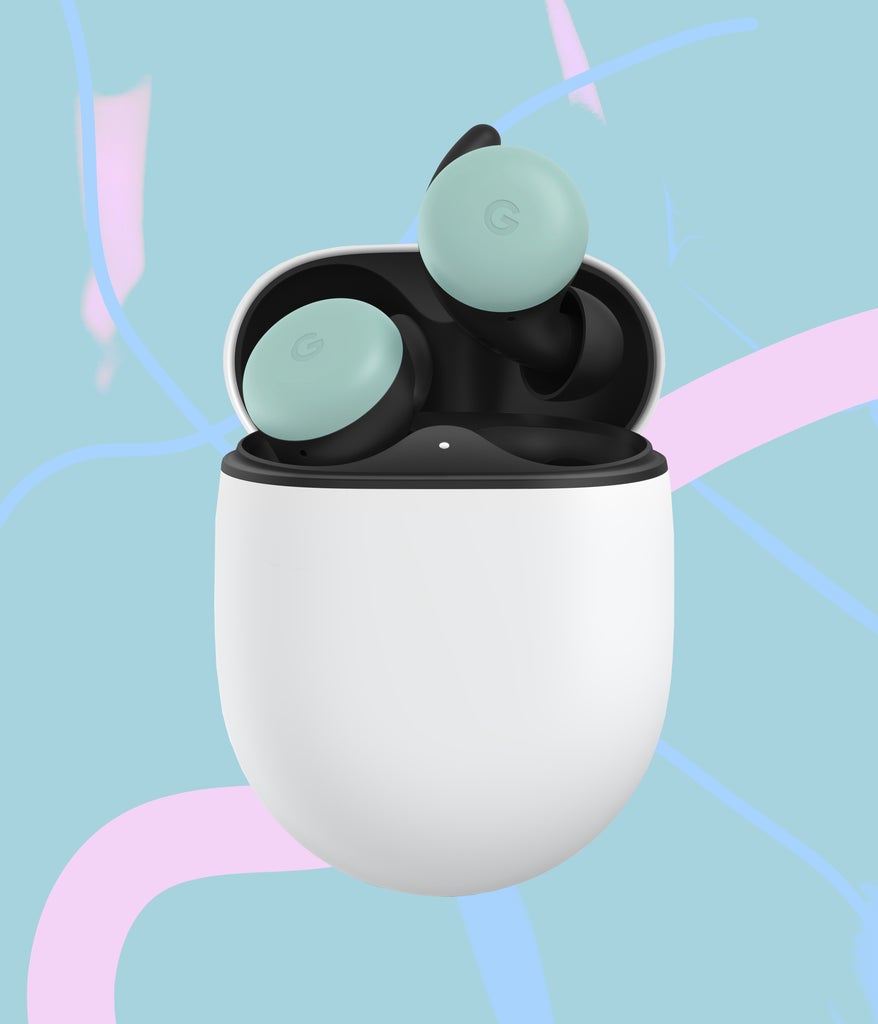 Out with hot girl summer and in with earbuds fall. You heard it here first. Yesterday, Google dropped a whole new hardware lineup — including a gaming platform, the Google Pixel 4, a new Nest Aware smart home system, and of course, the new Pixel Buds, Google's second iteration of its Google Assistant-powered smart headphones. But with AirPods, Amazon's Echo Buds, and Microsoft Surface Earbuds in the mix, there are a lot of earbuds to choose from this season. Here's how the Pixel Buds stack up.
How Do Google's Pixel Buds Compare To Apple's AirPods?
In terms of aesthetics, the Pixel Buds appear smaller in the ear than AirPods do, which, coupled with their very chic pastel colors (Clearly White, Oh So Orange, Quite Mint, and Almost Black), gives them more of an earplug-like appearance. Also, the Pixel Bud case looks like a very cute egg. So, as a person who likes cute things, I prefer the look of these buds over the looks of AirPods, Echo Buds, and Surface Earbuds. A win. And while they don't have any noise-reducing features (AirPods don't either, but Echo Buds do), they do have Adaptive Sound, which takes into account your environment and adjusts the sound on your headphones accordingly.
As far as battery life, Google says the Pixel Buds are good for five hours of use on a single charge, and up to 24 hours of battery life with the charging case. That's right in line with AirPods' battery life — five hours of listening time (and up to three hours of talk time) with one charge, and 24 hours with the charging case. And as with AirPods, you can tap on Pixel Buds with your finger to control your music. As far as the smart assistant function, you can say "Hey Google" completely hands-free and the Pixel Buds can respond to any task you'd ask the Google Assistant on your Pixel or Home device, a la
"Hey Siri" on AirPods. (An aside: Issa Rae is the new voice of Google Assistant, and it's awesome.)
So Can You Use Pixel Buds With An iPhone?
Why yes, you can. Though, paired with an iPhone, they just function like regular Bluetooth headphones, without the ability to respond to "Hey Google" baked in. So if you have an iPhone, you should only really opt for the Pixel Buds if you prefer their design and how they sit in the ear to the other earbuds on the market, because the extra built-in features are only available to Pixel users.
How Much Are Google Pixel Buds?
The new Pixel Buds will be available early next year for $179, as compared to Echo Buds, available for pre-order for $129.99, AirPods, which cost $199 with the wireless charging case and $159 with the normal case, Apple's PowerBeats Pro for $199.95, and Surface Earbuds for $249. So, they're more expensive than Echo Buds and fall right in the middle of the two AirPods tiers.
When Will Google Release The New Pixel Buds?
While you can't yet pre-order the new Pixel Buds, you can sign up for the waitlist.
Click HERE to read more from Refinery29


Loading ...