Stores will open in London UK at Midnight – Amazon.com extends $30 credit until Oct 27th.
The inventory of Windows 8 computers and upgrade packages are in the stores. The hot ads on YouTube are targeted to fun, music and youth.
Some retailers are booking pre-order sales for delivery on Friday October 26, 2012.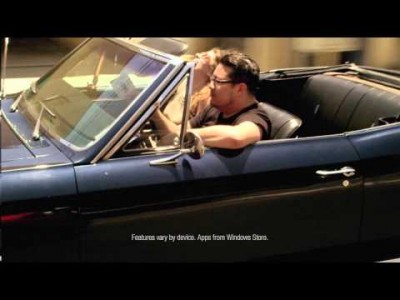 Forget Apple's stodgy ads with grampa Facetiming with the grand-kids.
The hot ads feature up-and-coming indie bands like Labrinth, Best Coast in the U.S, Lenka in China and Hogarth in Brazil. If you think you hear something other than English, you're right. The launch is international in 42 countries.
For more information on the global advertising launch see Brandon LeBlanc's blog.
In Hamilton, New Zealand they are selling Windows 8 computers today.
At Currys store, Tottenham Court Road, London the doors will open at 1 second after midnight Friday morning to help Windows 8 customers.
Best Buy is demonstrating Windows 8 computers and taking pre-orders.
The Microsoft Store is sold out of pre-order Surface RT tablets in the US, Canada, France, Germany and the UK. Microsoft were reported to have 3-5 million Surface RT tablets ready for sale before Christmas. The first batch are gone.
There is no word on when the upgrade download will be available on Friday.
Amazon.com has extended the $30 credit until the 27th.
Microsoft Pop-up stores will be opening in the following North American malls and cities.
Aventura Mall (Aventura, FL)
Beachwood Place (Beachwood, OH)
Cherry Creek Shopping Center (Denver, CO)
Dadeland Mall (Miami, FL)
Eaton Centre (Toronto, Ontario)
Fashion Mall at Keystone (Indianapolis, IN)
Fashion Show Mall (Las Vegas, NV)
Glendale Galleria (Glendale, CA)
Mall at Green Hills (Nashville, TN)
Mall in Columbia (Columbia, MD)
Metropolis at Metrotown (Burnaby, BC)
Montgomery Mall (Bethesda, MD)
Natick Collection (Natick, MA)
North Star Mall (San Antonio, TX)
Oakridge Centre (Vancouver, BC)
Penn Square Mall (Oklahoma City, OK)
Perimeter Mall (Atlanta, GA)
Roosevelt Field Mall (Garden, City, NY)
Ross Park Mall (Pittsburgh, PA)
Saint Louis Galleria (St. Louis, MO)
San Francisco Centre (San Francisco, CA)
South Shore Plaza (Braintree, MA)
Southpark Mall (Charlotte, NC)
Stonebriar Centre Mall (Frisco, TX)
Streets at Southpoint (Durham, NC
Time Warner Center: The Shops at Columbus Circle (New York, NY)
Washington Square (Portland, OR)
West Edmonton Mall (Edmonton, Alberta)
Westfarms Mall (West Hartford, CT)
Westfield Garden State Plaza (Paramus, NJ)
Woodland Hills Mall (Tulsa, OK)
Woodlands Mall (Woodlands, TX)
By Stephen Pate, NJN Network

| Until October 27th | $30 Amazon credit | (US only) |
| --- | --- | --- |
| Until October 27th | $30 Amazon credit | (US only) |
| | | |
| Amazon.ca – Canada | | |
| | | |