It's huge – up to 50% discounts on brand-name musical instruments like Fender guitars, Yamaha keyboards, Ampeg amps, violins and mics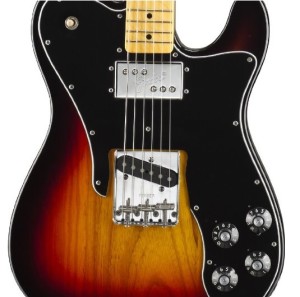 I can't resist an instrument sale. Amazon.com is having a doozy.
I found a Fender American Vintage '72 Telecaster® Custom Electric Guitar, 3 Tone Sunburst going for $1,199.
The products include beginner guitar and keyboard kits to high-end gear at bargain prices.
Along with Fender, there are guitars from Martin, Gibson, Squire and Ovation, keyboards by Yamaha, Novation and Casio, mics by Blue Microphone, Shure, and Rode violins by Molinari, bass amps by Ampeg, and hundreds of other name brand companies.
To window shop, click on the link and drill down to the category and instrument that interests you.
Once you get in a department, you can narrow the choices by brand, instrument, popular and price.
Amazon.com is a shopping hub for more than 50 different musical instrument online and retail stores. They usually have the lowest prices, wide choice and everything is backed by Amazon.com's customer satisfaction policies. Along with that, there is the community of Amazon shoppers who share their reviews which show the consensus.