On December 9, 2013 Microsoft will chop $200 off the Dell Venue 8 Pro tablet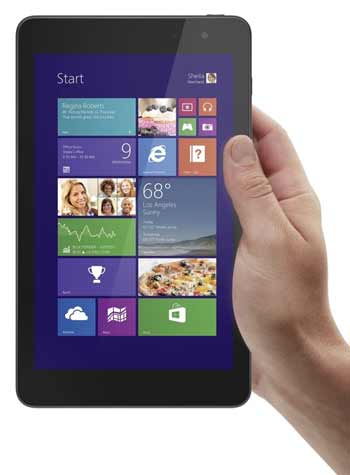 Dell Venue 8 Pro runs full Windows 8.1
Bargain hunters will line up today for the 10 AM opening of Microsoft Stores across Canada and the United States as Microsoft launches "12 Days to Christmas" with a bang.
Normally, $299 the Dell Venue 8 Pro is being discounted to $99 for the first 20 buyers at each retail site and the first 200 at the online Microsoft Store.
Microsoft Retail Stores generally open at 10 AM and the online deal will be available at 10 AM EST (11 AM AST). (corrected)
Available while supplies last.

After that the price will go up to $199, which is still a great bargain. Wal-Mart was selling the Dell Venue 8 Pro last week for $230 and stores sold out quickly.
The Dell Venue 8 Pro runs full Windows 8.1 because it has an Intel next generation Bay Trail Atom processor.
More than 200 Amazon.com customers rated the Dell Venue 8 Pro at 4 out of 5 stars, which is pretty good even for a $300 tablet. Over at Amazon.com the Dell Venue 8 Pro 32 GB Tablet (Windows 8.1) is running $267 every day.
I am going to stay tuned to what Microsoft has in store for the 12 Days of Christmas. There are lots of bargains. Last week I snagged a Kindle HD Fire for only $129.
Again, the links to Microsoft's 12 Days of Christmas are:
Good luck with bargain shopping.