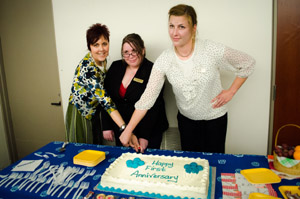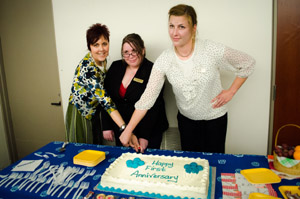 A long time ago during 23 October 600 – 27 January 661 AD, the great Ali ibn Abi Talib once said, "A poor man is like a foreigner in his own country." Ali was a big influence throughout Islamic history and his devotion to Islam inspired others to do so as well. I believe this quote fits perfectly well within the context of promoting a poverty-free Ontario through Voices for Change. This organization is exactly what its title states it to be; voices to change the way too many people in Halton live; in poverty. The organization's purpose is straightforward – to eradicate poverty in our communities, and they need your help. In this article you will learn about this organization, how to spread the word and last but not least what you can do to help.
This organization was founded approximately one year ago to respond to the overgrowing poverty rate in Halton Region. Voices for Change Halton (VfCH) recently had their first anniversary with a great turnout of more than 100 people and I personally had a great time. At their first annual ceremony, I learned how people with the experience of poverty and people of organizations that wish to address this issue can work together to achieve a better community altogether. I believe that with this organization, we will create a poverty-free Ontario one step at a time.
It was a privilege to attend this event in Burlington at the Central Library in Burlington. We met great individuals who supported this awesome cause. To name a few, the Mayor of Burlington, Rick Goldring, Cathy Stokes and Emily Murphy who are leaders in this group, the Executive Director of Hatlton Community Legal Services of North Halton, Colleen Sym, and community leaders like Mike Balkwill, who also coordinates the Put Food in the Budget campaign (
http://putfoodinthebudget.ca/
) and Annette Graydon from the Niagra Mothers' Union who is an avid volunteer of our own community from Terra Cotta!
Spreading the word is easy as 1, 2 and 3. All you need to do is make banners that state you want a poverty-free Ontario, gather a bunch of friends and hold a rally in the downtown core of your city. Failing that, take the message to your local council at their next monthly meeting. Try to co-ordinate a professional presentation to go out there and express your thoughts and opinions about this ongoing issue. Most importantly, use your local media sources to publish an article about this as I have done, or share this on your Facebook, Twitter and Google Plus.
To find out more about how you can help e-mail the group and include you comments and concerns at vfchalton@gmail.com. Don't be overwhelmed, it is worth it to the people you will be helping. In the long run your improving the community of Halton. So, get on out there and "Be the change you want to see in the world," Mahatma Gandhi.