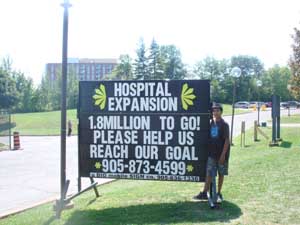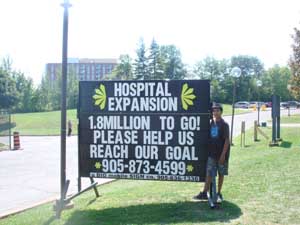 "Always do your best. What you plant now, you will harvest later." – Og Mandino.
Og Mandino was an American author who was known for his best selling book "The Greatest Salesman in the World". I believe the Georgetown Hospital Foundation can relate to Mr. Mandino's quote because if everyone does their best in helping the Hospital, we will get great results by getting the outlined goals faster than expected. I will talk about what the Georgetown Hospital Foundation does, and what you can do to help this truly wonderful cause.
The Georgetown Hospital Foundation is raising money for the redevelopment of the Emergency and Diagnostic Imaging Departments which includes the purchase of CT scanner, (a first for the Halton Hills!). This campaign is by far the largest our community has seen in over 50 years.
One of the most popular ways to raise money and awareness is through local community events and fundraisers. They have this really cool event coming up on September 30 called the 5th Annual Walk for The Georgetown Hospital. The best thing about this fundraising event is the fact that all the proceeds will be going towards the Hospital expansion which will benefit each and every person in the Halton Hills community. The event is a 5km walk through Georgetown and to top it all off you're enjoying yourself with family and friends, eating delicious food and playing fun games while fundraising for a great cause you will benefit from.
The simplest and most helpful act you can do is to participate in the event, or make a donation. The exciting part is, you can make your very own fundraising webpage in support of this charity. While you're at it come check out mine and see how much money I have raised by clicking
HERE.
You can either donate to my page or start your own fundraising page in order to raise money and spread awareness. You can use other tools such as facebook, twitter or even tumblr. By using these tools you can show you family and friends your true spirit of volunteering and that you care for the entire community. To start your own page or learn more about the 5th Annual Walk for the Georgetown Hospital click
HERE
or visit georgetownhospitalfoundation.ca
This is a truly wonderful cause and it seems so inspiring how something that affects all of Halton Hills can bring a community together to support it as a whole. It truly shows off the colours of how a true community such as our very own Georgetown has such caring people to help each other out during tough times/situations like now. To show my support towards this cause, I decided to write an article dedicated to this situation our community is going through, what it's achieving, what it's done so far and what it will be planning to achieve for a century's time.
So, get up and Walk for Georgetown Hospital on September 30th 2012 to show your support and willingness to contribute to the expansion of our local hospital.