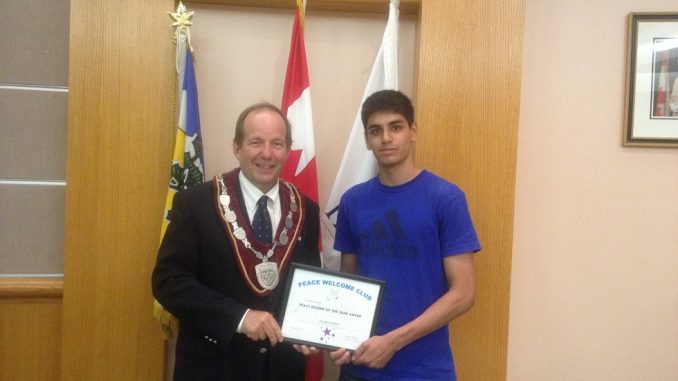 Japneet Kehal, a shy and humble 16-year old from Brampton, is on his way to making a difference and bringing about change in his community! He was chosen as the recipient of the Peace Builder of the Year award by the Peace Welcome Club in Georgetown. Japneet is a grade 10 student at the Turner Fenton Secondary School in Brampton. He joined the Peace Welcome Club (PWC) two years ago and since then it was all systems go for the young trail-blazer. Japneet and his family, have been involved with the many PWC projects, promoted by the Peace Welcome Club in Brampton and beyond. His volunteer work consists of:
A book drive held to help educate many other youth.
Helping out at the Seva Food Bank warehouse in Mississauga.
Volunteering at the Willow Park Ecology Centre for the Big Daddy Festival (2011).
Volunteer life-guard.
Willingly lends a hand to those in need.
Very involved in school projects and helps peers when needed.
Completed his 40 hours+ through volunteer work.
"I was so surprised when I heard that I was given this award. But I too learned from others as a community volunteer', said Japneet.
Swati Gupta, a PWC Volunteer Coordinator said, "We received more than 100 nominations and it was very challenging to pick one candidate – all the nominees were outstanding and extraordinary. However Japneet's really stood out and we wanted to offer an opportunity to make known a candidate never recognized before."
The young student, raised with family and community values, is very enthusiastic in helping the Peace Welcome Club get their message out for a new civilization based on love, peace and sharing, by letting others know about PWC and how they can be involved. "I was very inspired by the founder of Peace Welcome Club, Harnoor Gill and I wanted to get involved too."
Mrs. Parminder Grewal of the Halton Multicultural Council who guided and supervised the youth, said she was pleased to support his nomination and noted him as "role model" for young people everywhere.
Japneet's goal is to encourage all youth to 'do something for others in their community, their city, their country, and bring about change where needed.'
Nominations for 2015 Peace Welcome Club Award:
Do you know someone in your community who's making a difference?
Someone who embodies the Peace Welcome Club spirit of helping other?
Let us know!
Their work should be service-oriented, and improve or enhance the quality of life for people in need around them.
Nominations are open to youth all over the world from 8-18!
The essay should be maximum 500 words.
Two references are required.
There is no self-nomination.
The selection of the Peace Builder of the Year is based on how strong the nominee's work measures up in the following areas.
Money raised along with how many benefitted from the action. Press coverage of the results. What is behind the initiative along with creativity as well as challenges that are overcome in order to perform the work in a successful manner.
The successful candidates will be profiled in the newspaper and on all our media related sites. Interested? Deadline is January 31, 2015.
Please contact via email at PeaceWelcomeClub@gmail.com for further queries.