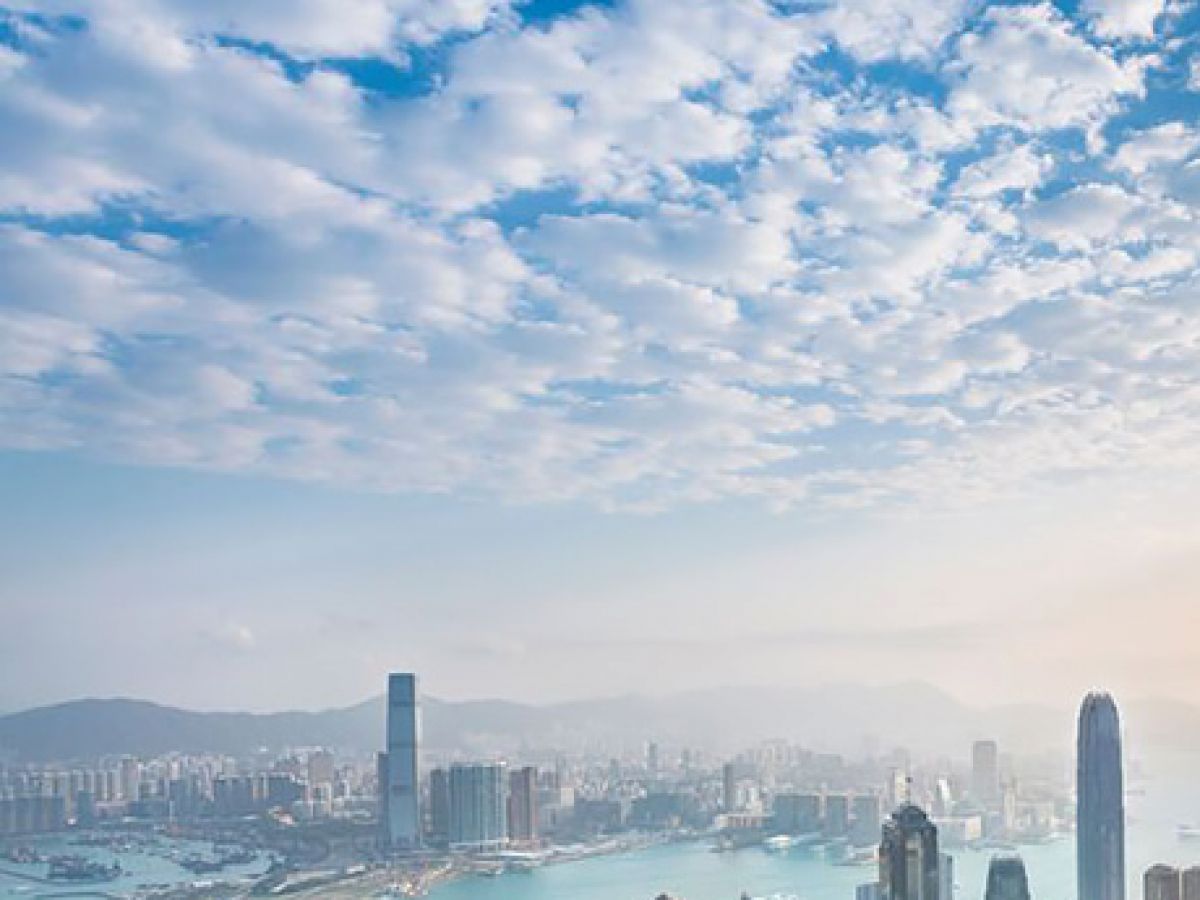 Photo: Cultura/REX Shutterstock.
Doing things alone can be immensely therapeutic: A solo meal can help you really appreciate food; a solitary walk can be a rare opportunity to think; and traveling by yourself can be an incredible opportunity for self-discovery and personal growth.
Solo trips are all the rage right now: A 2014 survey by Booking.com found that 72% of American women have traveled alone, for business or pleasure. Of these women, 65% say that these experiences have improved their confidence. We've already told you why you should consider taking a solo trip; now we're helping you choose your destination.
Click ahead for our picks of the 29 best destinations for women to explore unaccompanied, based on a range of factors like safety, quality of solo activities, and the likelihood of meeting fellow wayfarers. Get your selfie sticks ready — adventure waits for no one.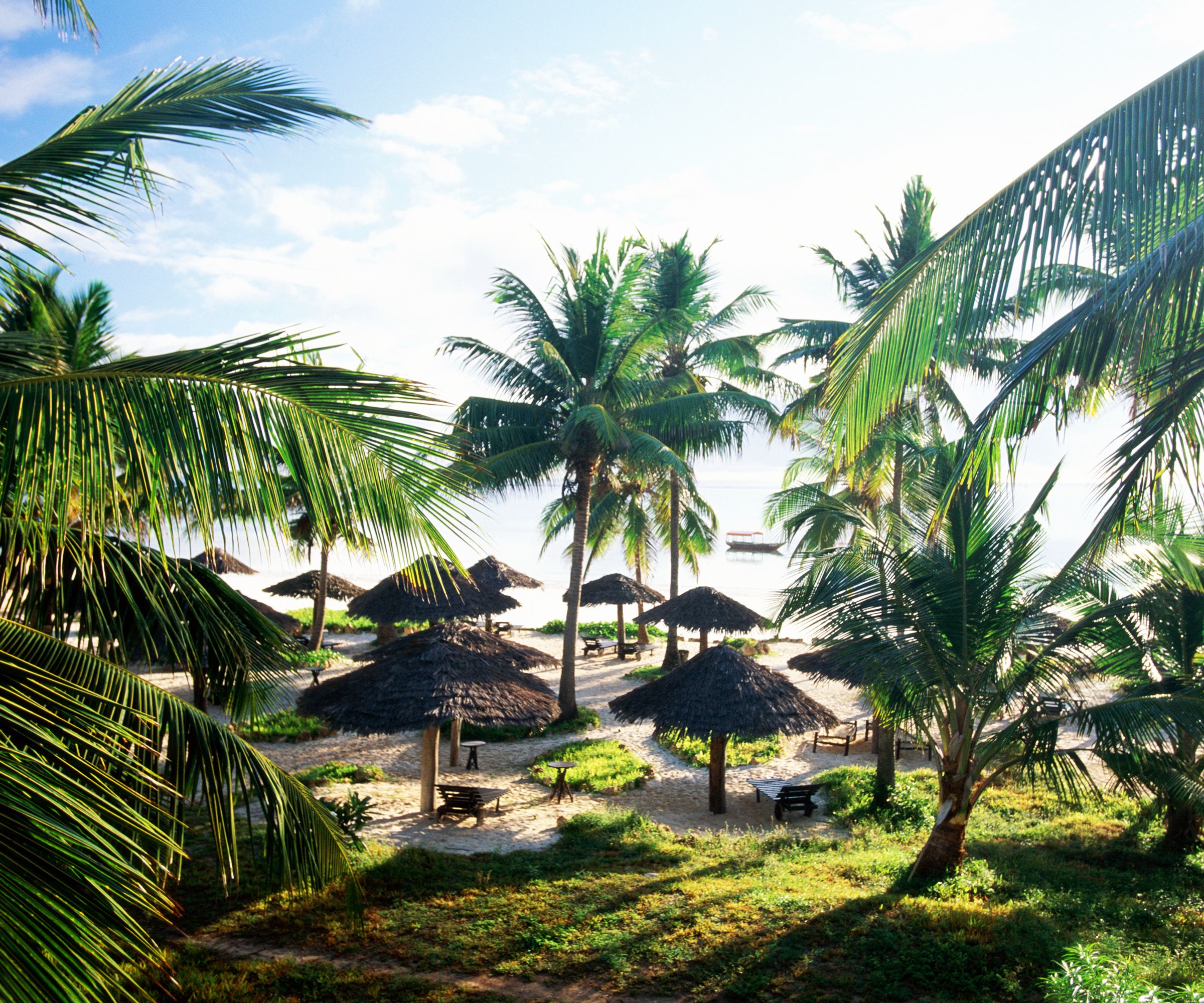 Zanzibar, Tanzania
A longtime trade hub for Western countries and the Middle East, this archipelago off the East African coast has absorbed the best of both worlds. The confluence of cultures — combined with homegrown Swahili influences — makes Zanzibar a truly unique place to visit.
Take a breath and you'll smell the distinctive perfume of spices: The destination carries the nickname "Spice Island" due to the its abundance of spice farms, specializing in cinnamon, pepper, cloves and nutmeg. Immerse yourself in the narrow alleyways of Stone Town, a UNESCO world heritage site built with coral stones. Don't fret if you get lost during one of your adventures: Majority of the locals are fluent in English and very eager to offer a helping hand.
Photo: Getting Images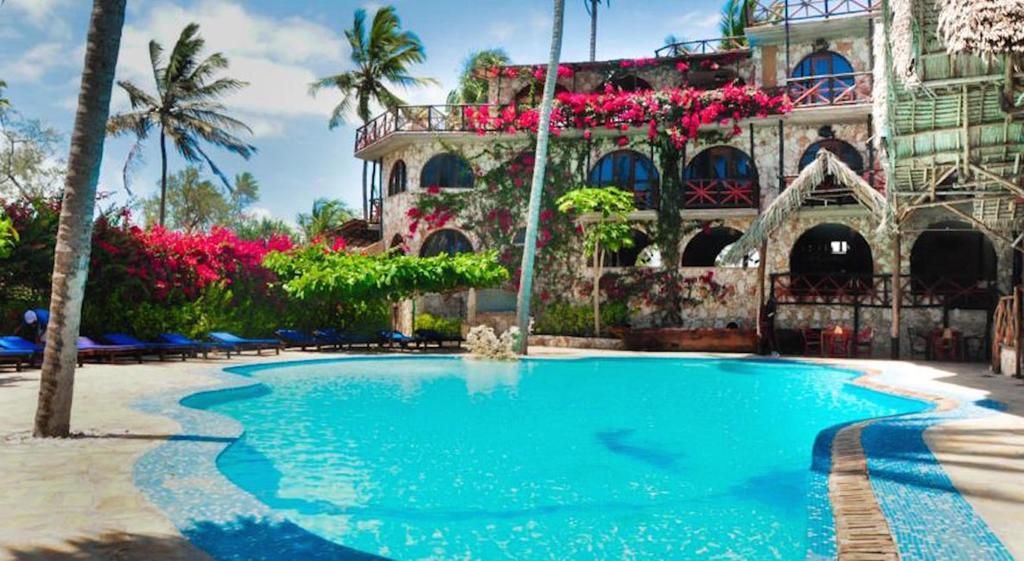 Zanzibar, Tanzania (Continued)
Where To Stay: Zanzibar is known for its pristine sands and crystal waters, and you'll be a fool to miss out on some fun in the sun. Samaki Lodge is nested in the prime spot of Uroa Beach, and the thatched roofs and canopy beds offer boutique travel experience in a throwback luxury setup. Snorkeling, scuba diving and fishing are only a few of the fun outdoor activities available here. Reserve some room in your appetite for the on-site restaurant's signature fish.
Photo: Courtesy of Samaki Lodge & Spa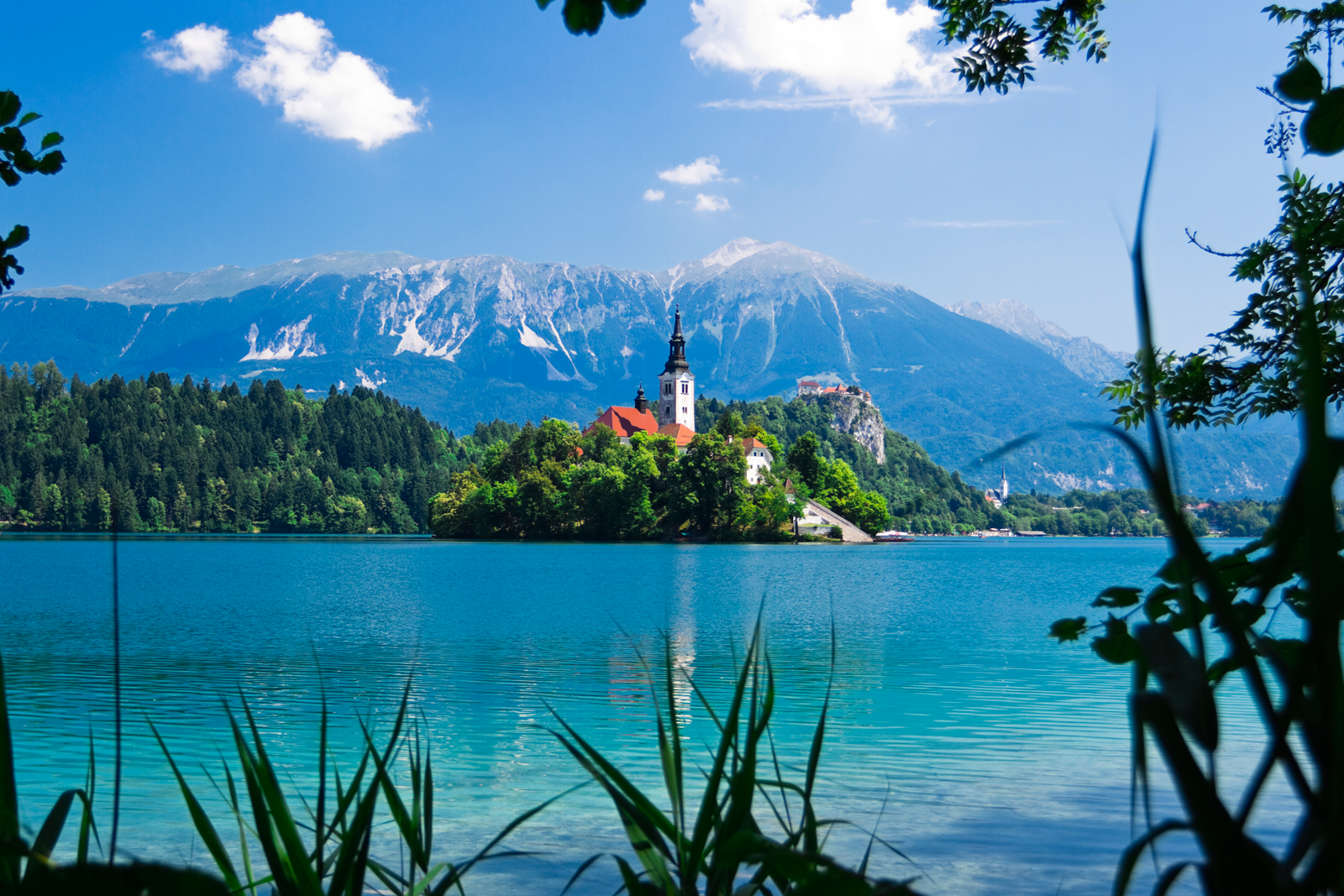 Bled, Slovenia
Central Europe is on the rise as a tourist destination — and if you're wondering why, board a plane to Bled, Slovenia. There, you'll discover the famed medieval Bled Castle, overlooking the stunning Lake Bled, and you'll wonder why Paris and London get all the attention. It's a versatile destination, full of outdoorsy attractions (horseback riding, hiking, and so on), and local charms.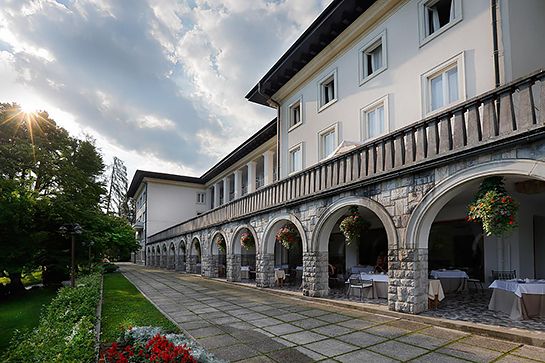 Bled, Slovenia (Continued)
Where To Stay: The elegant Vila Bled is located on the shores of the majestic Lake Bled, and is perfectly situated for exploring the surrounding town. Constructed to serve as a presidential residence in the mid-20th century, the space was eventually converted into a boutique hotel, and offers a spa, on-site restaurant, and private swimming deck.
Photo: Courtesy of Vila Bled.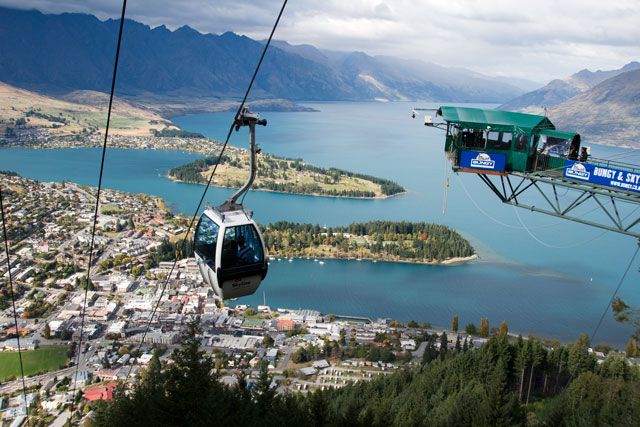 Queenstown, New Zealand
New Zealand is perhaps best known to Americans as the land where Peter Jackson shot The Lord of the Rings. And yes, it's just as beautiful as the movies make it out to be. At the southern tip of the island, Queenstown has a colder climate — perfect for cool-weather activities like skiing. This is the place to go for a thrill-seeking solo traveler. Try your hand at the luge at the Skyline Queenstown. When the activities tire you out, head to local hotspot Fergberger for a proper New Zealand beef burger.
Photo: Getty Images.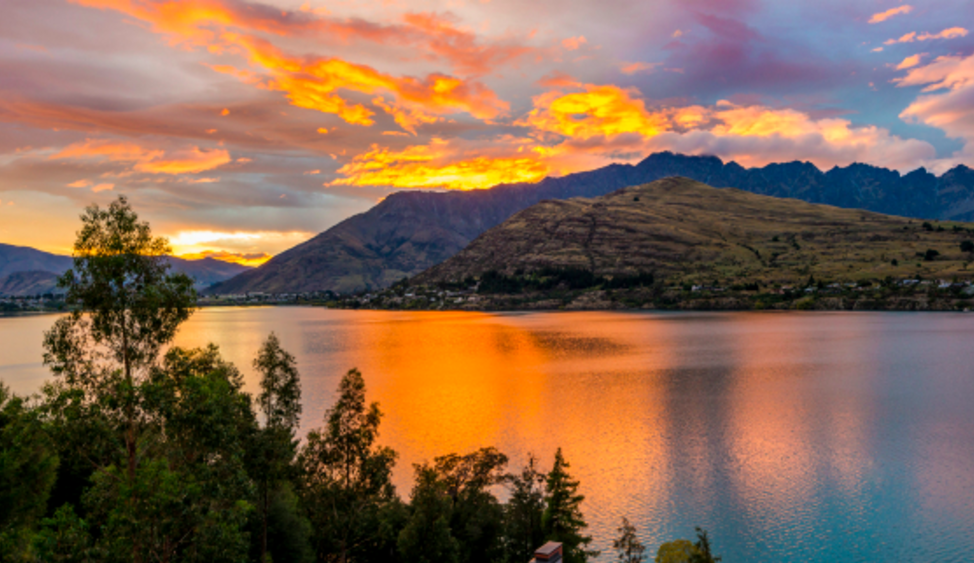 Queenstown, New Zealand (Continued)
Where To Stay: The Oaks Hotels Resorts will provide you with a shuttle bus to the city center — no need to rent a car! The apartment-style suites look out over Lake Wakatipu, which is an attraction in and of itself. Sip a cup of coffee (or tea!) while you look out onto the lake, celebrating your successful solo travel.
Photo: Courtesy of Oaks Shores Queenstown.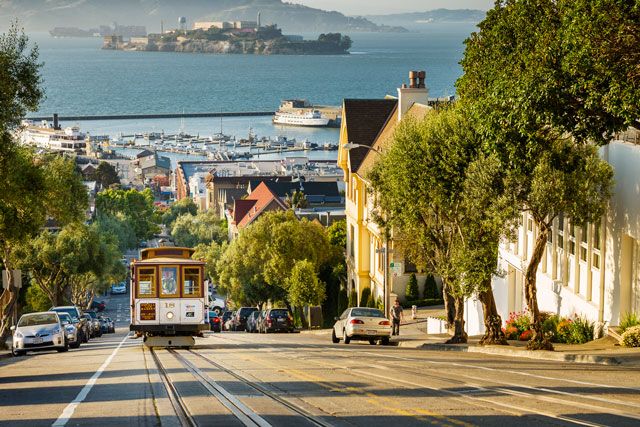 San Francisco, California
In San Fran, there's never a scarcity of things to do and see. Most parts of the city are safe and have many open and artistic people to engage with. Efficient public transportation and bike-friendly areas make getting around is easy and safe. And you get the added perk of experiencing nature and urban culture in one trip.
Make sure to hit up the noodle shops of Chinatown and Fisherman's Wharf for shopping and treats at the Ghirardelli Soda Fountain. Take a trip out to some of America's most iconic national parks like Alcatraz Island and Golden Gate Park. You can even travel back in time to where the 1960s counterculture was born in the Haight-Ashbury District. With so many options, you won't be lonely on a solo trip.
Photo: Getty Images.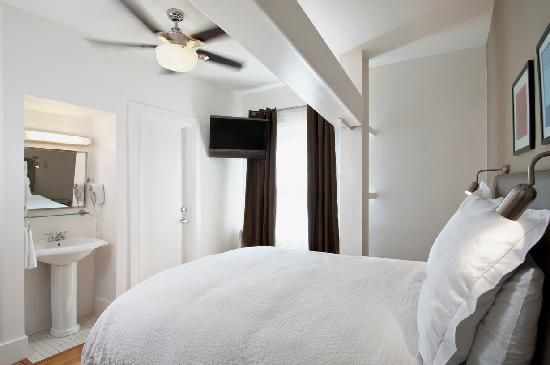 San Francisco, California (Continued)
Where To Stay: Located in the heart of Union Square, The Herbert Hotel is close to many of the city's most exciting attractions. It's also conveniently situated near public transportation, giving you access to exploring farther areas. This hotel offers extremely affordable accommodations perfect for the solo traveler. The economy rooms cost around $70 a night, and utilize community style bathrooms, which could open up an opportunity to meet fellow visitors (if you don't mind making conversation while wearing a towel!).
Photo: Courtesy of The Herbert Hotel.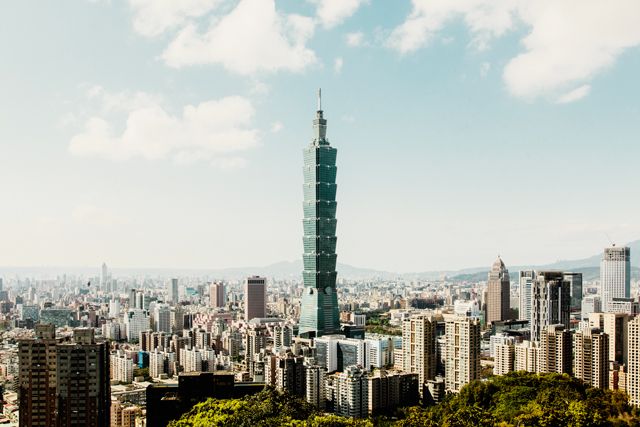 Taipei, Taiwan
You'll definitely want to visit the
National Palace Museum
and soak of the city views from
Elephant Mountain
, but while you're in Taipei, you might be tempted to spend most of your time eating. You can snack each day away by hitting up the many street vendors around the capital city. In Taipei, you can dine on a variety of world-class international cuisine, and of course sample plenty of local fare. Perhaps most importantly, here, you can eat for cheap.
Notable for people traveling alone, Taipei has public transportation that is very easy to navigate. The Mass Rapid Transit, or MRT runs throughout the city and stops and directions are very clearly marked in both Chinese and English. In addition to the convenience, the MRT is also extremely safe. Each station features blue safety waiting zones that have extra surveillance, making them a secure spot for those traveling by themselves or late at night. The extra safety features of Taipei's public transportation system contribute to it being ranked the 13th safest city in the world by The Economist's Safe City Index in 2015.
Photo: Getty Images.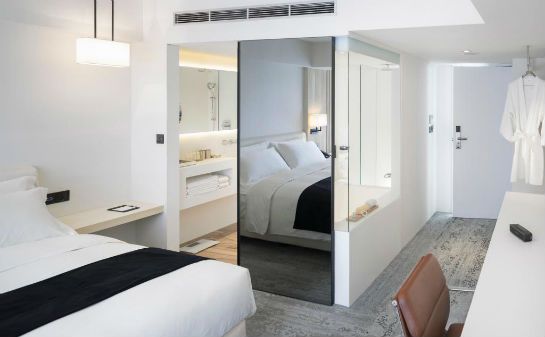 Taipei, Taiwan (Continued)
Where To Stay: If you're looking for a comfortable stay in a spacious and clean room, look no further than Swiio Hotel Daan. This modern boutique hotel has a unique design that makes it as delightful to look at as it is to sleep in. With a central location in the Da'an District and helpful staff who speak impeccable English, Swiio Hotel is a great jumping off point for a safe and easy adventure in Taipei.
Photo: Courtesy of Swiio Hotel Daan.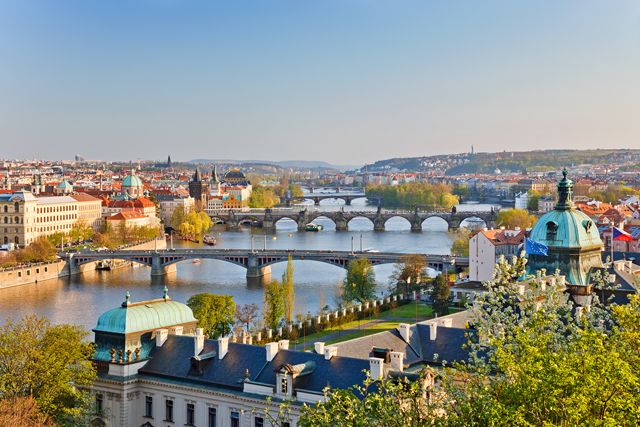 Prague, Czech Republic
You may not hear about Prague as often as, say, London or Paris, but this small European gem is actually full of quirks (like these strange public sculptures). Prague also boasts some of the best beer in Europe and a relaxed drinking culture, so test out its wide range of pubs.
Compared to its neighbors, this fairytale city is also relatively inexpensive, a major traveling plus. The metro and tram system is easy to use, but does stop running at midnight. As far as things to do, the history is endless: make sure to visit the Lennon Wall and do some sightseeing in the Castle District, where the people-watching is almost as good as the views.
Photo: Getty Images.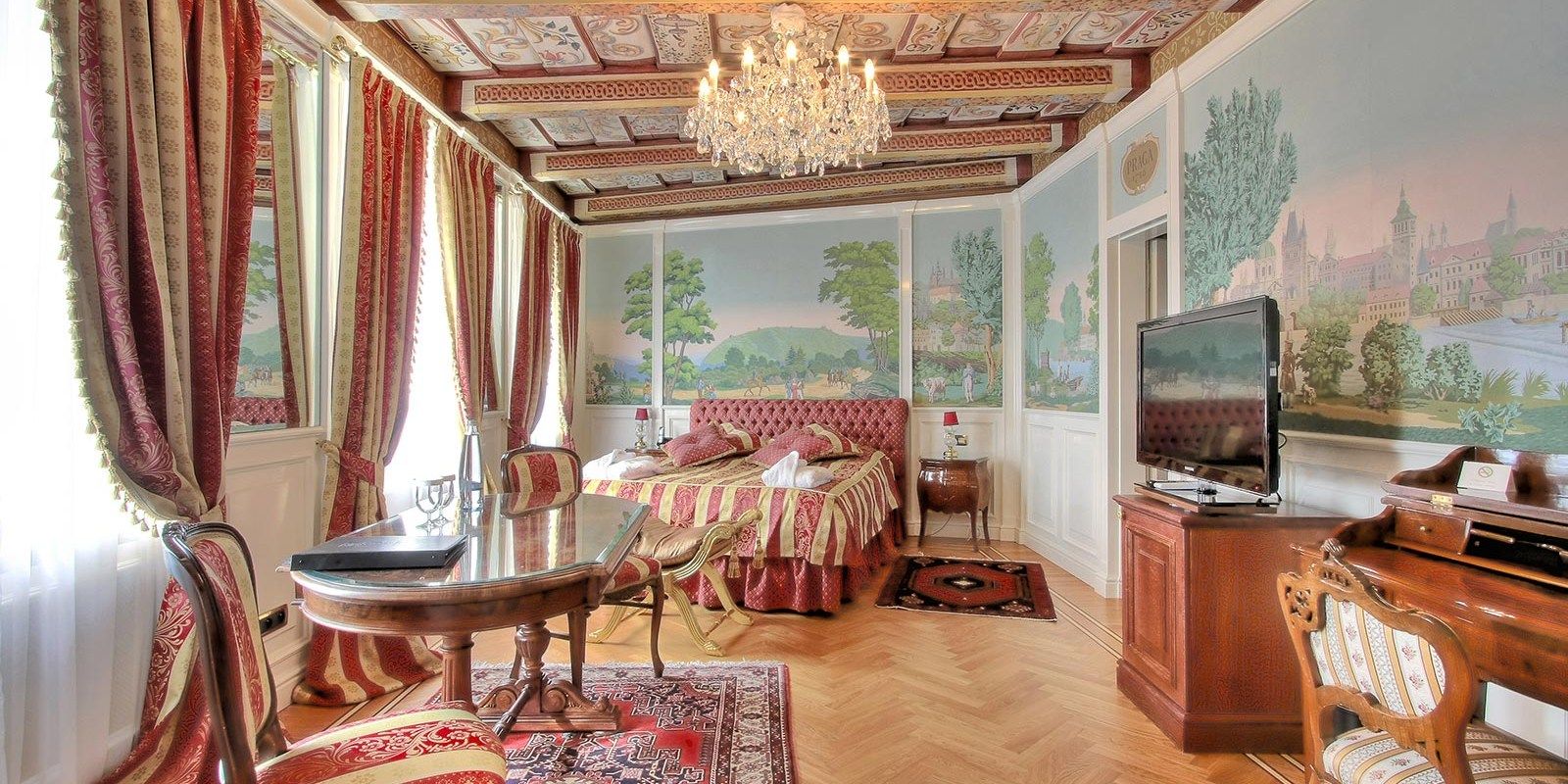 Prague, Czech Republic (Continued)
Where To Stay: Converted out of a Mala Strana mansion, the Alchemist Luxury Suites is equal parts historical and luxurious. It is centrally located in the quarter below the Prague Castle; have breakfast on the terrace overlooking the grounds. With a music room, library, and fireplace room, the Alchemist is the perfect place to curl up with a book after a long day of sightseeing.
Photo: Courtesy of The Alchemist.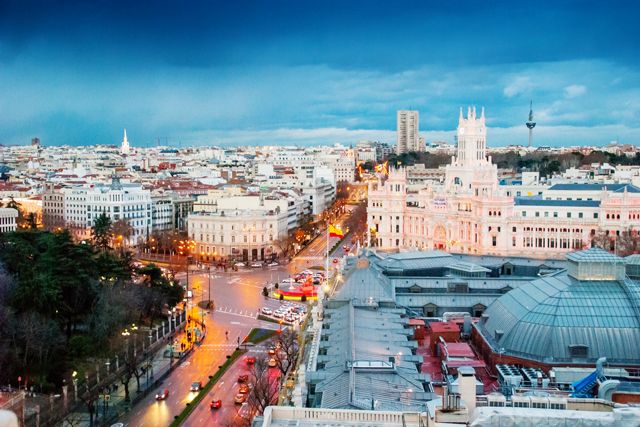 Madrid, Spain
Spain's capital city is often overlooked in favor of party-packed Barcelona, but visiting Madrid will give you an equally authentic but slightly less touristy experience. Full of grand city squares and historical architecture, the city is also an entertainment hub, known for its music and great food — from Valencia's paella to Catalan cuisine and traditional Spanish tapas.
Spain truly wakes up when the sun goes down, and the city is pretty safe at night; just be mindful of petty theft. In the Spanish tradition, have a late dinner and then explore the energetic nightlife.
Photo: Getty Images.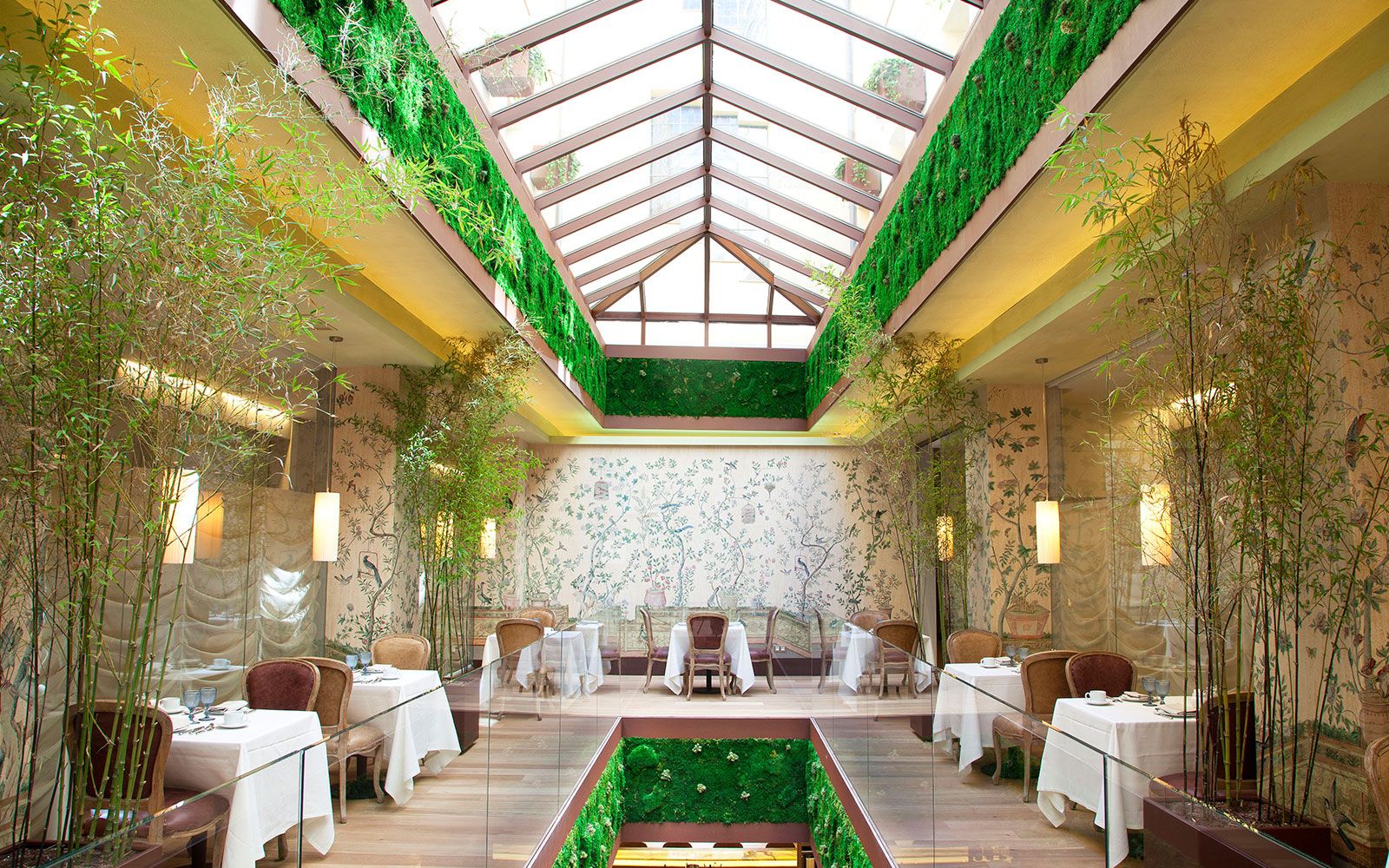 Madrid, Spain (Continued)
Where To Stay: A short walk from downtown, the URSO Hotel captures Madrid's grand elegance, in a boutique setting. It offers all the classic amenities of a larger brand, with the service of a smaller accommodation. Enjoy a private breakfast in the Conservatory, the hotel's unique indoor garden, complete with skylight.
Photo: Courtesy of the URSO Hotel.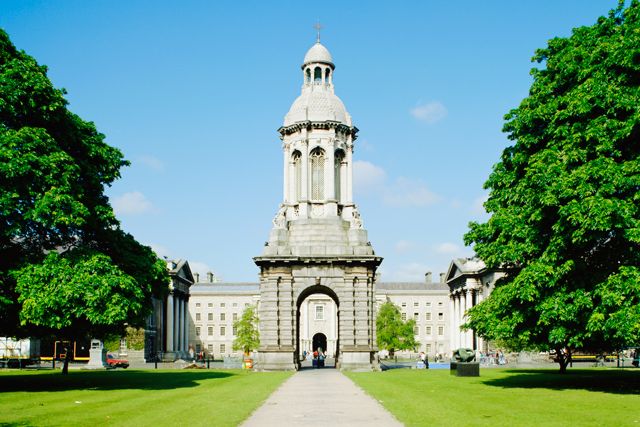 Dublin, Ireland
Dublin is a bustling, friendly city with a rich history. There's plenty for all types of travelers to do and see, from historical sites to nightlife. Buy a ticket for the
Little Museum of Dublin
in advance or hop on a walking tour of
Trinity College
, and make sure to hit the
Guinness Storehouse
(and its sexy rooftop bar). And before you ask: Yes, Guinness really does taste better in Ireland.
Temple Bar is the city's entertainment hub. Loaded with restaurants, pubs, music, and street performers, its narrow cobblestone streets are full of character. A bit touristy, to be sure, but the area also has a super-welcoming, jovial atmosphere, and it's easy for the solo adventurer to make a few friends.
The city itself is very compact, and it's quite easy to get around on foot. If time permits, get out of the city for a day and take a bus tour to see the stunning Cliffs of Moher.
Photo: Philip Craven/ Getty Images.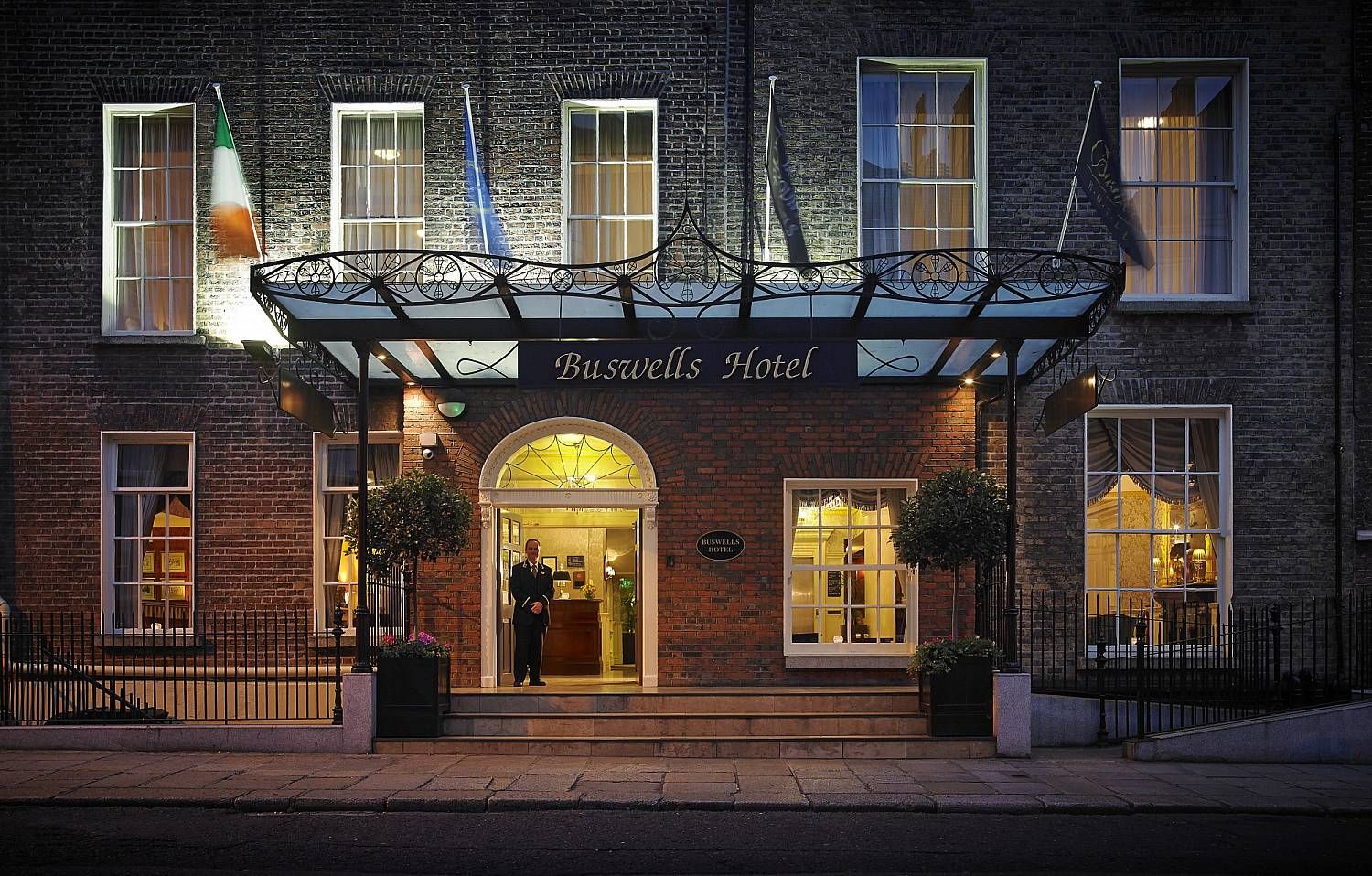 Dublin, Ireland (Continued)
Where To Stay: Hotels can get pretty expensive as you get closer to the city center, but once you're there, you'll have access to everything. Buswells Hotel has a great downtown location, right near Trinity College.
The hotel has been around since the late 19th century; recently renovated, its spacious rooms and modern bathrooms still maintain an old-school feel. The traditional interiors of the cozy Buswell Bar make it the perfect place to wind down after a busy day of sightseeing.
Photo: Courtesy of the Buswells Hotel.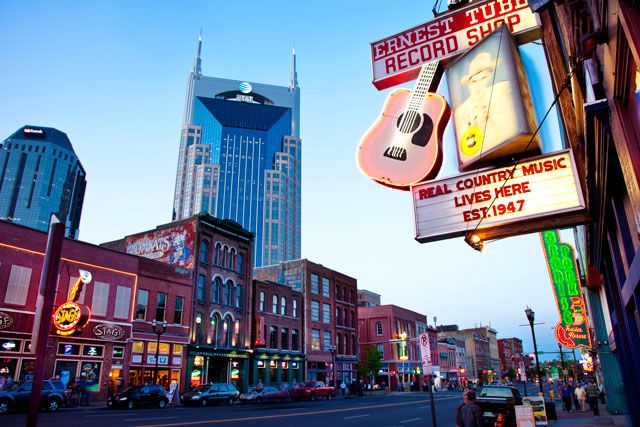 Nashville, Tennessee
We've been lusting over Nashville, since, well, the premiere of Nashville. In addition to being the capital of Tennessee, the city is also the capital of country music. Downtown Nashville is full of honky-tonk bars and venues where you can catch live shows — hence its nickname, Music City. Real country-music buffs should make a point of seeing both the Country Music Hall of Fame and the Johnny Cash Museum. Meanwhile, foodies will appreciate sampling Southern comfort favorites like hot chicken and some of the world's finest barbecue.
Surveyed as the friendliest city in America, Nashville is particularly well-suited to a traveling party of one. Plus, there are free shuttles that operate on two routes in the downtown area.
Photo: Getty Images.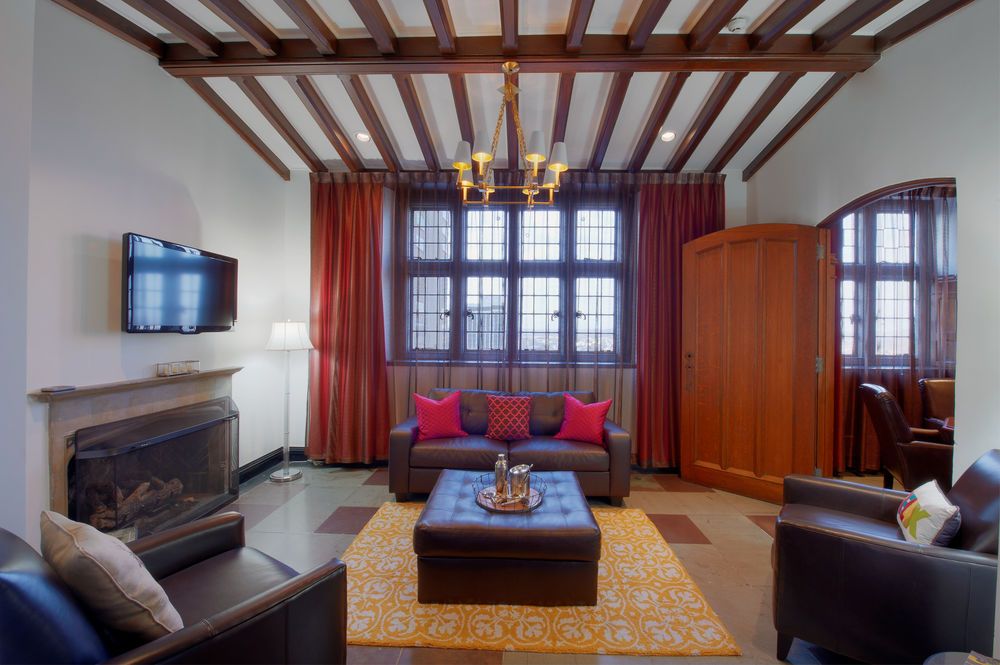 Nashville, Tennessee (Continued)
Where To Stay:
After a long day of exploring the city by foot, recharge at the
Hotel Indigo
, located downtown in the heart of the music scene.
The hotel used to be a bank, and many of the original components have been preserved, from the travertine floors to the U.S. post-boxes in the hallways. A speakeasy-inspired lounge and printer-themed lobby take design cues from the neighborhood, which is known as Printer's Alley, in honor of its history as the world's former printing capital.
Photo: Courtesy of Hotel Indigo.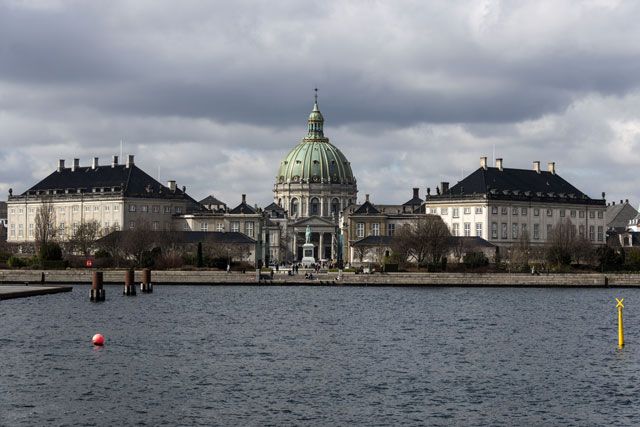 Copenhagen, Denmark
Located on the coast of Denmark, Copenhagen is one of the safest capital cities in Europe. It boasts low crime rates, and it's easy to love the Danish way of life thanks to the country's welcoming cultural attitude known as Hygge (pronounced "Hooga"). The closest translation is "coziness," but it basically means creating an environment of warmth and hospitality.
Plan your visit in the summer, when the weather is better and the days are longer — with up to 18 hours of sunlight. Explore the colorful Nyhavn Harbour, known for its restaurants, postcard-perfect buildings, and sidewalk trampolines. Cross the canal by harbor bus to Papirøen (Paper Island) and try some of Copenhagen's famous street food.
Getting around this compact city is a breeze. Buy a Copenhagen Card to use on the metro, buses, and water shuttles; it will also get you free admission to 73 museums. Plus, Denmark is very bicycle-friendly, with bike lanes located throughout the city, making it ideal for solo travelers.
Photo: Getty Images.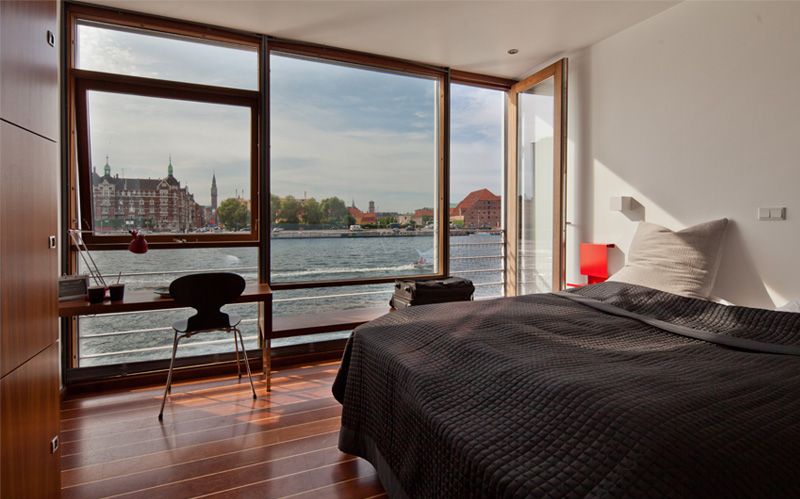 Copenhagen, Denmark( Continued)
In many ways, the CPHLIVING has many of the things you'd expect from a Scandinavian hotel, including clean, simple decor and classic Danish furniture. But one thing sets it apart from the rest: The hotel is located in an old floating barge.
Not only do guests get to enjoy gorgeous views of the harbor from their rooms and the communal sundeck, they are also smack-dab in the the heart of the city, just a short walk from many of Copenhagen's most popular destinations. Rooms come equipped with modern bathrooms as well as free Wi-Fi and cable TV, so you're far from roughing it while aboard.
Photo: Courtesy of CPHLIVING.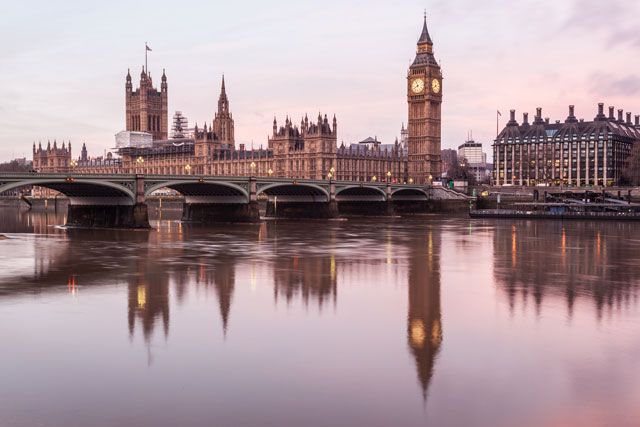 London, England
While there's nothing wrong with hitting the major landmarks, there's so much more to London than just Westminster. Take advantage of the city's many unique and multicultural boroughs: Take in some West End theatre, enjoy the sun on Hampstead Heath in North London, and hit neighborhoods like Hoxton and Spitalfields in East London for a younger, cooler scene. Go vintage shopping and swap fish and chips for unbeatable curry on Brick Lane.
Though it's thought of as an expensive city, it is possible to do London on a budget. There are plenty of beautiful parks and gardens, and most museums are free. Bicycle-sharing stations are everywhere. The Underground will get you anywhere you need to go, and it's remarkably clean and safe, even at night.
Photo: Getty Images.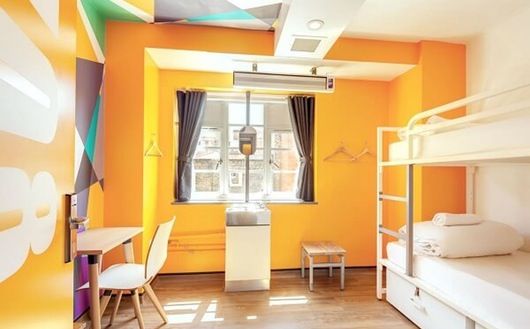 London, England( Continued)
Where To Stay: If, when you think of hostels, you imagine grimy shared sleeping quarters with no personality, Generator London will change your mind. This trendy spot, located in central London, offers the cut-rate hostel price tag with plenty of personality and creature comforts.
Visitors can opt for private or group rooms (including a female-only option), all decorated in bold, bright colors with industrial flair. Downstairs, a restaurant and bar, as well as "chill-out areas," provide space to relax, rejuvenate, and plan the next day's adventures.
Photo: Courtesy of Generator London.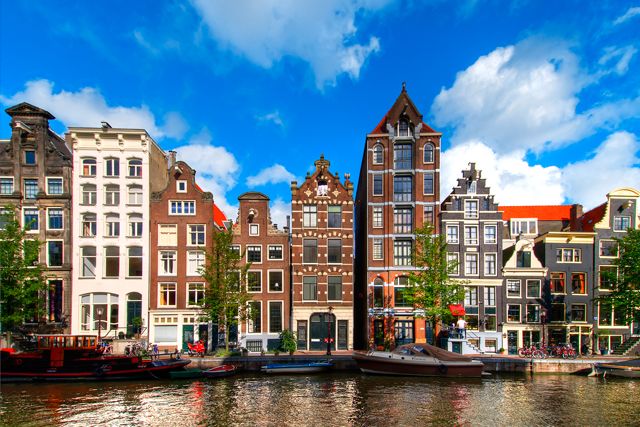 Amsterdam, The Netherlands
While Amsterdam is largely known for its vices (legalized prostitution and drugs among them), the city is actually very safe for solo travelers. TripAdvisor lists it as one of the 25 safest cities in the world, and its vibrant nightlife actually means you'll rarely find yourself alone on a street at night.
The city's many museums and cafes are also ideal for those traveling alone. You can explore easily by foot or bike — or even boat — and get lost in the maze-like, picturesque streets. Pop into one of the city's street markets, including the world's only floating flower market. Buy an I amsterdam City Card to get free or discounted admission to many of the city's best-known sites, like the Anne Frank House and Van Gogh Museum.
Photo: Getty Images.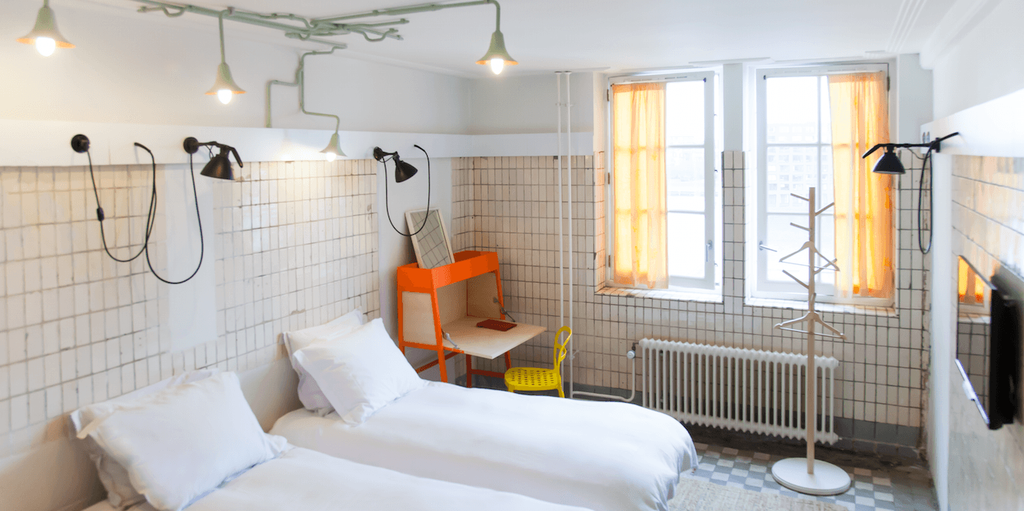 Amsterdam, The Netherlands( Continued)
Where To Stay: There's no shortage of options for travelers, but the Lloyd Hotel stands out from the pack as the first hotel where you can choose just how many "stars" you want. So, those on a tight budget can opt for a one-star experience (twin bed, shared bathroom), while travelers with more resources can book five-star accommodations, which feature separate seating areas and well-appointed bathrooms.
The hotel is located in an historic building that has been updated with modern Dutch design elements, and one-of-a-kind decor in each room. It's a 10-minute tram ride from the main train station, and just across the street from one of the city's picturesque canals.
Photo: Courtesy of Lloyd Hotel.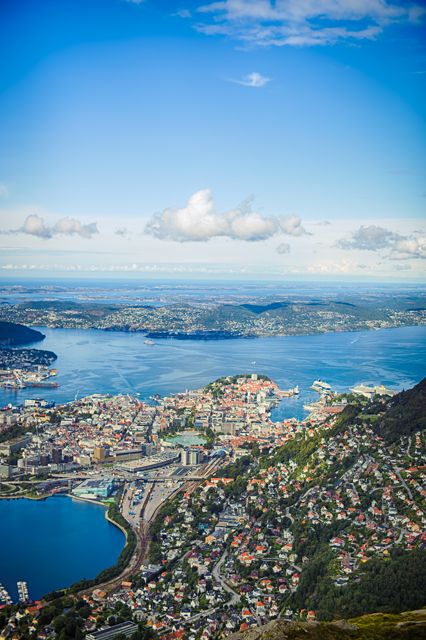 Bergen, Norway
Scandinavian countries are generally safe, and their citizens tend to be exceedingly friendly — which is why they are a great option for solo travelers. And while Iceland has become a popular destination in recent years, don't overlook Norway, its neighbor to the east. Bergen, the nation's second-largest city, is the perfect spot to do some urban exploring before going further afield to experience the fjords. And you may even catch a glimpse of the Northern Lights.
While in town, you'll definitely want to visit the Bryggen, a UNESCO World Heritage site of picturesque buildings by the city's wharf. Don't miss the nearby fish market, where you can grab a bite from one of the street carts (including whale steak, should you feel brave enough). Once you've had your fill of wandering, hop on a funicular to experience sweeping views of the city.
Photo: Getty Images.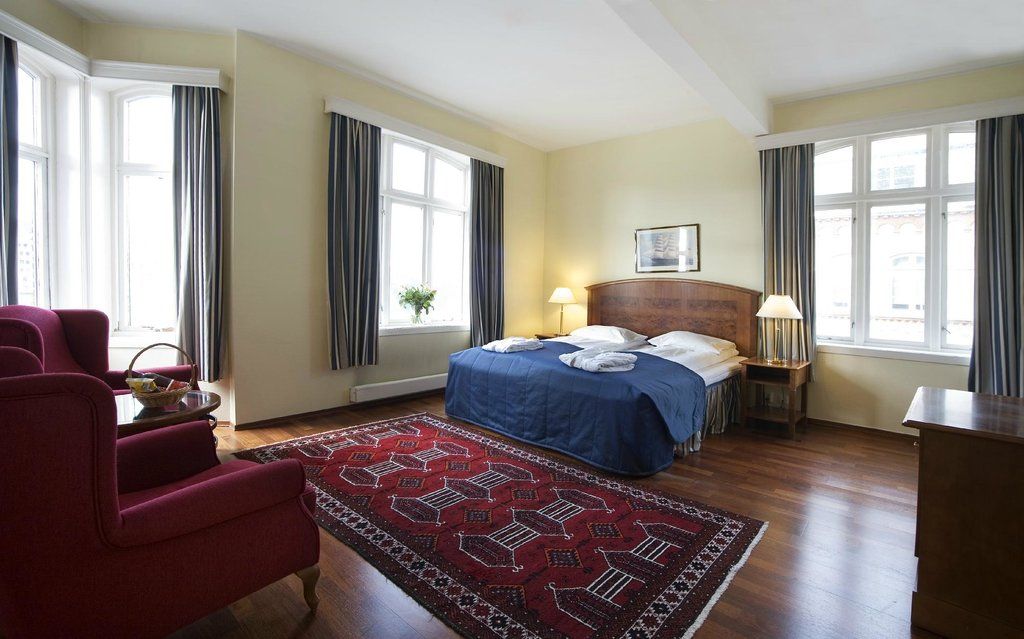 Bergen, Norway (Continued)
Where To Stay: Just steps from the Bryggen, First Hotel Marin provides the perfect jumping-off point for exploring the city. The brick building used to be a print shop, and the rooms still retain some of their original old-school sensibilities, with oak furniture and hardwood floors. If you spring for the penthouse, you'll get views of the harbor and city, but all guests can take advantage of the free breakfast and modern bathrooms (including heated floors and towels!).
Photo: Courtesy of First Hotel Marin.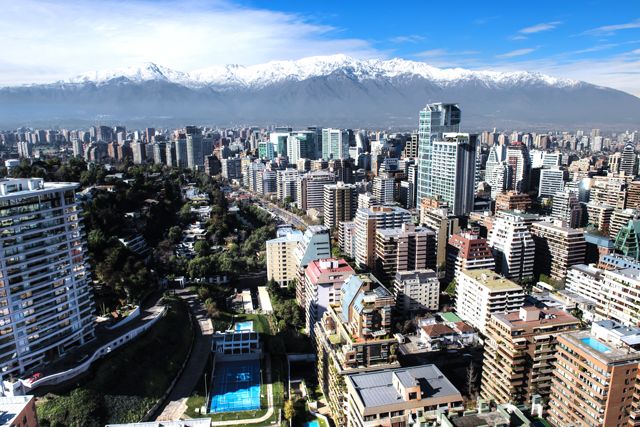 Santiago, Chile
The most populous city in Chile (around 40% of the country lives there), Santiago is wonderful for solo travelers. It's regularly ranked as one of the safest large cities in South America, and is famous for its vibrant street life and walkability.
From the city center, you'll be able to explore Santiago's many concert halls, churches, and museums, like the stunning Museo Nacional Bellas Artes. A short subway ride away, Cerro San Cristóbal is the city's largest park, and it requires at least a full day of exploration. A funicular transports visitors to the zoo, botanical gardens, and the not-to-be-missed Terraza Bellavista, which offers stunning views of the city and surrounding mountains.
Santiago is also a great launch point to visit Patagonia. Hop a short flight to Punta Arenas, just outside of the Torres del Paine National Park, where you'll find breathtaking glaciers and mountains unlike anything you've ever seen before.
Photo: Getty Images.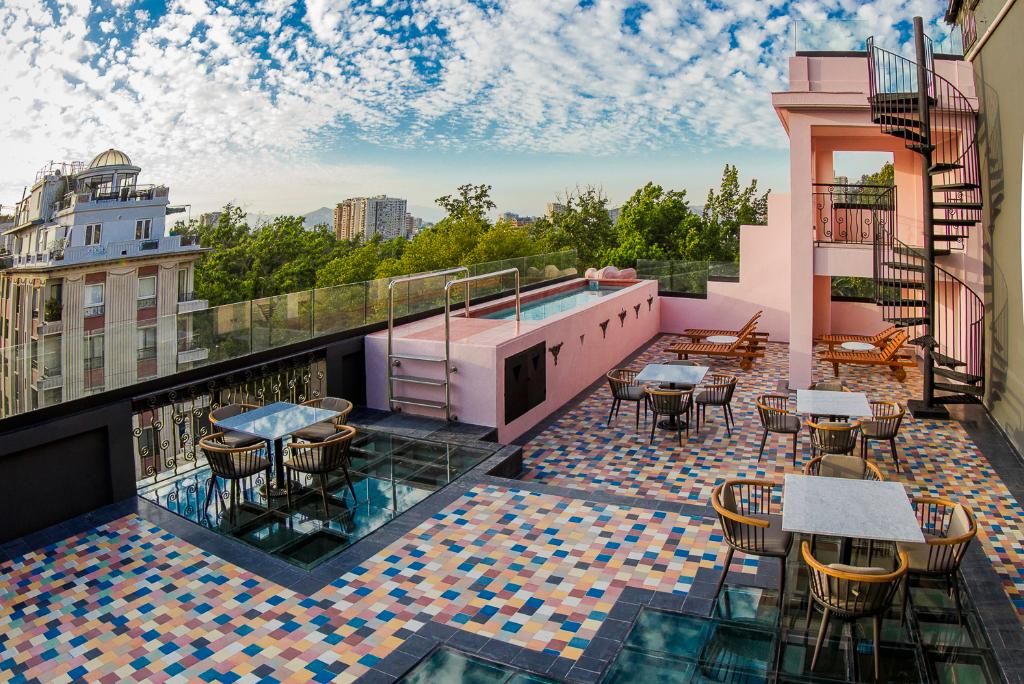 Santiago, Chile (Continued)
Where To Stay:Luciano K Hotel is located in Barrio Lastarria, a neighbourhood known for its Bohemian charms and artsy coffee shops. There's no shortage of things to do, with loads of bars and cafes, plus a movie theatre, all nearby. If you're looking for a bit more solitude, try the Turkish baths, or simply enjoy a meal on the rooftop of the hotel. Fun fact: It was the tallest building in Chile when it was built in the 1920s.
Photo: Courtesy of Luciano K Hotel.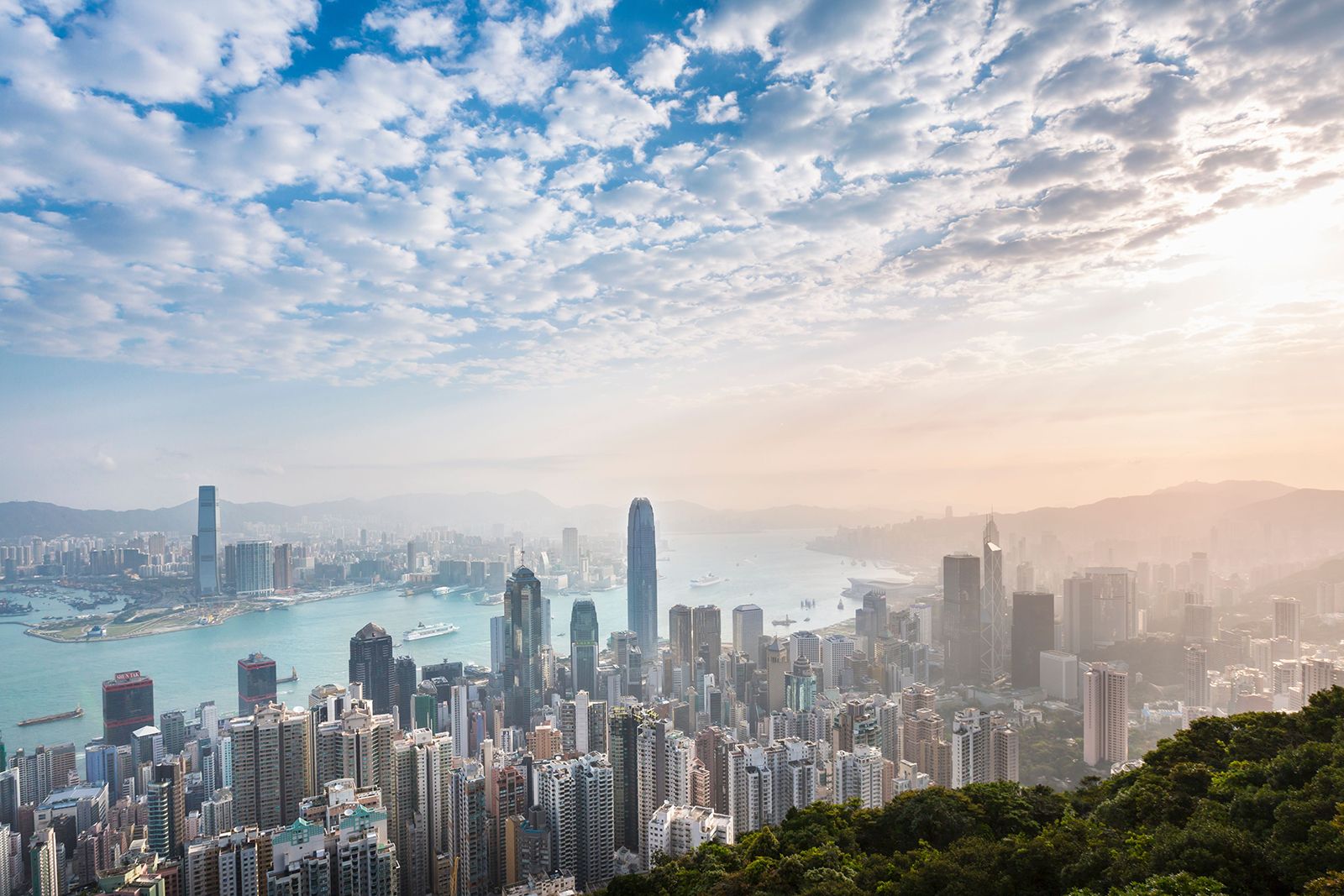 Hong Kong, China
Those who've only ever traveled to Hong Kong for business will tell you that it's no different than other busy financial hubs like Shanghai or NYC. Well, these people have yet to see the real side of the city.
"Hong Kong is my top destination for an urban adventure alone," says Stephanie Yoder of Twenty-Something Travel. "You'll absorb more sights, sounds and smells than you can ever imagine from just walking around."
A unique intersection of China's rich history and modern influences from the West, Hong Kong is chock full of dishes that will tickle your tastebuds — think stir fried crab at Aberdeen 's floating restaurants and rice casserole pots at Temple Street Night Market. You'll run into fellow travelers at the cluster of swanky nightclubs along Lan Kwai Fong, the renowned "party street." The former British colony is also easier to navigate compared to many other destinations in Asia, due to abundant English signage and courteous, mostly bilingual locals.
Photo: Cultura/REX Shutterstock.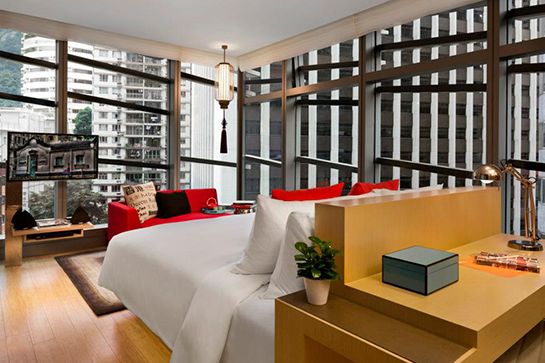 Hong Kong, China (Continued)
Where To Stay:Hotel Indigo is a boutique hotel that captures the East-meets-West essence of the the city with a sleek design that incorporates the best of both worlds. Incoming guests are greeted by a waterfall of giant red lanterns at the entrance, while the rooms are infused with a touch of European minimalism. With a convenient location in Wanchai, a commercialized yet highly residential neighborhood, you'll be a short walk away from local foodie institutions like Capital Café and the effortlessly cool indie boutiques of Star Street. Hit up the Wanchai Heritage Trail if you're interested in a peek into this historic neighborhood that has survived two world wars.
Photo: Courtesy of Hotel Indigo.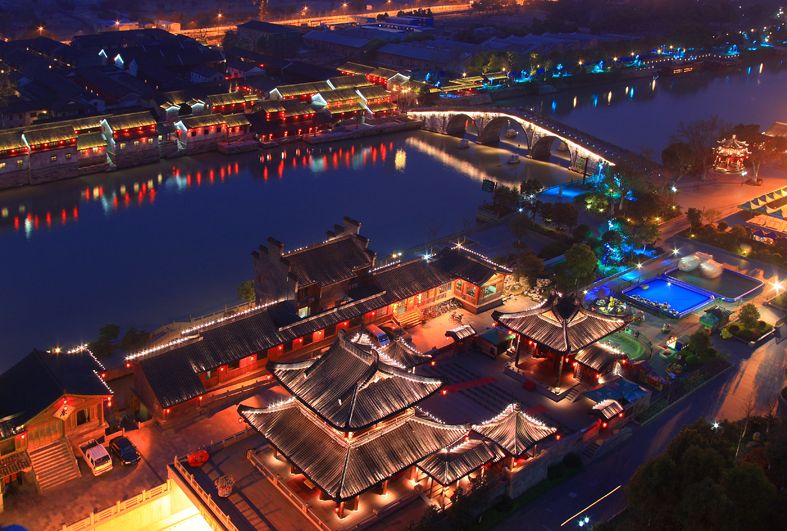 Hangzhou, China
Just a 45-minute ride from Shanghai by high-speed train, Hangzhou has been praised as "heaven on Earth" by Chinese authors throughout history. It's not hard to see why the ancient capital was the setting for countless folklore and poems: West Lake, a landmark named after
a legendary beauty in ancient China
, boasts arresting sunset views that will make you feel utterly at peace.
You'll need to get on a wooden cruise boat to truly appreciate these out-of-this-world sights: Weeping willows that gently ripple on the water's surface, the spectrum of blossoms that change along with the seasons, and the glimmering Leifeng Pagoda tower. Exploring the picturesque town has also never been easier, thanks to free outdoor Wi-Fi, an easy-to-use metro system, and the popularity of Uber in China. Those who seek even more tranquility can sign up for a tea-picking tour at Longjing Imperial Tea Garden, a plantation that produces green tea leaves, and which counts Emperor Qianlong among its loyal fans.
Photo: Courtesy of Hangzhou Tourism Commission.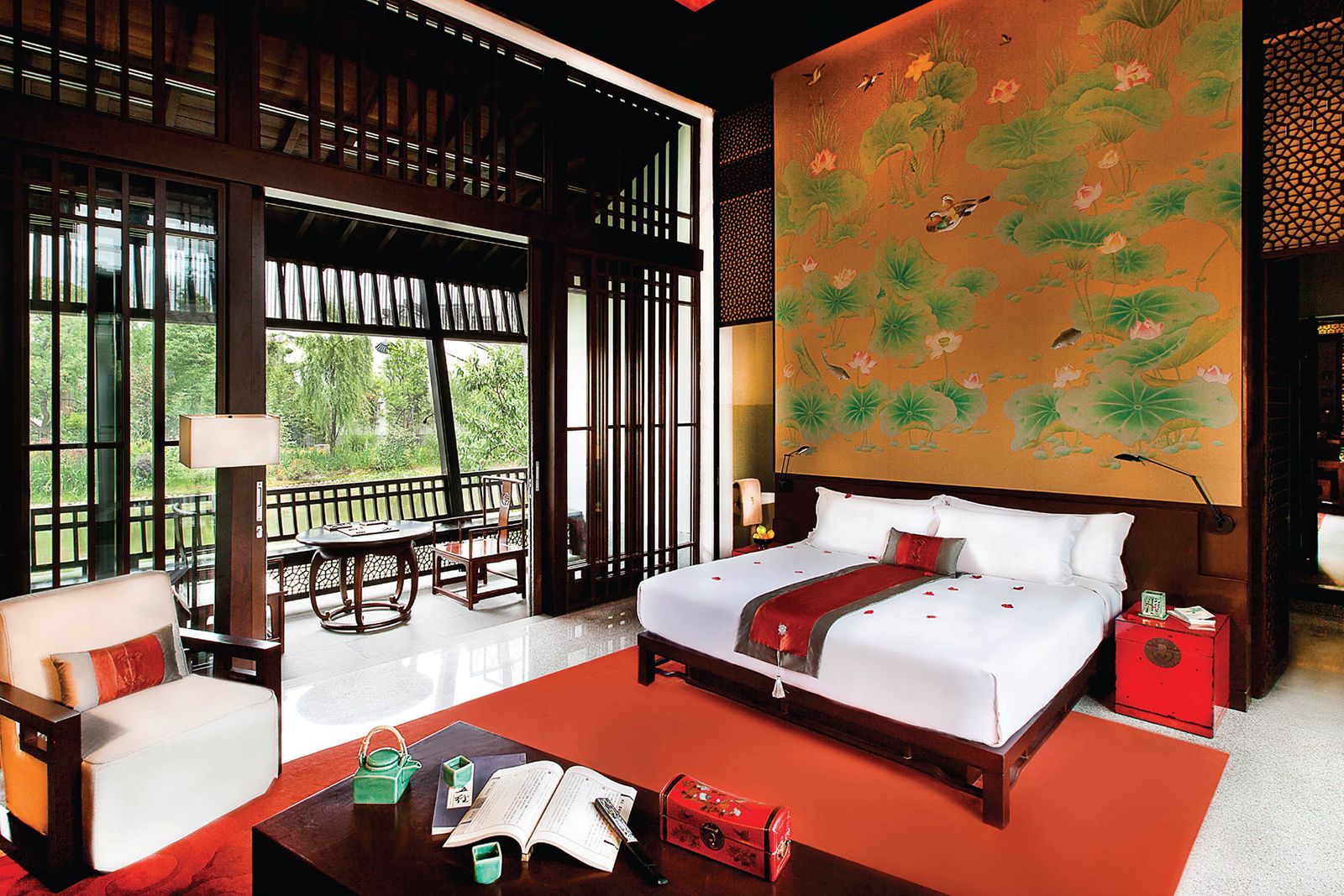 Hangzhou, China (Continued)
Where To Stay: A day of sight-seeing and tea-picking calls for some serious pampering. With an award-winning spa and 62 upscale suites and villas, there's no better place for R&R than Banyan Tree. The hotel is situated in the picturesque Xixi National Wetland Park, an exclusive ecological site that only admits 3,000 people per day. A night here will provide much-needed relaxation to urbanites: You'll be resting your head on precious mahogany beds and waking up to the gentle bird calls of little egrets, a common species at the park.
Photo: Courtesy of Banyan Tree.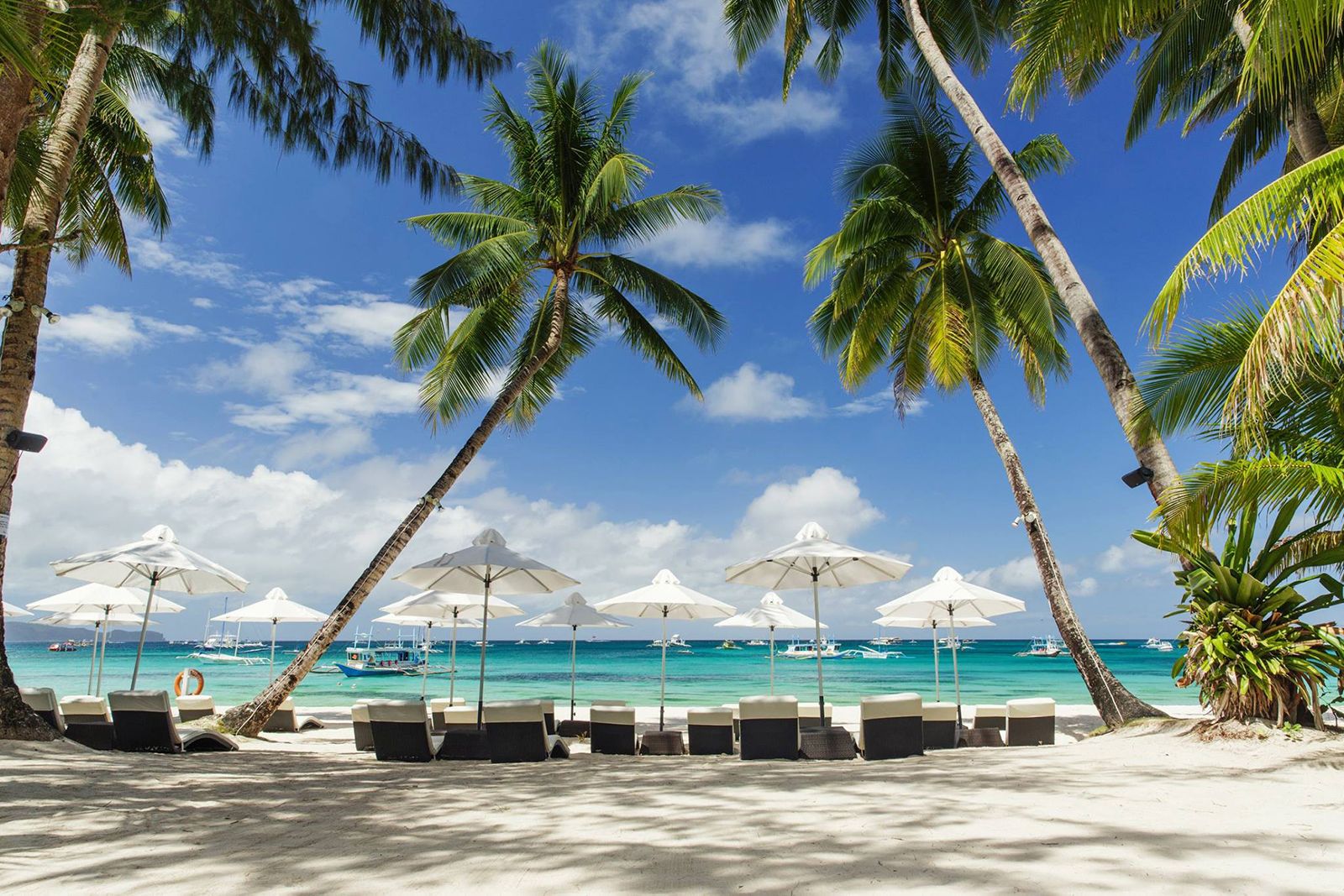 Boracay, Phillipines
Boracay is the Southeast Asian island for affordable holiday fun in the sun. White sands, crystal clear waves, and marvelous sunsets are the obvious perks that come with your visit, but the most unforgettable one by far will be the friendly smiles you'll encounter here: Filipinos are consistently ranked as some of the happiest people in the world.
Named the "Best Island on Earth " by Travel + Leisure in 2012, the tropical paradise is also known for its wild party scene, providing plenty of opportunities to join locals and fellow travelers on epic seaside bar crawls. Hit up Cocomangas, the longest-running bar on the island, to sip on under-$10 cocktail jars and shakers and start mingling. Bali and Phuket are so last year.
Photo: Courtesy of Villa Caemilla.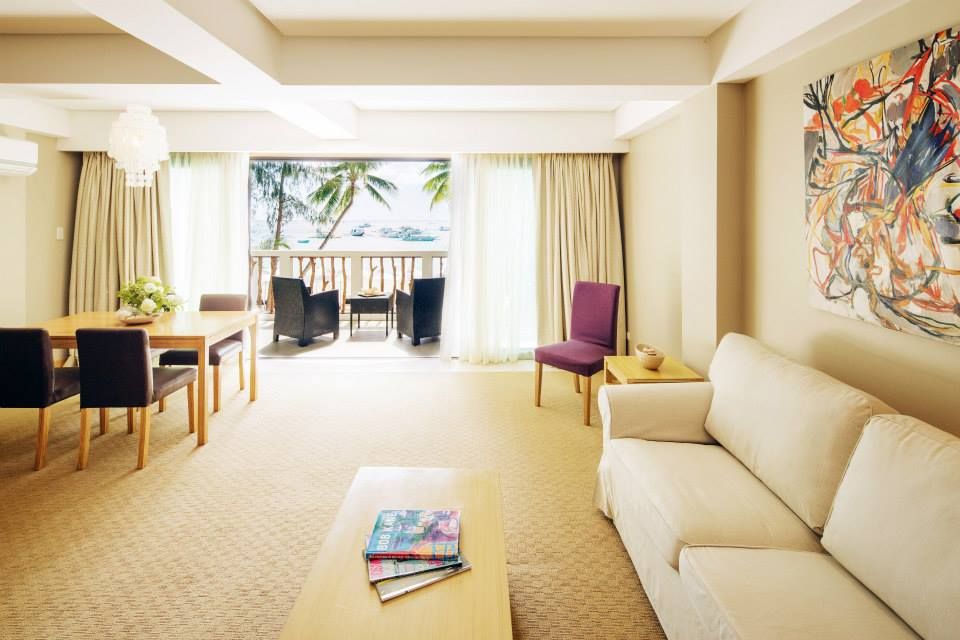 Boracay, Phillipines (Continued)
Where To Stay: After a night of partying, you'll need a luxe sanctuary to rest and recharge: The boutique Villa Caemilla hotel is located at Station 3, a private and peaceful strip of the island. A free motorized tricycle is also available for shuttling guests to and from the busier districts. The building is right on the water, so each spacious suite offers unbeatable views of the ocean. You'll be able to tuck your toes into the sand the moment you step outside.
Photo: Courtesy of Villa Caemilla.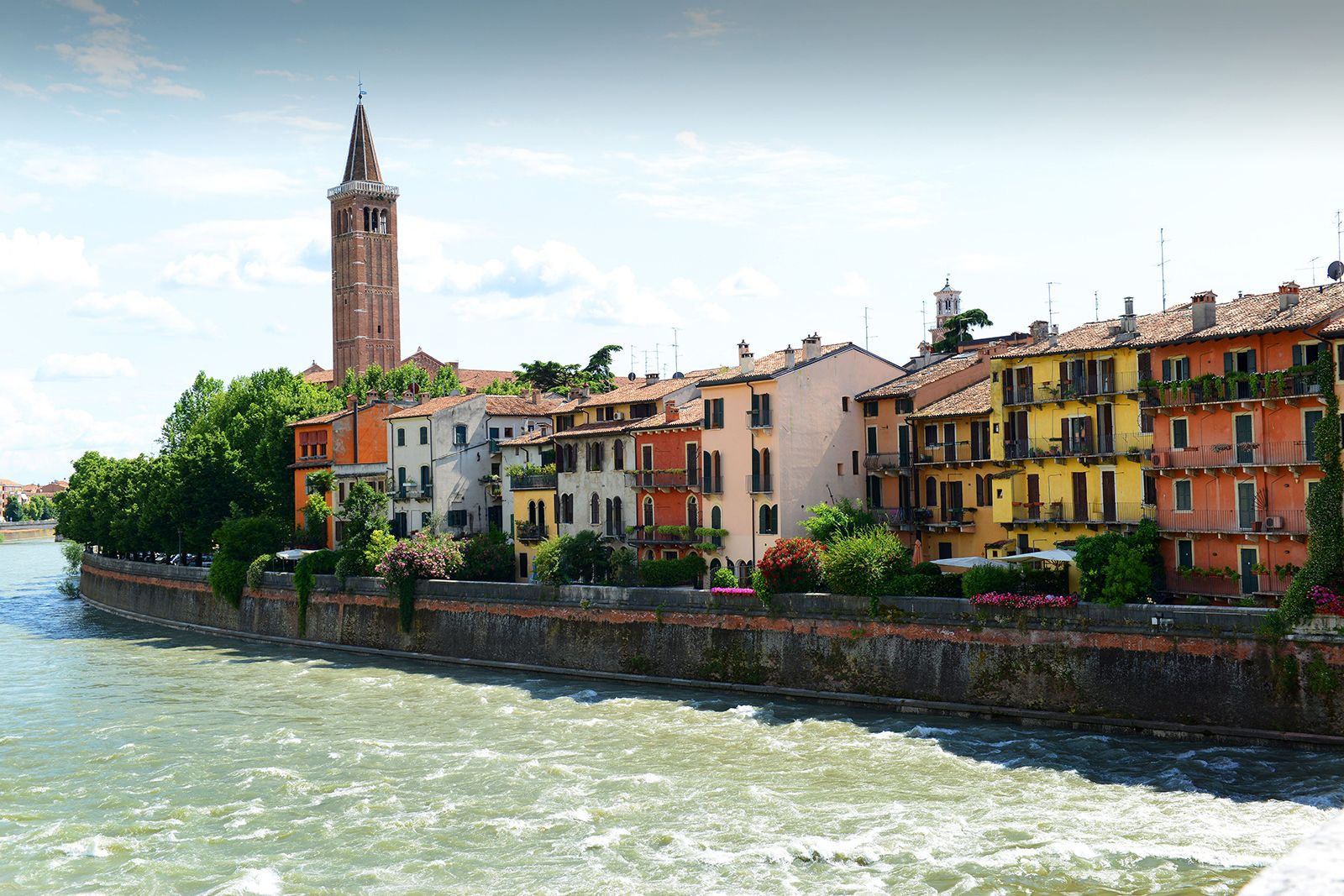 Verona, Italy
Verona is a province in between Milan and Venice, making it the perfect pit stop on a cross-country trip. Many remember it as the birthplace of one of the most celebrated romances in history, but there's a lot more to do here besides checking in at Juliet's Balcony on Facebook.
To say that Verona can be the set of a romance epic would not be an understatement. "Each corner you turn, you'll come face to face with flowers that wouldn't look out of place at a high-end wedding," says Damon Dominique, travel vlogger at Shut Up and Go. "But these unbelievable blossoms are just your average gardening here." Be sure to make time for Piazza delle Erbe, the city's open-air market, and sign up for a wine tour at Allegrini, the area's premier vineyard. With so much amore in the air, you might not be leaving Verona alone.
Photo: David Bagnall/REX Shutterstock.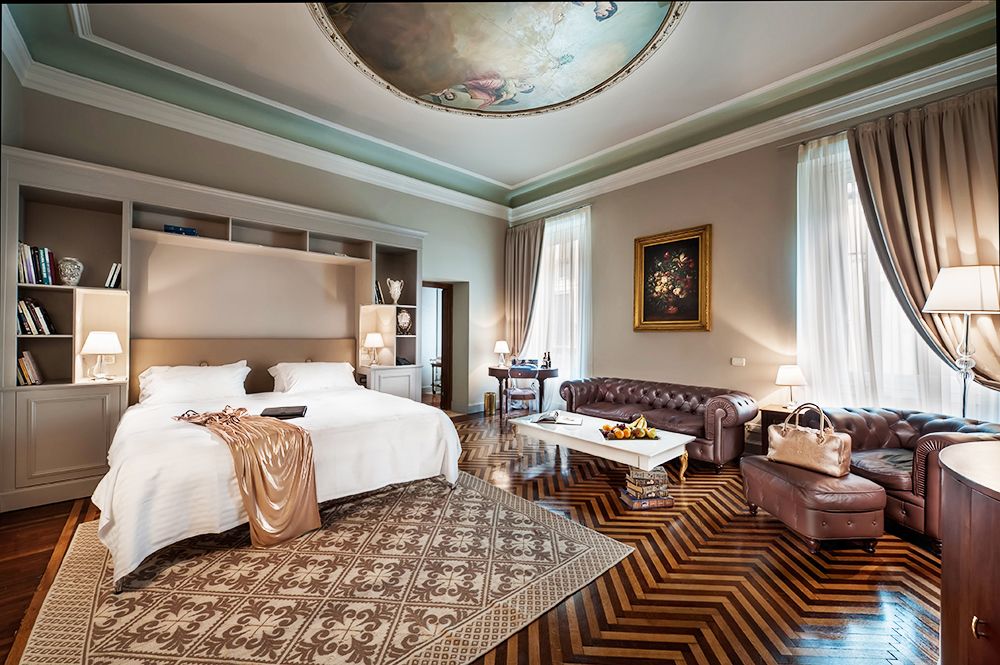 Verona, Italy (Continued)
Where To Stay: A monumental city like Verona deserves a hotel with the stateliness to match. The palatial Palazzo Victoria features 74 rooms decked out in lush materials — like fine Italian marble — and antique furniture. The rooms offer spectacular views of Corso di Porta Borsari, a landmark pedestrian street. Guests are made to feel like Veronese noble(wo)men, receiving free welcome drinks upon arrival and the finest virgin olive oil as a commemoration of their stay.
Photo: Courtesy of Palazzo Victoria.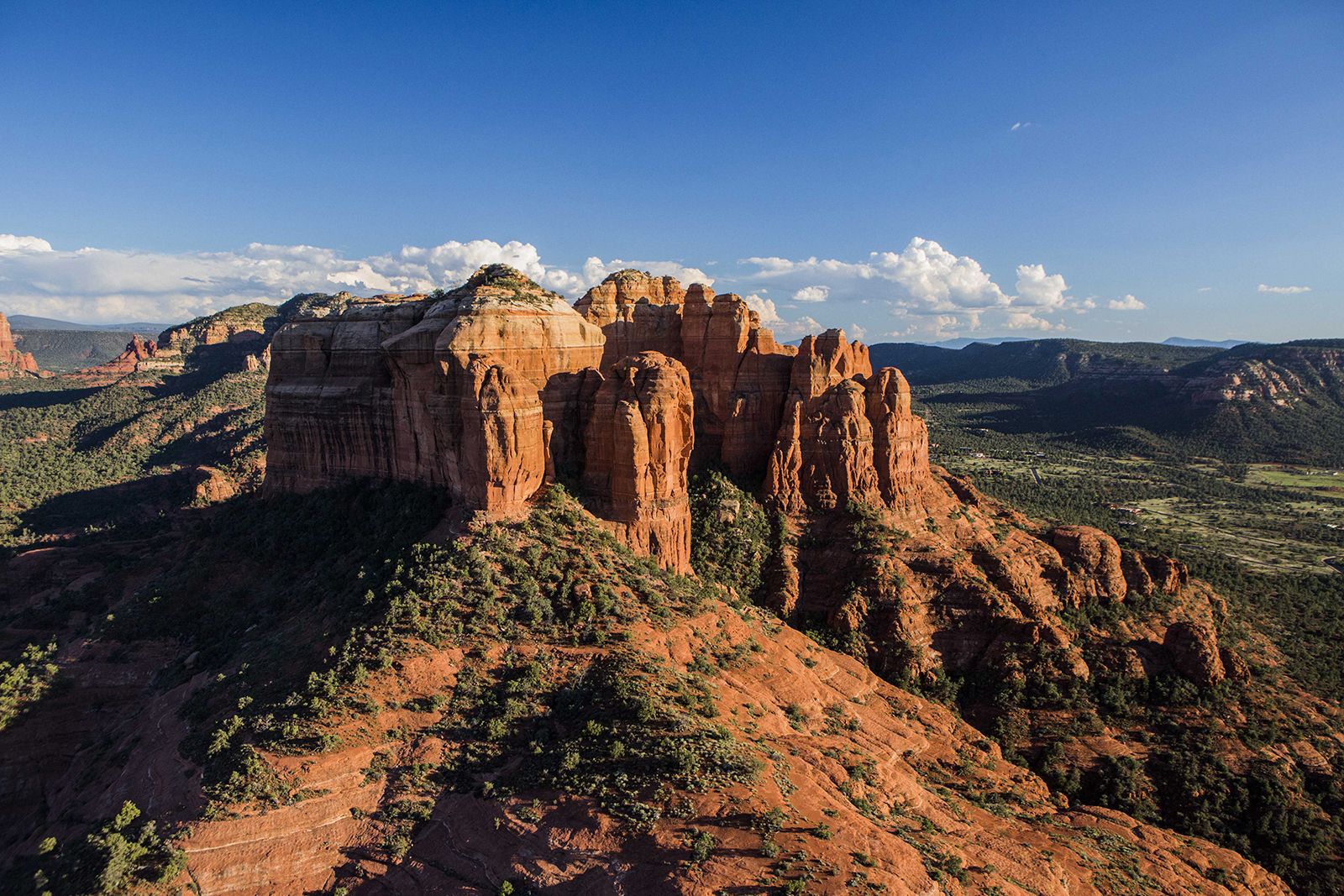 Sedona, Arizona
Sometimes, one of the best ways to unwind is to get out on your own and commune with nature. Few places are as relaxing as Sedona, with its enchanting red rock landscape, outdoor activities, and burgeoning wine scene. There's plenty you can do to get a newfound appreciation for the Earth: Hike at your own pace, take a canoe tour of the nearby Verde Valley Wine Trail, or just meditate on a mountaintop. There's no better place to have an epiphany about life than at the summit of a gorgeous canyon.
Photo: Image Source/REX Shutterstock.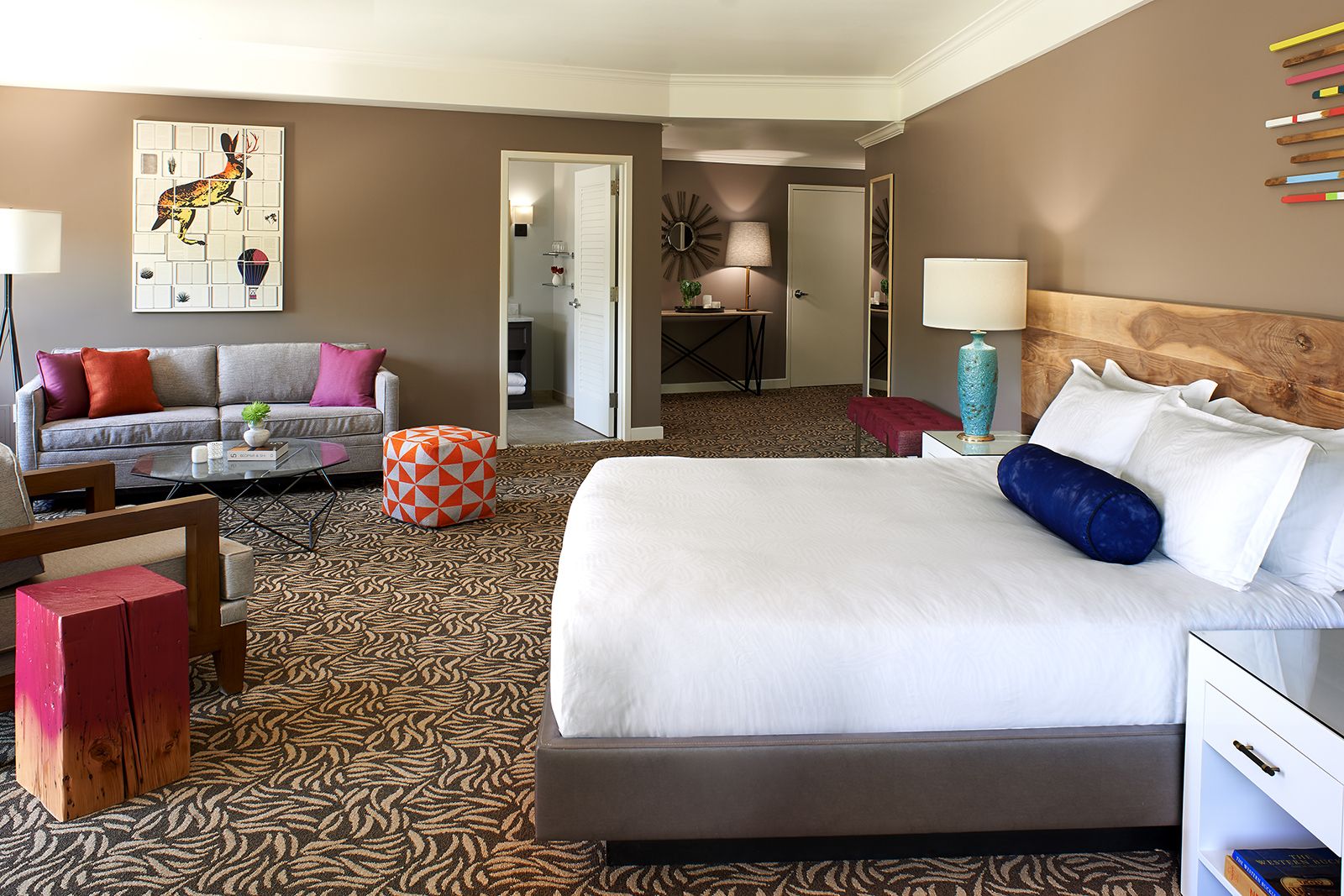 Sedona, Arizona (Continued)
Where To Stay: "Sedona is an area known for its spas, and you really can't go wrong with the beautiful setting of Amara Resort and Spa," says Laura Michonski, a seasoned solo traveler and the site director of NewYork.com. Nestled along the Oak Creek Canyons, this resort has all the markings of a sanctuary: jetted soaking tubs, a courtyard overlooking cliffs, and an infinity pool. You'll leave fully-charged.
Photo: Courtesy of Amara Resort.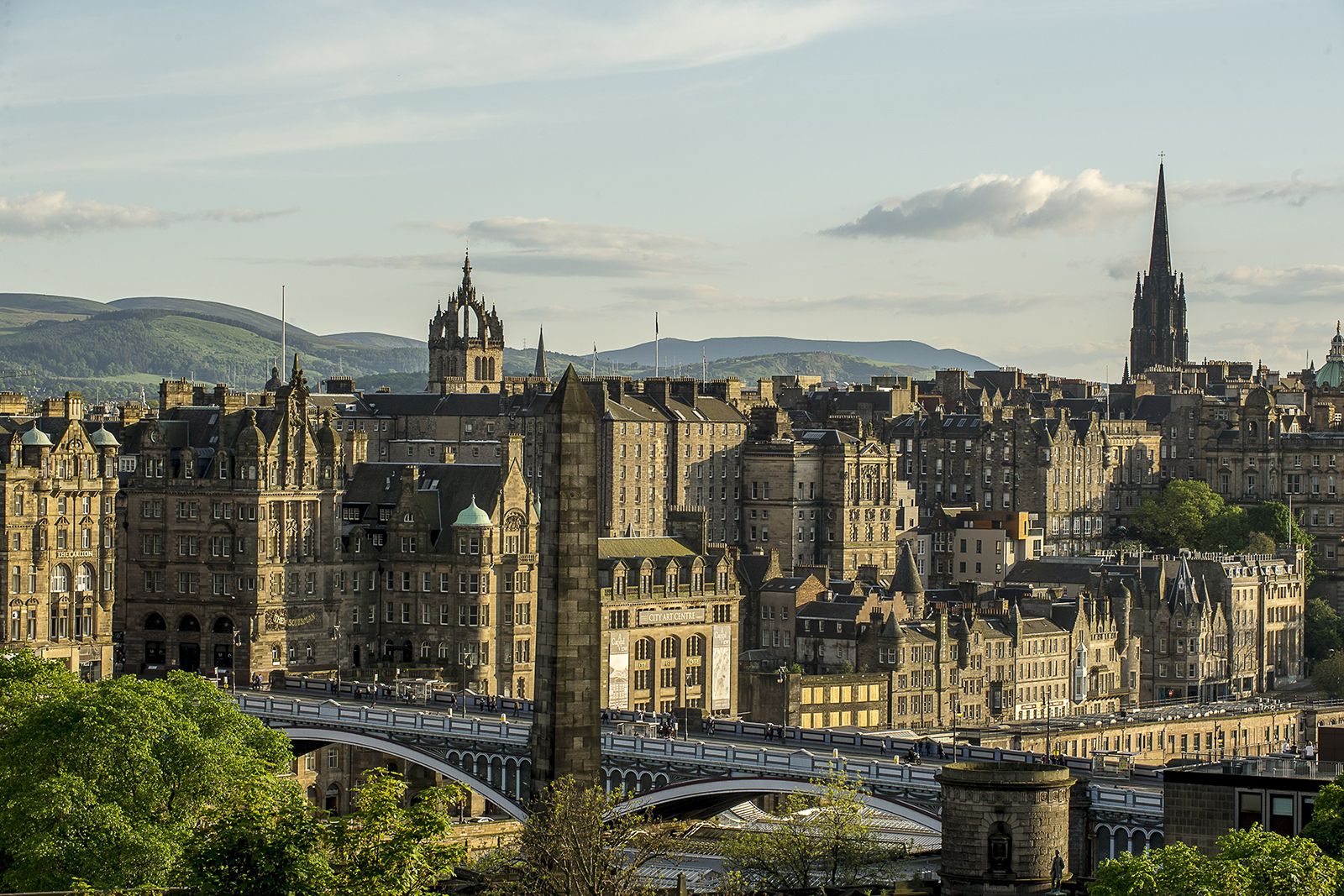 Edinburgh, Scotland
The Scottish capital, also nicknamed Auld Reekie, resembles a painting come to life — even during one of its
191 rainy days
per year. Make sure to put on your rain boots for an outing to
Royal Mile
and Princes Street — the main thoroughfares for the city's Old Town and New Town respectively. Beyond these two major hot spots, the city is also a haven for the arts: It's the well-known locale for the
The Fringe Festival
, a month-long fête of music, dance, and theater.
According to Kate McCulley, travel blogger at Adventurous Kate, timing your visit around August to catch one of Edinburgh's festivals will be the best decision on your solo trip. The sheer inspiration you'll gain from watching performances and torchlight processions will be well worth the extra planning. The weather might still be a bit chilly, but the meeting of fellow culture-loving minds will be enough to warm you up.
Photo: REX Shutterstock.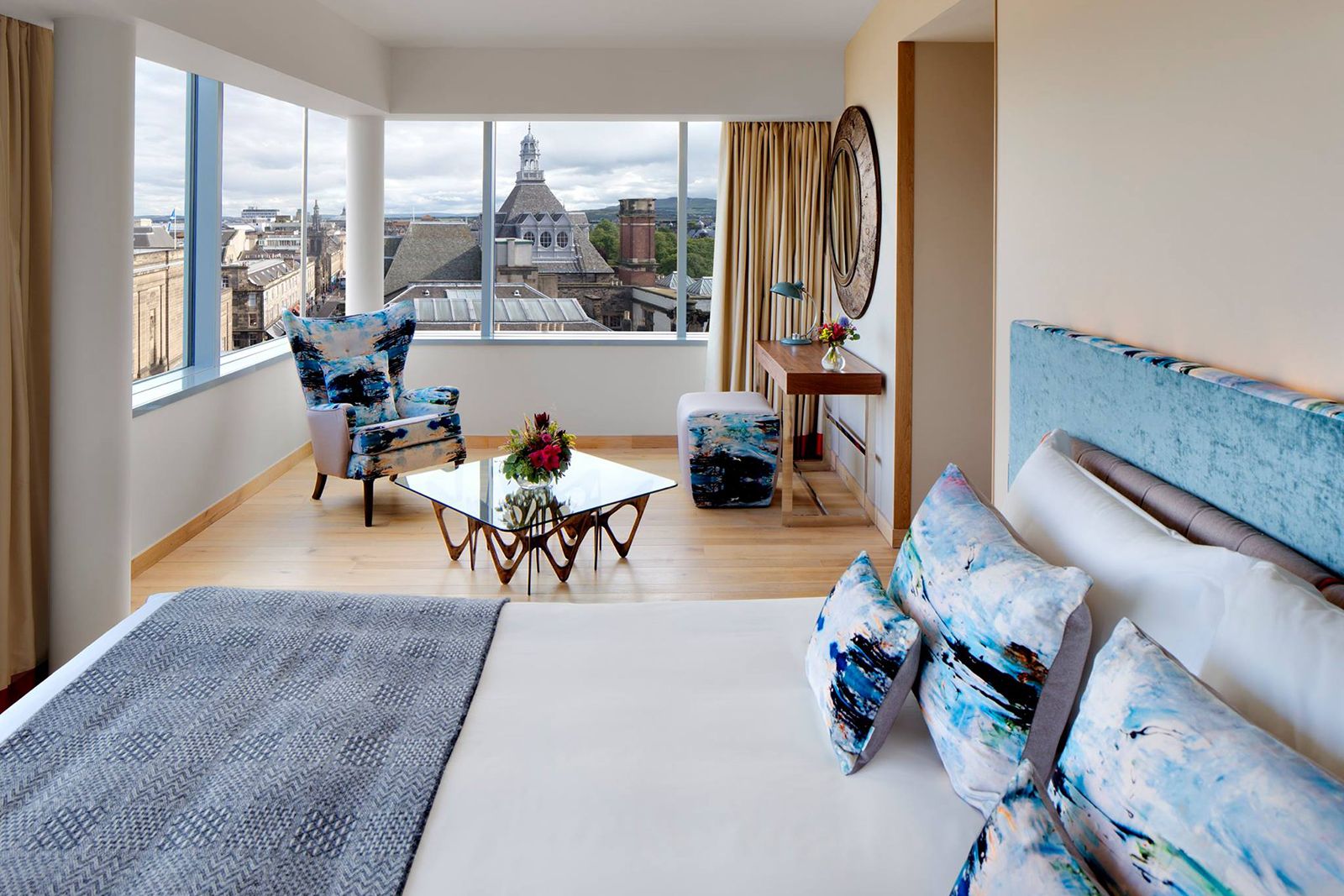 Edinburgh, Scotland (Continued)
Where To Stay: Given the time you'll spend at the charming pubs, boutiques and flea markets on Royal Mile, it makes sense to set up camp nearby at the G&V Hotel. It's just off the popular walkway and right across the street from Angels With Bagpipes, an acclaimed Scottish eatery. Following a total redesign, the luxury hotel features exquisite decor in collaboration with Scotland's finest creatives, such as artist Hatti Pattisson and womenswear designer Judy R Clark. Now this is what it means to be submerged in art.
Photo: Courtesy of Carlson Rezidor Hotel Group.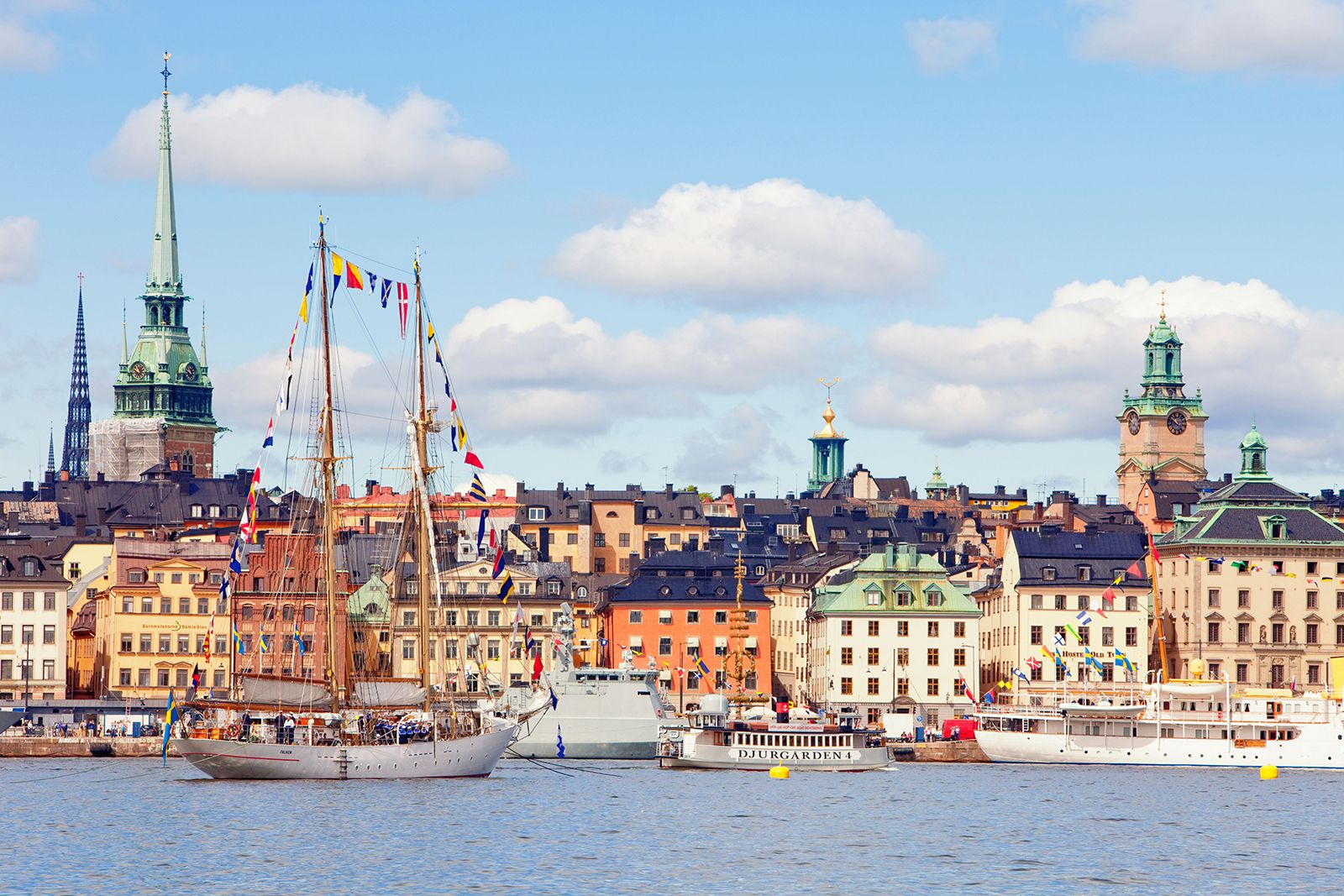 Stockholm, Sweden
Be prepared for a total visual feast: This design capital doesn't hold back on postcard-ready moments. Shopping enthusiasts will be in their element at Östermalm, a posh neighborhood with high-end local designer boutiques. Though prices are still hefty, you'll be able to score brands like Acne Studio at a much better deal. Visitors looking for some good old Scandinavian charm should consider a trip to the old town of
Gamla Stan
, a historic zone with cobblestone streets and candy-colored buildings.
Women traveling alone are rightfully concerned with safety, and Stockholm has consistently earned the title of the safest city in Europe. If anything, you'll be more concerned about stretching your budget, since costs run considerably higher than many other cities. "Don't bother taking cabs here — they cost as much as a five-star dinner — and just rent a bike instead." advises Jinna Yang, photographer and founder of Grease and Glamour. With cycling lanes everywhere, the town is probably best explored on two wheels.
Photo: Frank Chmura/Alamy.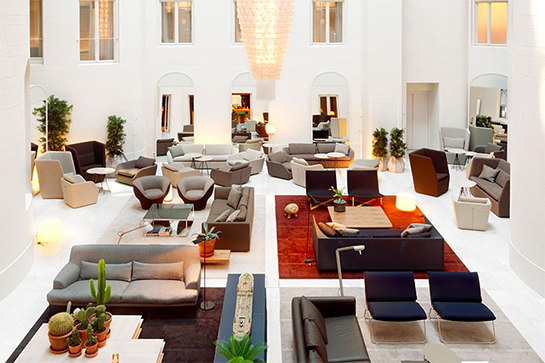 Stockholm, Sweden (Continued)
Where To Stay: You can't really say that you've been to the world's top design capital without staying at a hotel with top-notch interiors. Under the guidance of renowned architectural trio Claesson Koivisto Rune, the Nobis Hotel hotel has forgone all the impersonal and flashy elements like opulent furniture, red carpets, and velvet drapes. Instead, you'll feel like you're crashing at the intimate quarters of a tastemaker, with tastefully muted palettes and inspired wooden furniture.
Photo: Courtesy of Nobis Hotel.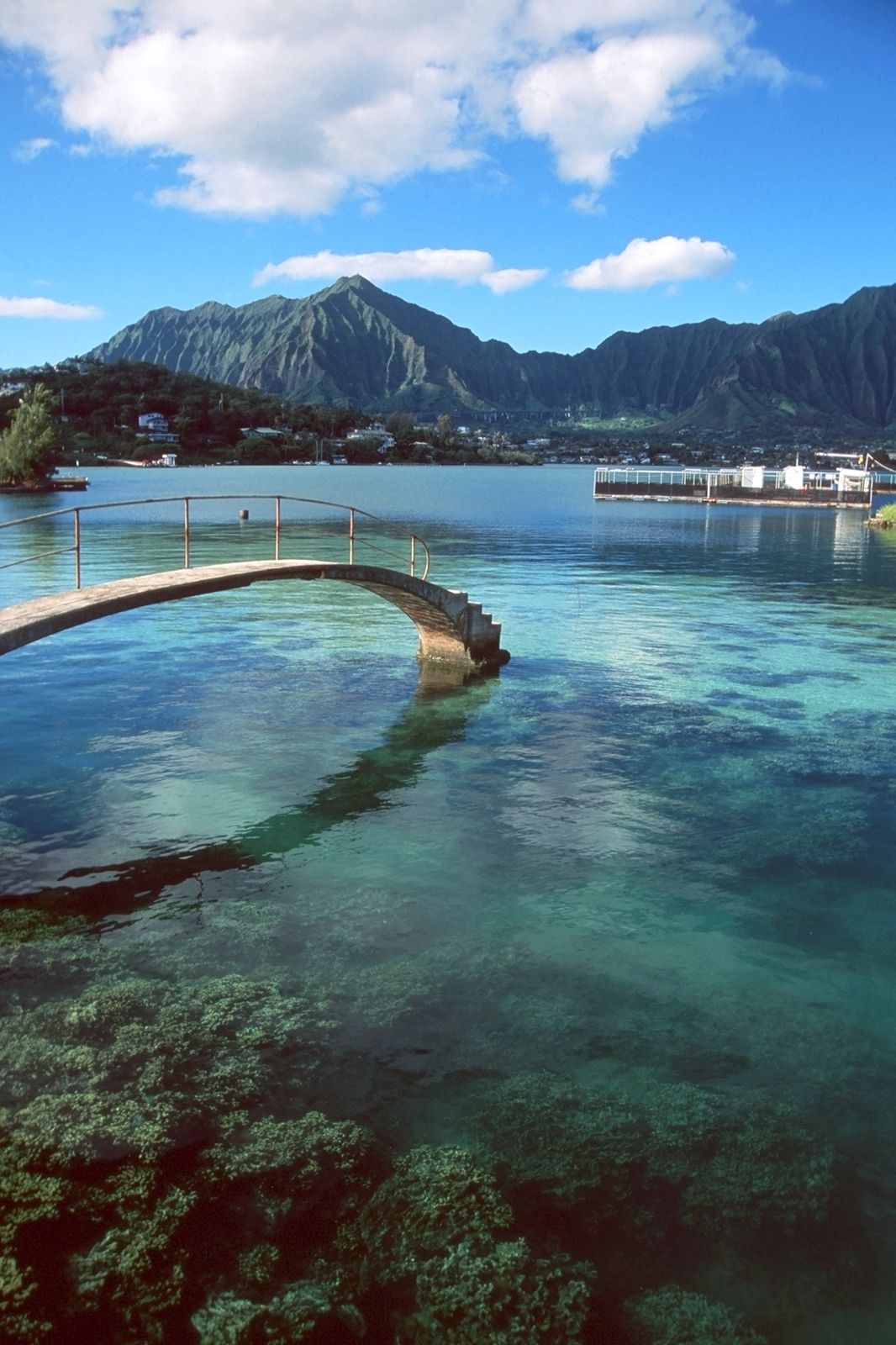 Oahu, Hawaii
In Oahu, happiness is almost a given: It's sunny almost every day, there are beaches to lay on, mountains to climb, and tiki drinks at every turn — what more could you want? The locals are laid back and friendly, and although you'll pay a pretty penny for your flight, you don't have to spend a fortune to stay. Hotel rates in Waikiki are often below the $200 mark, due to high competition in the hospitality business.
According to Michonski, cabs are the best way to get around the island, as navigating the poorly marked roads is ill-advised for tourists. The public transport system also leaves something to be desired, with its confusing bus schedules. But none of that changes the fact that, once you get here, you'll never want to leave.
Photo: Splashdown/REX Shutterstock.

Oahu, Hawaii (Continued)
Where To Stay: If you're looking for a fuss-free accommodation with decent rates, the cozy Vive Hotel Waikiki should be your top choice. For roughly $159 per night, you can stay at one of its impeccably clean rooms with unlimited access to beach gear. There's no pool, but it won't matter, since you'll be able get to the beach faster than you can say "aloha."
Photo: Courtesy of Vive Hotel Waikiki.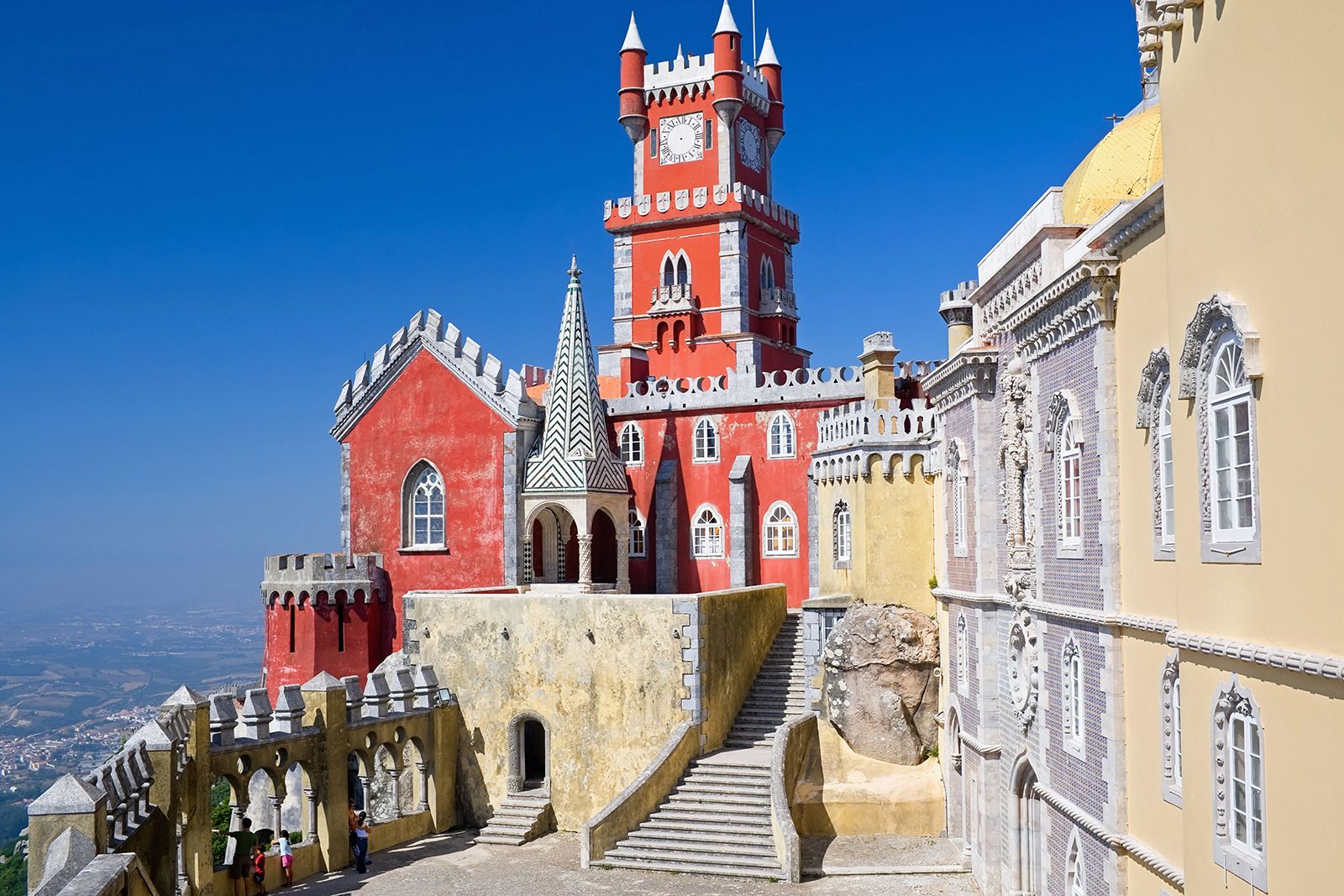 Lisbon, Portugal
It's hard not to fall in love with Lisbon's bright tiled buildings, yellow trams, and winding stone-paved streets. Then, you try a pastel de nata — Belém's glorious, crème brûlée-like custard pastry — and you're ready to commit for life.
"Getting anywhere in Lisbon requires going up about two or three massive hills, so your buns and thighs are bound to be looking on­ point," says Joanna Franco, co-host at Shut Up and Go. Weekends are best spent road tripping to Sintra, a town full of majestic monuments such as the pictured Pena National Palace. The Portuguese capital is great for women visiting alone, since the nightlife in neighborhoods like Bairro Alto is not as overwhelming as other European cities. Just don't forget to pregame with shots of ginjinha — Portugal's legendary cherry liqueur.
Photo: Cultura/REX Shutterstock.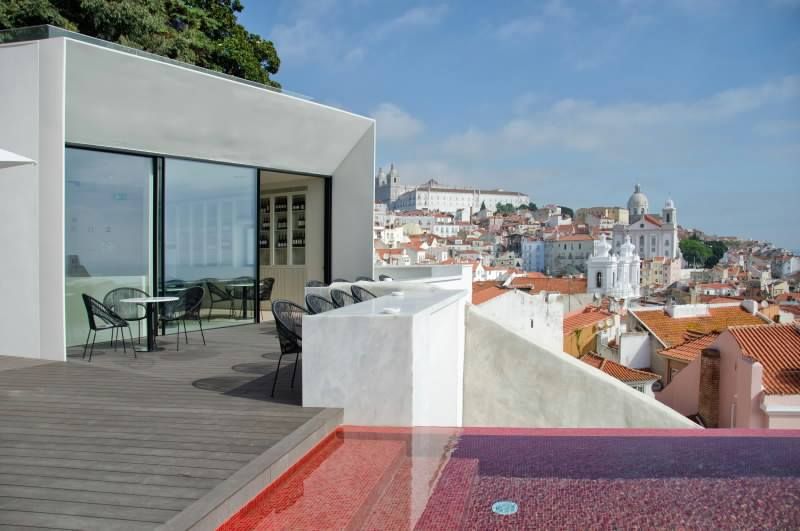 Lisbon, Portugal (Continued)
Where To Stay: History buffs will love the hipster-chic Memmo Alfama: The terrace pool gives a breathtaking panorama of Alfama, the oldest area in Lisbon. Its proximity to notable landmarks like São Jorge Castle and the Lisbon Cathedral (known simply as the "Sé" among locals) are another huge plus. Alfama is also known for Feira da Ladra, a bustling weekend flea market, located just 15 minutes from the hotel by foot.
Photo: Courtesy of Memmo Hotels.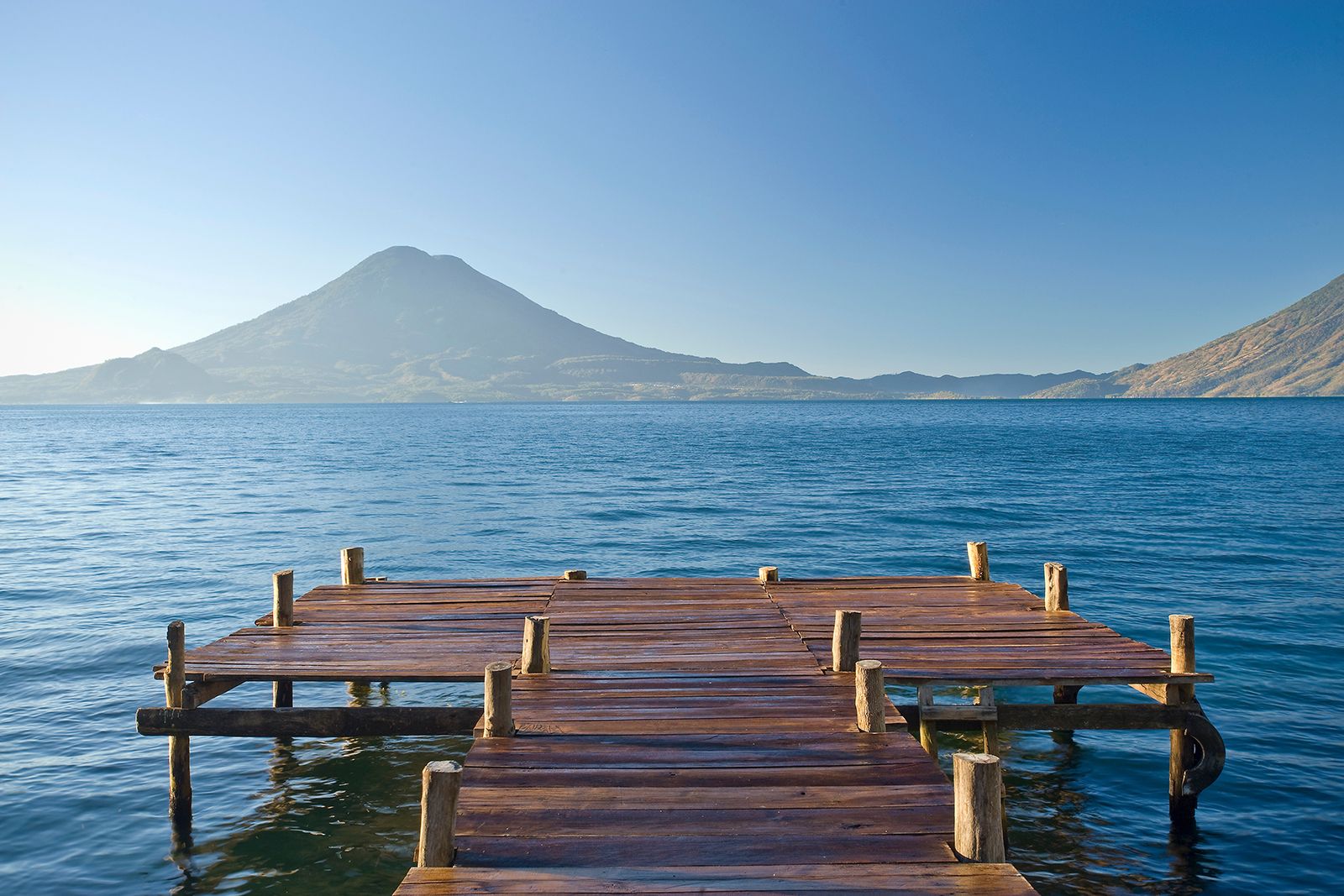 Sololá, Guatemala
Anyone who appreciates unreal scenery should have Lake Atitlán on her bucket list. There's a big backpacker social scene at Sololá, the region hugging the lake. Whether you're interested in finding a kayaking buddy or just making new friends, you mustn't miss the ever-so-busy Sololá Market, an all-week marketplace favored by locals and travelers alike. For a taste of Mayan culture, get a local tour guide to bring you to a Mayan fire healing ceremony or a tree-planting ceremony.
Photo: Cultura/REX Shutterstock.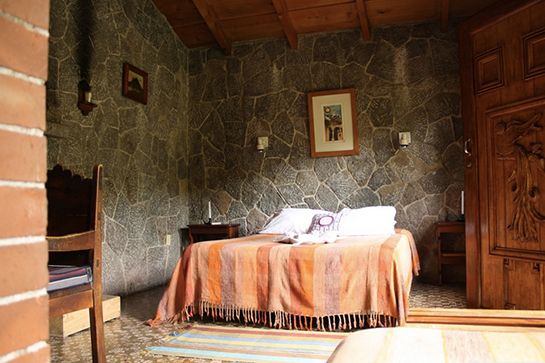 Sololá, Guatemala (Continued)
Where To Stay: Rustic cottage inn Posada de Santiago offers the quintessential village experience: The walls are created with volcanic stones, the furniture is draped with Guatemalan textiles, and it's right on Lake Atitlán. You can't miss the homegrown coffee, hand-churned ice cream and wood-smoked meats at the restaurant located on site.
Photo: Courtesy of Posada de Santiago.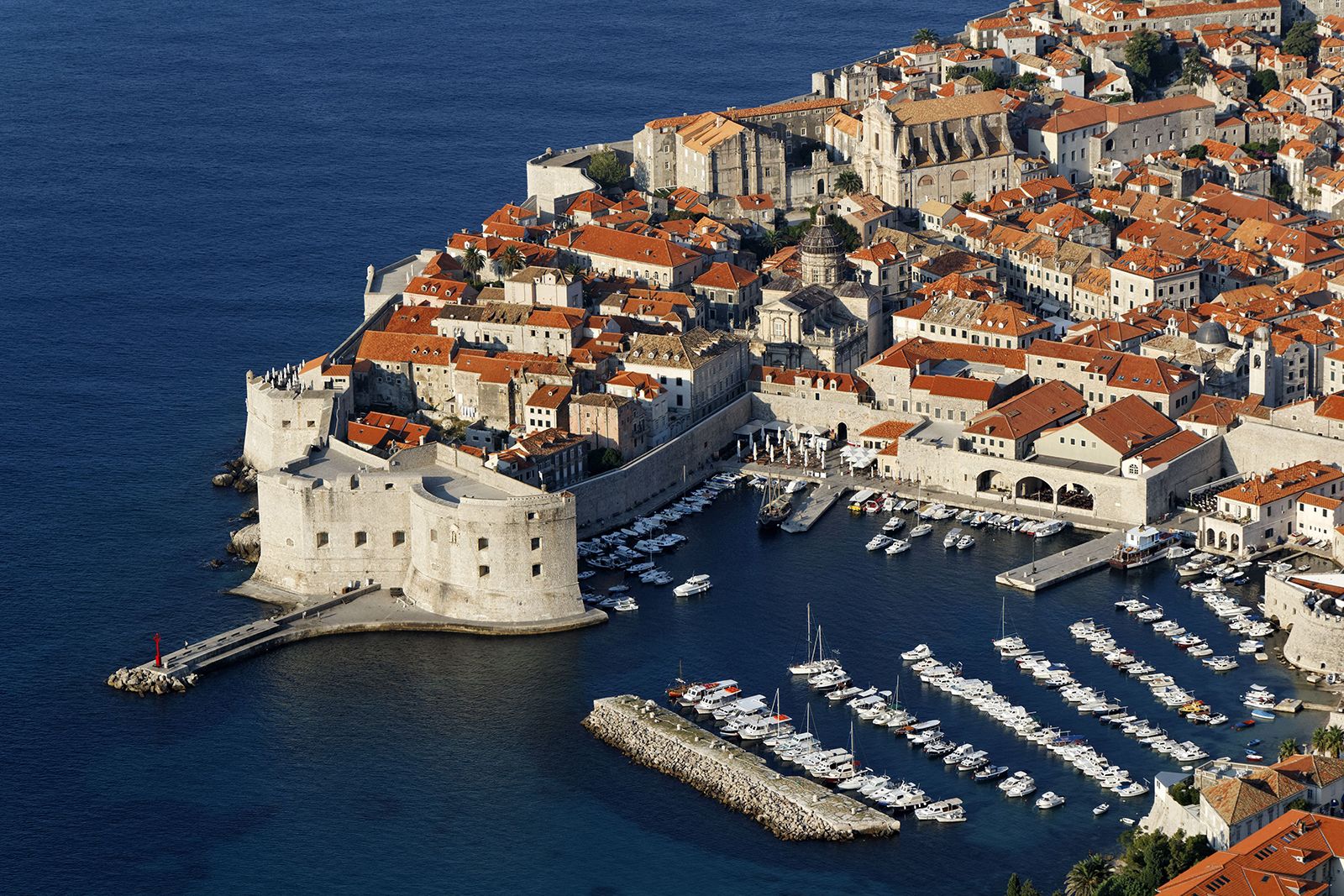 Dubrovnik, Croatia
While the walled city makes a memorable appearance as the setting for King's Landing in
Game of Thrones
, it has a lot more to offer than Instagram backdrops for fans of the show. The seaport is home to some of the best-preserved city walls in Europe, dating back to the Middle Ages. And what's behind them is equally enthralling.
History buffs will love the medieval Franciscan Monastery and Museum, as well as the architecturally diverse Rector's Palace. The construction of the latter monument spanned centuries and incorporated Gothic, Renaissance, and Baroque influences. "I love walking along the walls of Dubrovnik just before sunset and taking in the cleat waters of the shimmering Adriatic sea." says McCulley. You can also hop on the cable car to see the White City in all its glory.
Photo: T. Kaiser/REX Shutterstock.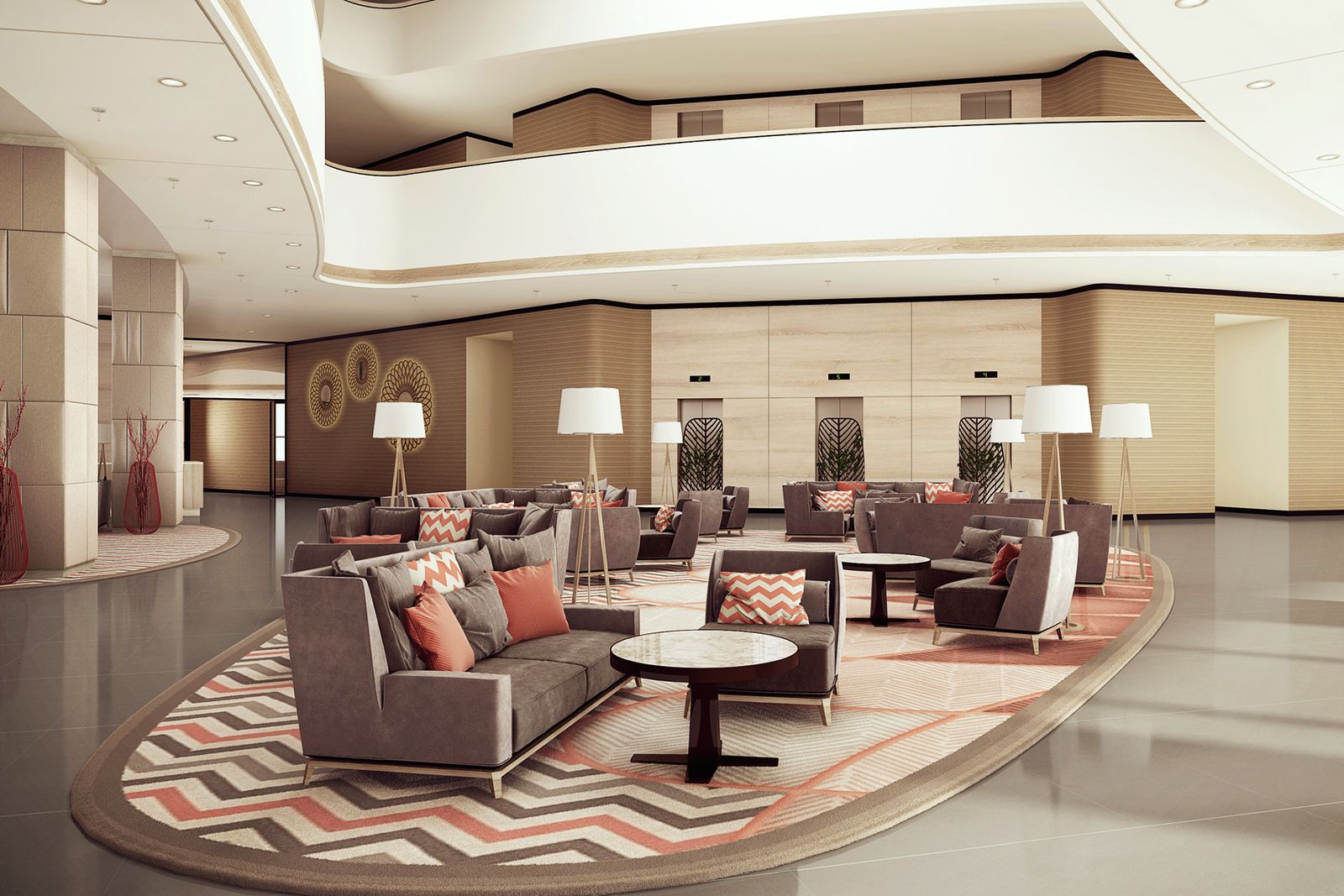 Dubrovnik, Croatia (Continued)
Where To Stay: The newly opened Sheraton Dubrovnik Riviera Hotel is a great option. The stylish resort on the Riviera is a stone's throw from the heritage museums and palaces of Old Town Dubrovnik, offering guests a taste of history and novelty. Floor-to-ceiling glass walls at the restaurant bring you unparalleled views of the coast as you sample traditional Croatian cuisine. You'll feel like a queen whether you're sipping on cocktails by the outdoor pool or resting on a chevron cushion in one of the 239 guests rooms.
Photo: Courtesy of Starwood Hotels.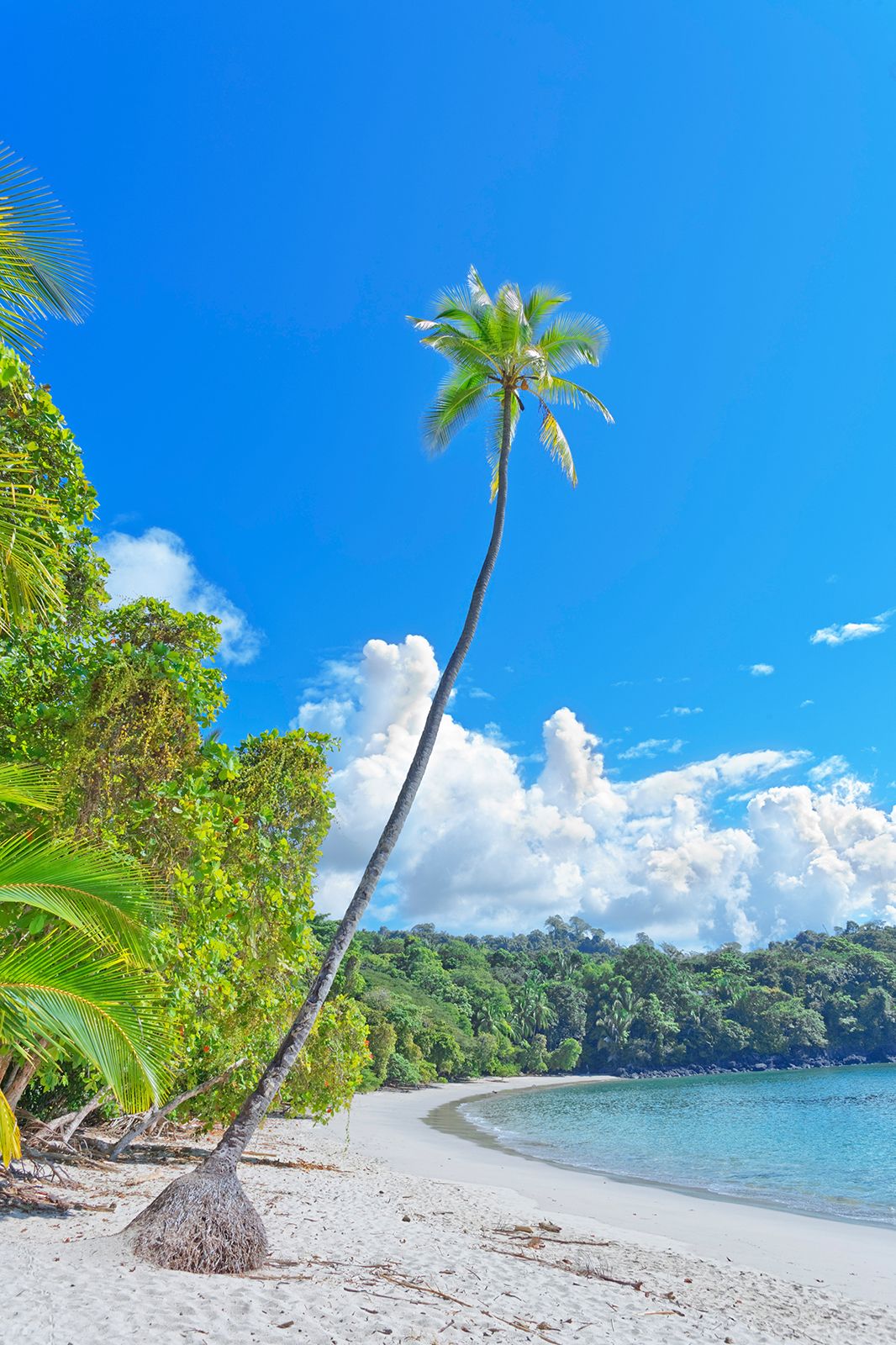 Quepos, Costa Rica
Costa Ricans are some of the nicest people around, since most locals live by the "
pura vida
" mentality — which means to live a rich life (and no, that doesn't necessarily mean financially rich). There are endless coffee farms, volcanos, and hot springs that are perfect for exploring solo.
If you want know what it's like on the set of Lost, sign up for a tour of Manuel Antonio National Park, one of the last-remaining "natural zoos" in the world. You'll get up close and personal with all kinds of wildlife, from sleeping bats to capuchin monkeys. Those who prefer a more serene side of nature can sunbathe at one of the reserve's four natural beaches.
Photo: Marco Simoni/REX Shutterstock.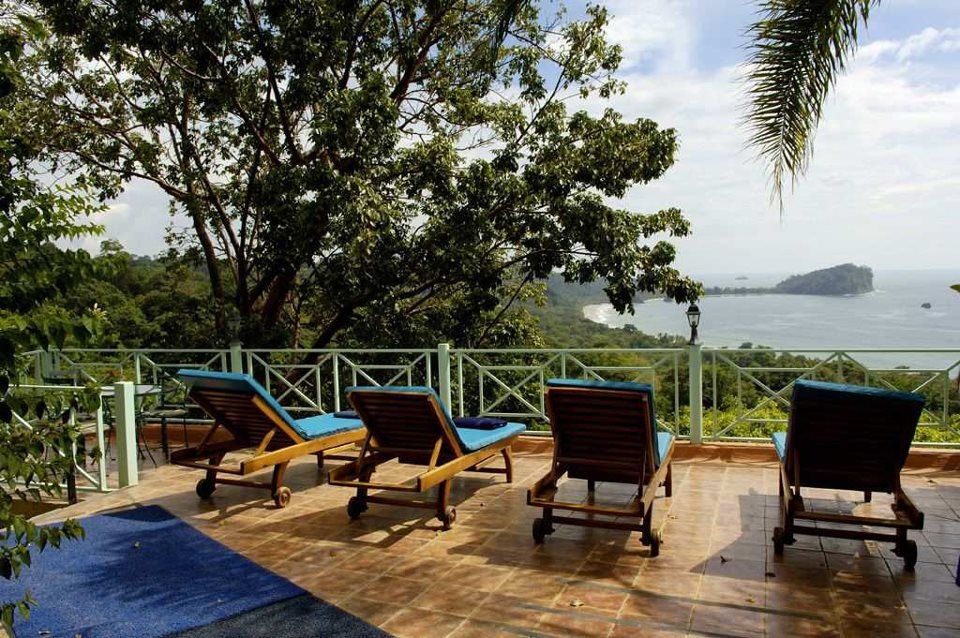 Quepos, Costa Rica (Continued)
Where To Stay: You'll have plenty of things to do at the five-star La Mansion Inn, located right outside of the national park: A dizzying array of recreational activities are available nearby, including snorkeling, horseback riding, and rafting. But, we won't blame you if you just want to chill on a sun chair — it's impossible not to linger on a rooftop that overlooks both a rainforest and the ocean.
Photo: Courtesy of La Mansion Inn.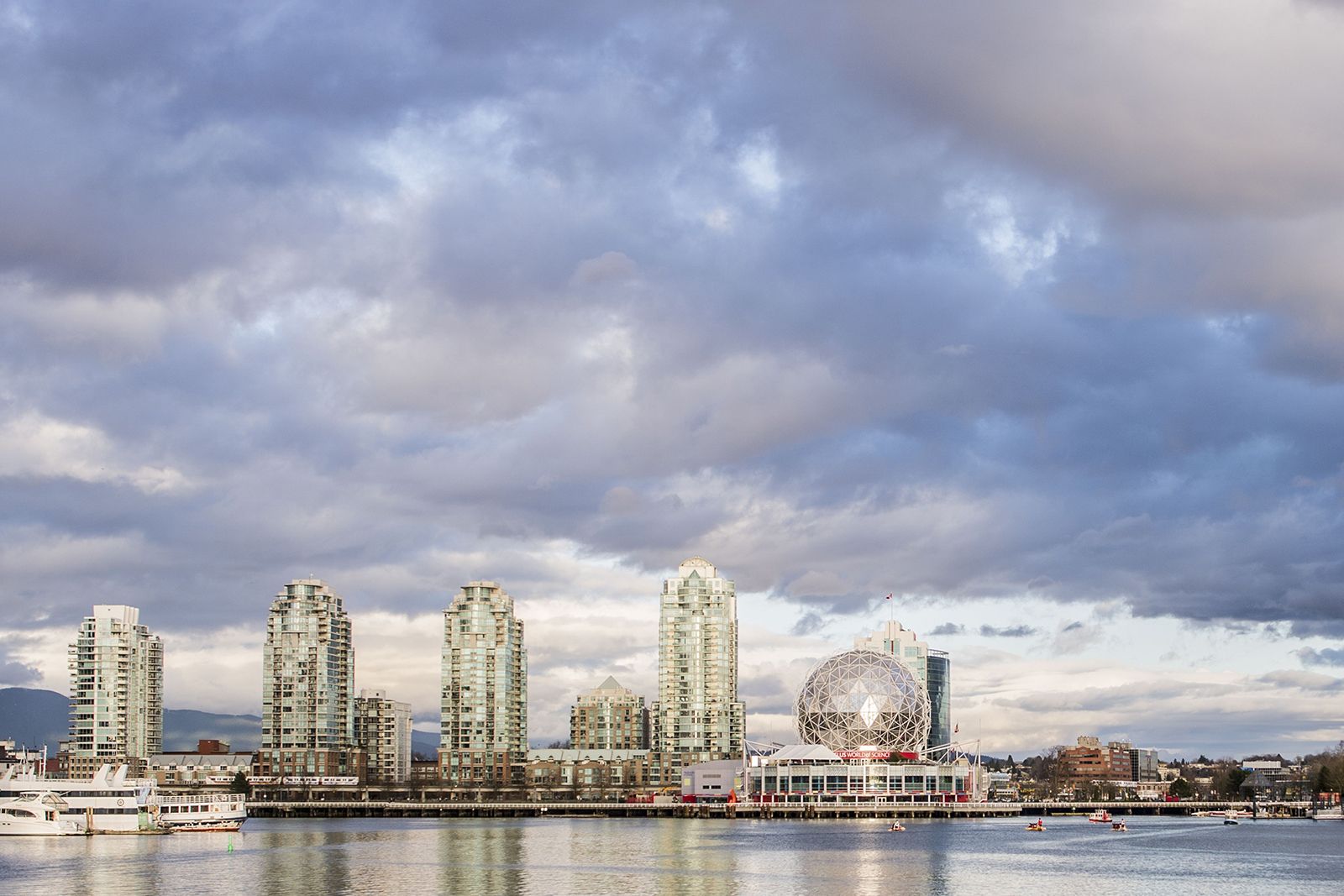 Vancouver, Canada
A calming urban vacation seemed like an oxymoron in our book — until we checked out Vancity. Though a metropolis in its own right, the Canadian city boasts greenery and pleasant locals who will make any guest feel warmly welcomed. Foodies will be delighted by Granville Island Public Market, a wonderland of local seasonal food. Try out the delicious microbrews at Granville Island Brewing around the corner if you need something to wash down the smoked salmon and lobsters. Don't miss out on the summer night markets at Richmond if you're a fan of Asian cuisine.
Photo: Image Source/REX Shutterstock.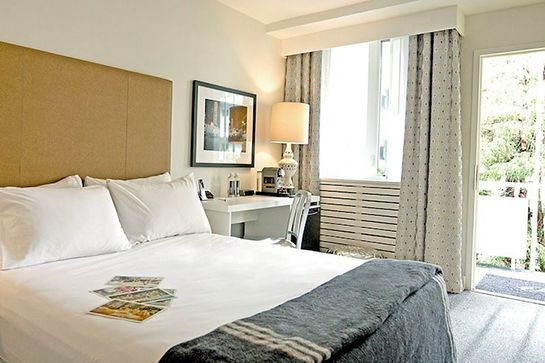 Vancouver, Canada (Continued)
Where To Stay: A popular destination for business trips and conventions, Vancouver's accommodations can feel boring. But at The Burrard, a trendy motel-revival, you'll be mesmerized by the rainbow-colored exterior and the retro stylings of the rooms.
Photo: Courtesy of The Burrard.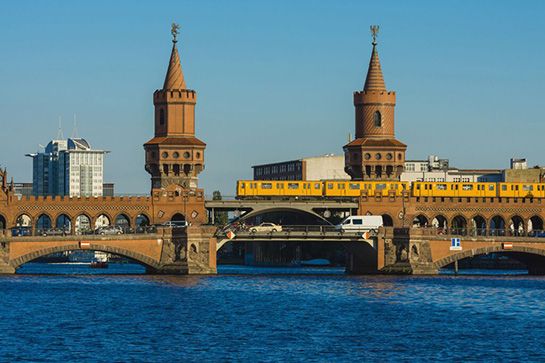 Berlin, Germany
Berlin is like the cooler older sibling you've always wanted to be. She rocks out to the latest trance music, drinks
Club Mate
, and works out of her studio apartment as a freelancer in the arts. Lucky for you, Berlin's free­-spirited vibe makes it easy for any solo traveler to instantly feel like they belong. "There's nothing more empowering than strutting solo out of the U-­bahn (German metro) with a beer in your hand, only to feel like you're already part of the crowd, because you've just ran into a street rave," says Franco.
When you're done sightseeing at the Mitte — the central district and home to many historical points of interest — hop on the metro to hit up the best watering holes and clubs Berlin has to offer, like the super hidden Green Door and Stattbad, a happening venue inside a swimming pool. After partying well into daylight, head over to Mustafa's for a döner kebab, a Turkish dish that's become the unofficial hangover food of the city.
Photo: Cultura/REX Shutterstock.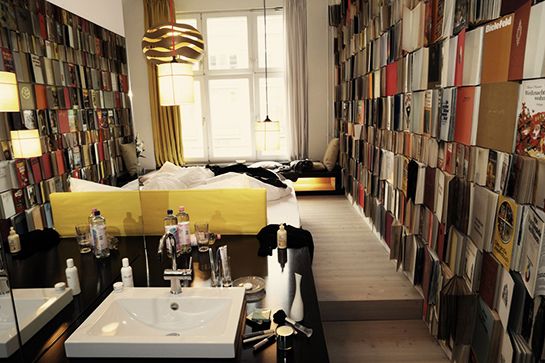 Berlin, Germany (Continued)
Where To Stay: In a youth-friendly city like Berlin, there are plenty of affordable and hip lodging options to choose from. Michelberger Hotel stands out with its affordable rates — around $92 per night — and unmistakably cool decor. Be sure to book well in advance, as the whimsical, periodical-walled suites are in high-demand.
Photo: Courtesy of Michelberger Hotel.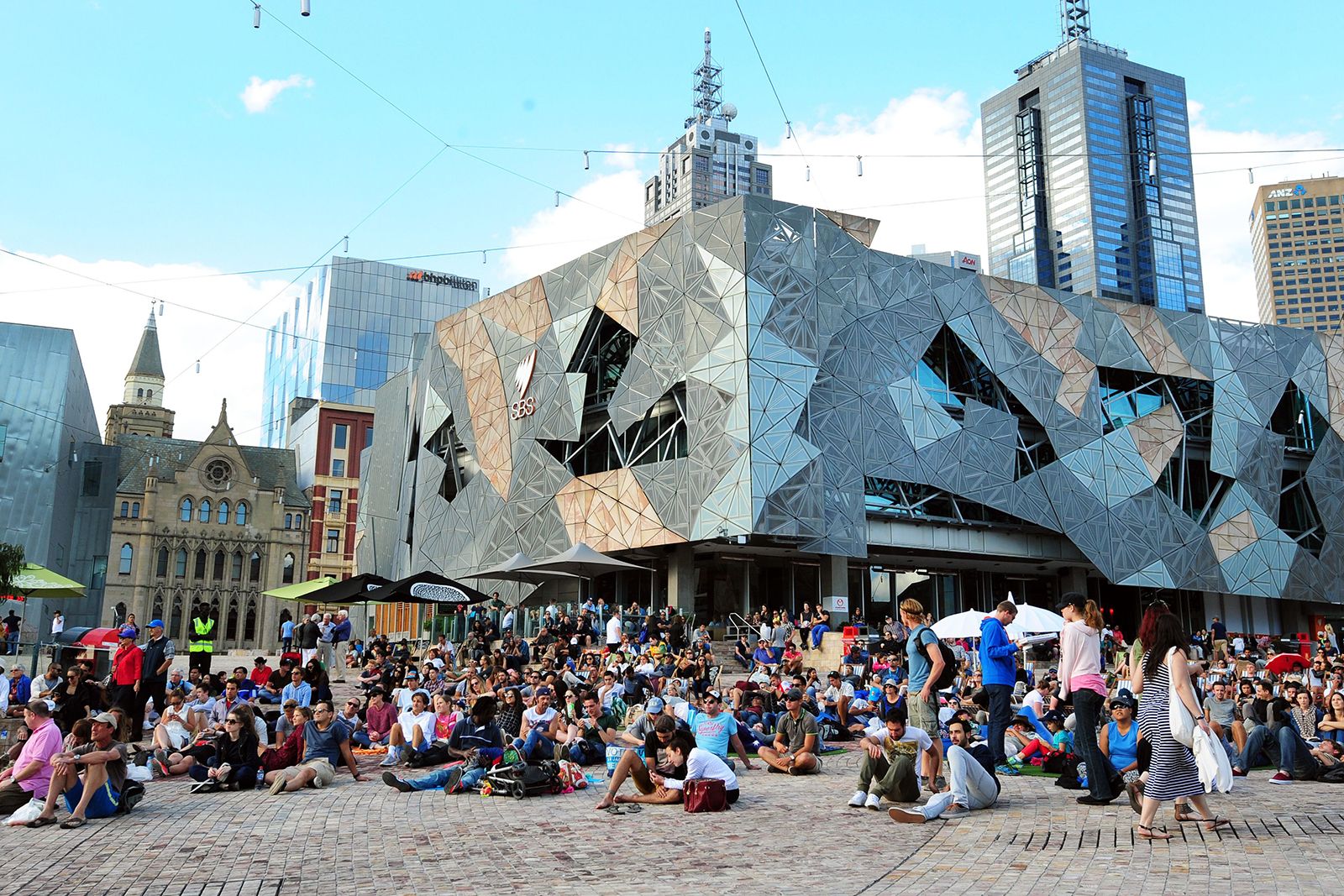 Melbourne, Australia
Melbourne is known as the '
Second City
' among Aussies, but it's the number one place to wander around alone, since everywhere is within a walkable distance. Though the central business area is considerably smaller than Sydney's, it's packed a lot more art, shopping, and intrigue into a neat rectangular route — all accessible on the free
City Circle tram line
. The graffiti-covered Hosier and Union lanes are prime backgrounds for art selfies, and you'll love window-shopping at the 146-year-old
Royal Arcade
while basking in its Victorian architectural splendor.
When you need a break from walking, grab a deck chair at Federation Square, a favorite hangout spot among locals. It's a great place for people-watching and studying the iconic landmarks in close distance — among them, the abstract Australian Centre for the Moving Image and the ornate Flinders Street Railway Station.
Photo: Rui Vieira/REX Shutterstock.

Melbourne, Australia (Continued)
Where To Stay: With a location on Bourke Street, one of the busiest thoroughfares in Melbourne, Hotel Alto is at the heart of it all. The boutique establishment is just a 10-minute walk from Bourke Street Mall, the city's premier pedestrian shopping area. While the grand exterior of the hotel dates back to the 19th-century, the interiors are cozy and contemporary.
Photo: Courtesy of Hotel Alto.
Click HERE to read more from Refinery29.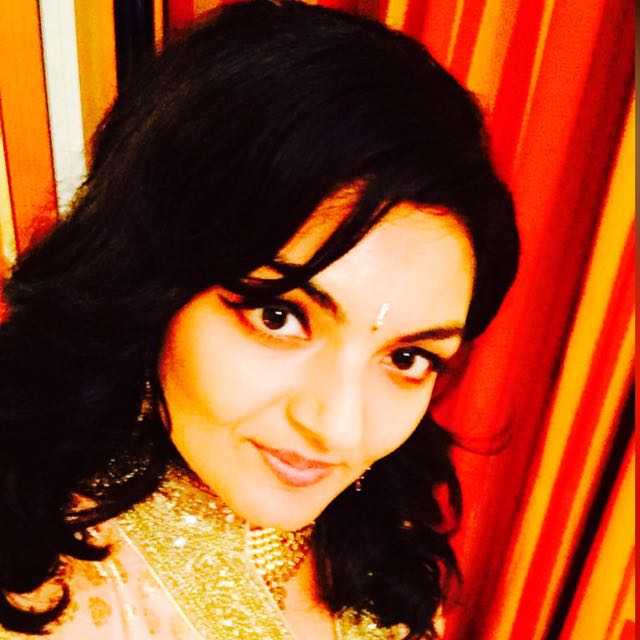 Vote for Shikha Dhingra For Mrs South Asia Canada 2017 by liking her Facebook page.


Loading ...