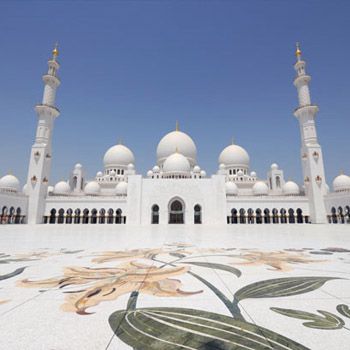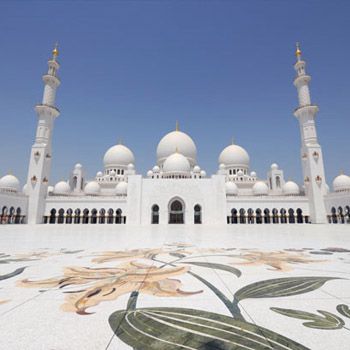 The Shaikh Zayed Grand Mosque, which welcomed over 4.6 million visitors and worshippers in 2012, joined a line-up of
16 global attractions
to make the list, which included Sydney Harbour, Sydney, Australia; The Colosseum in Rome, Italy; The Eiffel Tower in Paris, France; Table Mountain in Cape Town, South Africa; and Central Park in New York, USA.

The Shaikh Zayed Grand Mosque, rated number one in Abu Dhabi's' 'Things To Do' as one of the world's most impressive modern Islamic architectural masterpieces, is ranked Abu Dhabi's leading attraction by TripAdvisor users, notching up more than 1,400 top-ranked reviews.

To be included in a list of some of the world's most renowned attractions, and to be voted there by our visitors, is (a) significant recognition of both the Shaikh Zayed Grand Mosque's beauty, the work of everyone involved in promoting it, and the appreciation of the culture of Abu Dhabi," said Yousif Al Obaidli, Director of the Shaikh Zayed Grand Mosque Centre (SZGMC).

The SZGMC offers complimentary guided tours by UAE national professional guides, who lead tours for visitors daily offering insights into the construction of the architecture, its founder, the late Shaikh Zayed bin Sultan Al Nahyan (may Allah rest his soul in peace) and the Islamic culture of the building.

Featuring 82 domes, over 1,000 columns, 24-carat-gold-gilded chandeliers and the world's largest hand-knotted carpet, the mosque's main prayer hall is also dominated by one of the world's largest chandeliers — 10 metres in diameter, 15 metres in height and weighing 12 tonnes. The mosque was opened for worship and visitors during Eid Al Adha in 2007.

The mosque is open to visitors, except on Friday morning, which is for worshippers only. One-hour guided tours run (Sunday to Thursday) at 10am, 11am and 4.30/5pm. Friday visiting times are 4.30/5pm and 7.30/8pm and Saturday visiting times are 10am, 11am, 2pm, 4.30/5pm and 7.30/8pm. – KahleejNews.

Click HERE to read more from Fashion Central.