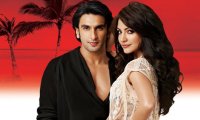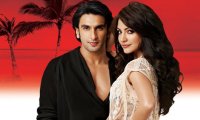 EXPECTATIONS: When an exact same team of a winning film comes together for another film just a year down the line, expectations are that the outcome would be on similar lines as well, if not any more. This is exactly what one hopes from Ladies v/s Ricky Bahl too which has Yash Raj Films, Anushka Sharma, Ranveer Singh, Maneesh Sharma, Salim-Sulaiman and Amitabh Bhattacharya looking at recreating the magic of Band Baaja Baaraat.
With the film making no pretence of being extraordinary or changing the face of entertainment, expectations are well in control as well as one looks forward to a time-pass Bollywood score here.
MUSIC: The album gets a good kick-start for itself with 'Aadat Se Majboor' which has it's beginning reminding one of Mission Impossible, albeit with a romantic-n-naughty touch to it. With an addictive hook to it that sets the groove in the very first listening, 'Aadat Se Majboor' is a good theme song that also arrives in a 'remix version'. The song not just manages to establish the feel of the movie up, close and personal, it is also entertaining enough to be played over and over again. Benny Dayal makes most of the opportunity made available to him and ensures that he has a chartbuster up its sleeves. Also a special word for Ranveer Singh who is the man of the moment for the rap portions that are an integral part of the song and can be heard prominently in the song promos that have been playing relentlessly for weeks now.
Shilpa Rao, who is mostly associated with romantic numbers, displays her boisterous side with 'Jazba'. On any other day, this one could well have fallen right out there in Sunidhi Chauhan's territory. However, Salim-Sulaiman do well in bringing some variety in the proceedings by roping in Shilpa for this song which has trademark 'Yash Raj Films' written all over it. Carrying on from where 'Dhunki' [Mere Brother Ki Dulhan] left just a few weeks ago and reminding one of the kind of music that was heard in Band Baaja Baaraat, Dil Bole Hadippa and many other films belonging to similar mood and style, 'Jazba' also hints of 'Tu Dhaari Talwar' [Mere Brother Ki Dulhan] at one point during it's play. Still, the song has a spark to it that manages to ignite good enough excitement by the time one is through hearing the 'remix version'.
'Thug Le' which follows next is yet another song that emerges out of the template that Yash Raj Films and Salim-Sulaiman have pretty much patented over a period of time. This one is plain and simple entertainment with no one aiming at going out of the way in experimenting with the situation and the genre. Amitabh Bhattacharya's lyrics have that fun-n-naughty feel to them which sets the stage for Vishal Dadlani and Shweta Pandit to have fun behind the mike. Though the song won't be remembered after the film's run is through, it should make for an enjoyable visual experience.
It's time to get some Punjabi mood on with 'Jigar Da Tukda' which tries to create an ambience similar to that of 'Ainnvayi Ainvayi' [Band Baaja Baaraat]. When compared to rest of the soundtrack, this one just about manages to pass muster partly due to a heard-before tune and partly due to it being just fine. In isolation, this Salim Merchant and Shraddha Pandit sung track may have still have been noticed due to it's fun appeal but is one looks at what one has heard in Ladies v/s Ricky Bahl so far, it turns out to be good only for a situational outing. The album ends with 'Fatal Attraction' which is a musical piece that has a Western base to it and is styled in a manner similar to that of the grand finale of Rab Ne Bana Di Jodi ('Dancing Jodi'). One looks forward to this being an out and out dance track as well with Ricky Bahl coming face to face with at least Anushka Sharma, if not all his ladies. All in all, an engaging piece that is right from the stable of Salim-Sulaiman with whom music belonging to this genre can be well expected, especially when it happens to be for a Yash Raj film.
OVERALL: Ladies v/s Ricky Bahl delivers as promised. One expected a fun outing here with no sad moments whatsoever and this is what one gets as well. Of course one just feels that presence of one additional chartbuster track could just have made it a perfect outing. However with 'Aadat Se Majboor' being a hit song already and 'Jazba' along with 'Thug Le' promising to cover a good distance, you are reasonably satisfied with the final outcome.
OUR PICK(S) Aadat Se Majboor, Jazba, Thug Le