EXPECTATIONS
Ever since the beginning of LoveYatri promotion, it has been well established by Salman Khan and team that this one is meant to be a musical celebration soundtrack with 'desi' roots to it. No wonder, you are not surprised when as many as nine songs feature in LoveYatri. Tanishk Bagchi is the composer with contribution from Lijo George-Dj Chetas and Kaushik-Akash-Guddu (jam8) as well.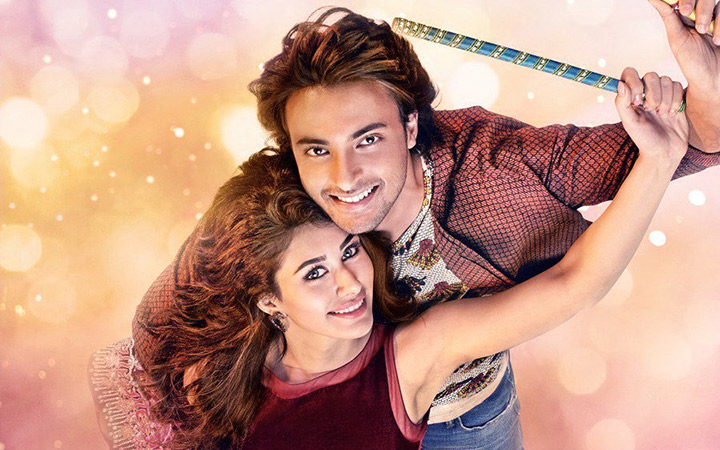 MUSIC
As expected, there are celebrations galore with Navratri as the backdrop once Darshan Raval and Asees Kaur begin their rendition for 'Chogada'. A flagship number of the film, this one is based on Avinash Vyas' 'Hey Ranglo', a 'dandiya-raas' song, which has been recreated by composers Lijo George-Dj Chetas and written by Darshan Raval-Shabbir Ahmed. A good catchy number that takes you right in the middle of all the celebrations, there is certain innocence in the way it has been composed, written and especially sung. A winner, it also appears in an 'unplugged version' where Darshan Raval goes solo and does well again.
Composer Tanishk Bagchi (who is also the lyricist here) takes on from here and he scores an even better number in the form of 'Akh Lad Jave'. A melodious track with a hint of seduction to it, especially in the way Asees Kaur goes about singing this one, it has trademark contribution from Badshah who impresses again with his contribution. Jubin Nautiyal chips in as well and together the team ensures that the song doesn't just get into your mind instantly but also makes you play it all over again. This one is for your playlist.
Atif Aslam steps into the arena at this point in time and as a result 'Tera Hua' turns out to be third straight number which works well for LoveYatri. What strikes you instantly are the lyrics that have been put together by ever-so-reliable Manoj Muntashir with contribution from Arafat Mehmood and Shabbir Ahmed. The song, which also appears in an 'unplugged version' has a good fusion of quintessential Bollywood music and Indi-pop which results in a good soothing melody that has time and again worked. It not just the 'mukhda' that impresses, even the 'antara' portions are well tuned that results in a pleasant outing.
If the beginning of
'Dholida'
by Neha Kakkar and Palak Muchchal is impressive, what catches your attention instantly is the presence of Udit Narayan in the song. The veteran singer brings in certain inherent quality to a song whenever he makes an appearance and that works all over again in this Shabbir Ahmed written song as well. There is contribution from Raja Hassan as well in this yet another traditional number which has a good balanced feel to it and ensures that overall the soundtrack turns out to be even better than what one expected out of it at the onset.
'Rangtaari' that follows next is just about decent though. It tries to be fun-n-frolic with an all-around celebration feel to it and though it does boast of the kind of rhythm and pace that one expected Tanishk Bagchi to bring in a song belonging to this genre, overall this Dev Negi rendered track is just about functional. Yo Yo Honey Singh chips in too for the rap portions while contributing to lyrics too along with Hommie Dilliwala, though this one isn't the kind of number that one usually associates with him.
Navratri, celebrations and 'dandiya' continue to be on an overdrive with 'LoveYatri Title Song' coming next. Put to tune by Kaushik-Akash-Guddu (jam8) with lyrics by Niren Bhatt, this Divya Kumar sung track too just about fits in well for a good situational appeal. Once can't expect a large segment of audiences to be playing it in loop in isolation though as a part of the film it should step in well. The soundtrack concludes with 'LoveYatri Mashup' by Lijo George-Dj Chetas and as indicated in the title itself, it basically fuses all the songs that have been heard in the album so far.
OVERALL
LoveYatri is a good soundtrack with music gelling well with the film's genre, stage and set up. If the film goes on to be a winner, the music too would have a longer shelf life for itself.
OUR PICK(S)
'Akh Lad Jave', 'Chogada', 'Tera Hua', 'Dholida'
Click HERE to read more and view the original source of this article.


Loading ...