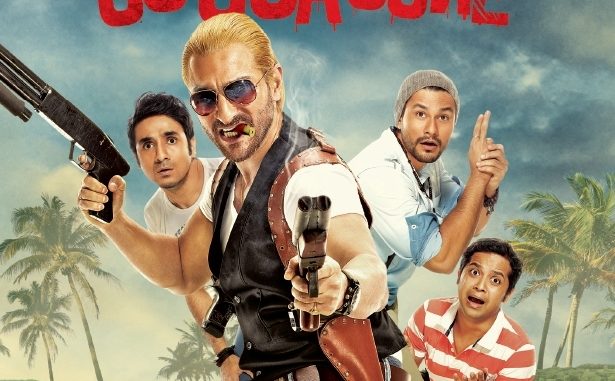 Music by: Sachin-Jigar
Lyrics by: Amitabh Bhattacharya, Priya Panchal.
Produced by: Saif Ali Khan, Dinesh Vijan and Sunil Lulla
Directed by: Raj Nidimoru and Krishna D.K
Ratings: * * * 1/2
The film Go Goa Gone is termed to be a Zom-Com which means a Zombie genre Comedy. The film's music was launched recently with Saif Ali Khan, Kunal Khemu, Vir Das, Puja Gupta and Anand Tiwari along with some more crew members dressing up as Zombies.
The soundtrack takes a kick-start with the track 'Slowly Slowly' which is sung by Jigar Saraiya and Talia. The track is a sure shot floor stamper with lyrics which goes like "Raat hai ek Whore.. Yeh maange More.. Tu loot jaa Slowly Slowly". The video of this song is already viral and famous with the youth even before the music release (Thanks to YouTube). The second song is the current favorite of everyone "Khoon Choos Le" which is sung by Sachin Sanghvi, Jigar Saraiya and Priya Panchal. This is the perfect song of youth who party hard on Saturdays and Sundays and gets irritated on Monday. There won't be a surprise if this song becomes a rage of Youth-Nation very soon. The Third is a typical Dope and Weed number called "Babaji Ki Booti" which gives you a comical feeling. The song is sung by Sachin Sanghvi, Jigar Saraiya, Bornalee Deuri along with Kunal Khemu and Vir Das lending their voice.
The fourth track is 'Khushamdeed' sung by Shreya Goshal. What makes this song special is only and only Shreya's voice. This is a slow track which might considered as a Relief factor in the whole album with some cute lyrics. The last track comes as 'I Keel Ded Peepul' which is by Saif Ali Khan. Musically, This track is very upbeat and techno at the same time. The music also gives heavy metal feeling in bits.
Go Goa Gone has perfectly blended tracks for youth and in the coming days, The tracks will be chart busters. The soundtrack cannot be ignored for "Slowly Slowly", "Khoon Choos Le" and "I Keel Ded Peepul" which is sure to stay in your mind.