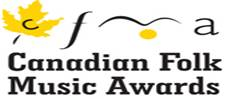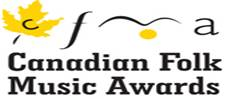 The Canadian Folk Music Awards (CFMAs) announced today that submissions are now open for the 2011 edition of this prestigious event which will be held at the Isabel Bader Theatre, Victoria College, University of Toronto on Sunday, December 4th. For more information please visit www.folkawards.ca
or
www.prixfolk.ca
.
The SEVENTH ANNUAL CFMAs
invites all Canadian folk, roots and world musicians to submit now for the 2011 awards. Featuring this year's theme "Celebrating Festivals," CFMAs activities will include various workshops at Victoria College with the support and assistance of the Ontario Council of Folk Festivals (OCFF); a special nominee showcase taking place at Hugh's Room on Saturday, December 3rd; and the evening gala, which will be held at the Isabel Bader Theatre, Victoria College, University of Toronto on Sunday, December 4th – celebrating excellence in the Canadian folk music scene today. Canadian artists who have released recordings between June 15, 2010 and June 14, 2011 are eligible to submit their work. For complete details on eligibility, applications and criteria, please visit http://canadianfolkmusicawards.ca/eligibility/
ARTISTS WISHING TO SUBMIT
can apply directly online or by downloading the submissions form at http://canadianfolkmusicawards.ca/eligibility/application/ and each artist can apply to multiple categories appropriate to their music. There are nineteen categories altogether, which includes conventional titles such as Traditional Album of the Year and Solo Artist of the Year, as well as two categories for world music, French, English and Aboriginal Songwriter of the Year awards, a Children's Album of the Year Award and for the more adventurous musicians out there…the Pushing the Boundaries Award.
The CFMAs have also announced that this year they will be adding the new "UNSUNG HERO / TRAVAILLEUR DE L'OMBRE" award in recognition of the exceptional contribution of an individual, group, or organization to the Canadian folk music scene. The recipient will be selected by a separate five-member jury, from the region where the 2011 awards will take place – in this case, Central Canada, which includes Ontario, Quebec and Nunavut. For further details please visit www.folkawards.ca.
SUBMISSIONS DEADLINE
is Thursday, June 30th, 2011.
EARLY BIRD SUBMISSION RATE
until Sunday, May 22, 2011.
Sound integrity is important for the selection process and since current online listening is sonically inferior in many cases, the CFMA jurors prefer to listen to the CD tracks straight from the CD. This way they will get the full impact of the immense effort applied to the music as well as the artwork and packaging as a whole.