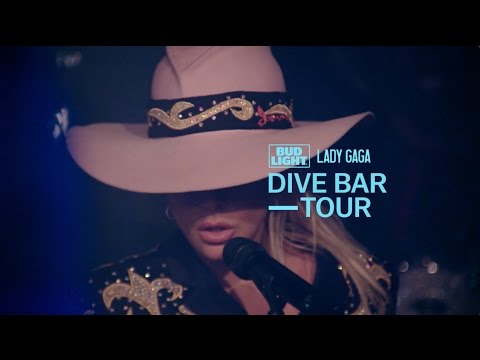 By Stephen Pate – After teasing fans with pre-release of 3 songs, Lady Gaga has released her new album
Joanne
and it's blockbuster.
Joanne is the best Lady Gaga album yet, probably since it's more approachable for me. I've always admired Lady Gaga's singing and musical talents but, lets face it,  was put off by her shock rock performance.
Turning her back on the outlandish 2013
Artpop
, Lady Gaga has returned to her talent for power singing and modern pop arrangements with hit producer Mark Ronson.
So the singing is powerful and the performances are still rocking, power singing with sexy choreography but no weirdness.
With Million Reasons breaking at 76 on the Billboard Hot 100 this week and Perfect Illusion at 95 after 5 weeks, Lady Gaga has built up hot demand for her latest CD.
She is promoting the album with a Dive Bar Tour sponsored by Bud Light. You can stream the live tour on October 27th on her Facebook page or Bud Light's.  They also have the earlier performances to stream. They are hot. I embed two songs below.
Mark Ronson has been a big hit maker for Bruno Mars and others so her choice was prescient. Ronson/Mars Uptown Funk went 10 times Platinum or Diamond last week, one of only 13 songs in history to sell 10 million copies. Ronson has the magic touch with audiences. Bruno Mars latest collaboration with Ronson 24K Magic broke this week at # 5 on the Billboard Hot 100.
There are plenty of country music references on Joanne including the obvious "A Yo" a collaboration with country writer
Hillary Lindsey
and Ronson. Hillary Lindsey, seen singing harmony with Lady Gaga in the Dive Bar Tour video of Million Reasons, is a Grammy winning Nashville songwriter of hits including Carrie Underwood's
Jesus Take The Wheel
. The third co-writer on
Jesus Takes The Wheel
was fellow Nova Scotian Gordie Sampson, by some accounts a distant relative of mine.
I've only had the CD since it downloaded Thursday night from iTunes so I'm not going to pass judgement on the CD. The first three songs had been in my daily rotation since they dropped so I expect that the CD will get the same treatment. That's something I really like about iTunes – you get the pre-release songs right away.
Judge for yourself. There's a good article on Wikipedia on the development and work done of Joanne you may find interesting. I did.
Available from iTunes Joanne (Deluxe) – Lady Gaga, Amazon.com and other outlets. There's an Explicit and Clean version if that matters to you.
Click HERE to read more