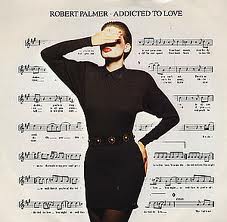 Your lights are on, but you're not home
Your mind is not your own
Your heart sweats, your body shakes
Another kiss is what it takes
You can't sleep, you can't eat
There's no doubt, you're in deep
Your throat is tight, you can't breathe
Another kiss is all you need
Ohh oohh
you like to think that you're immune to the stuff
It's closer to the truth to say you can't get enough
you know you're gonna have to face it
you're addicted to love
You see the signs, but you can't read
You're runnin' at a different speed
You heart beats in double time
Another kiss and you'll be mine, a one track mind
You can't be saved
Oblivion is all you crave
If there's some left for you
You don't mind if you do
Ohh oohh
You like to think that you're immune to the stuff
It's closer to the truth to say you can't get enough,
you know you're gonna have to face it
you're addicted to love
Might as well face it, you're addicted to love (5x)
Your lights are on, but you're not home
Your will is not your own
You're heart sweats and teeth grind
Another kiss and you'll be mine
Ohh oohh
you like to think that you're immune to the stuff
It's closer to the truth to say you can't get enough
you know you're gonna have to face it
you're addicted to love
Might as well face it, you're addicted to love (5x)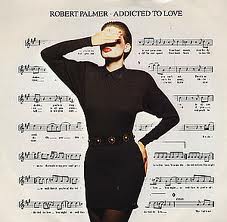 References
Uploaded by RobertPalmerVEVO on Dec 24, 2009
Wikipedia: Addicted to Love (song)
"Addicted to Love" is a song by Robert Palmer first released in 1986. The song has now become known as his signature song, thanks in part to a highly popular video featuring high fashion models. Other artists have released versions since.
This is the third song on the Riptide album. The most commonly heard version runs around four minutes, but the full album version runs a little over six minutes.
The song topped the Billboard Hot 100 chart, as well as spending two weeks atop the Billboard Top Rock Tracks chart, and it peaked at #5 on the UK Singles Chart.
Originally intended to be a duet with Chaka Khan, her record company at the time wouldn't grant her a release to work on Palmer's label, Island Records. Chaka Khan is still credited for the vocal arrangements in the album liner notes.
The guitar part on the song is played by Andy Taylor, then a member of Duran Duran, and keyboards by Wally Badarou. The song is also notable for the unaccompanied drum opening, which plays at 7/4. The rest of the song is in common 4/4 time.
Wikipedia: Riptide (album)
Riptide is the ninth solo album by the British singer Robert Palmer, released in November 1985.
Wikipedia: Robert Palmer (singer)
Robert Allen Palmer (19 January 1949 – 26 September 2003), born in Batley, Yorkshire, was a Grammy Award-winning English singer-songwriter. He was known for his distinctive voice and the eclectic mix of musical styles on his albums, combining soul, jazz, rock, pop, reggae and blues. He found success both in his solo career and in the supergroup Power Station, and had Top 10 songs in both the US and the UK.
His iconic music videos by Terence Donovan for the hits "Simply Irresistible" and "Addicted to Love", featured identically dressed dancing women with pale faces, dark eye makeup and bright red lipstick, which resembled the women in the art of Patrick Nagel, an artist popular in the 1980s. Sharp-suited, his involvement in the music industry commenced in the 1960s, covered five decades and included a spell with Vinegar Joe.
Click HERE to read more from William Belle
Article viewed at: Oye! Times at www.oyetimes.com