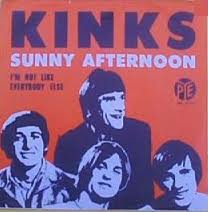 http://www.youtube.com/watch?v=1h1oRP7FfBw
The tax man's taken all my dough
And left me in my stately home
Lazing on a sunny afternoon
And I can't sail my yacht
He's taken everythin' I've got
All I've got's this sunny afternoon
Save me, save me
Save me from this squeeze
I've got a big fat momma tryin' to break me
And I love to live so pleasantly
Live this life of luxury
Lazing on a sunny afternoon
In the summertime, in the summertime
In the summertime
My girlfriend's gone off with my car
And gone back to her ma and pa
Telling tales of drunkenness and cruelty
Now I'm sitting here
Sipping at my ice cold beer
Lazing on a sunny afternoon
Help me, help me, help me sail away
Well, give me two good reasons
Why I ought to stay
'Cause I love to live so pleasantly
Live this life of luxury
Lazing on a sunny afternoon
In Summertime, in summertime
In summertime
Save me, save me
Save me from this squeeze
I've got a big fat momma tyin' to break me
And I love to live so pleasantly
Live this life of luxury
Lazing on a sunny afternoon
In the summertime, in the summertime
In the summertime, in the summertime
In the summertime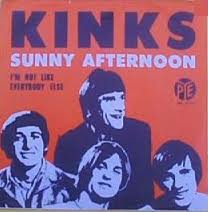 References
Uploaded by Rmiller07 on Jul 16, 2006
Wikipedia: Sunny Afternoon
"Sunny Afternoon" is a song by The Kinks, written by chief songwriter Ray Davies. The track later featured on the Face to Face album as well as being the title track for their 1967 compilation album. Its strong Music Hall flavour and lyrical focus was part of a stylistic departure for the band (begun with 1965's "A Well Respected Man"), who had risen to fame in 1964-65 with a series of hard-driving, power-chord rock hits.
Released as a single in 3 June 1966, it went to number 1 on the UK singles charts on 7 July 1966, remaining there for two weeks. The track also went to number 1 in Ireland on 18 July 1966. In America, it peaked at number fourteen on the Billboard Hot 100 pop singles chart early autumn 1966.[3] "Sunny Afternoon" was placed at #200 on Pitchfork Media's list of The 200 Greatest Songs of the 1960s.
The promotional video for the single featured the band performing in a cold, snowy environment.
Wikipedia: Face to Face (The Kinks album)
Face to Face, released in 1966 on Pye Records in the United Kingdom and on Reprise Records in the United States, is the fourth UK studio album by The Kinks. A major artistic breakthrough for Kinks' songwriter Ray Davies, the LP represents the first full flowering of Davies' use of narrative, observation, and wry social commentary in his songs. It heralded The Kinks' move away from the hard-driving rock and roll style of 1964-65, which had catapulted the group to international stardom. It was the first Kinks album consisting entirely of Ray Davies compositions, and was their first album recorded over several months, rather than in one concentrated session.
Wikipedia: The Kinks
The Kinks were an English rock band formed in Muswell Hill, North London, by brothers Ray and Dave Davies in 1964. Categorized in the United States as a British Invasion band, The Kinks are recognized as one of the most important and influential rock acts of the era.
Click HERE to read more from William Belle
Article viewed at: Oye! Times at www.oyetimes.com