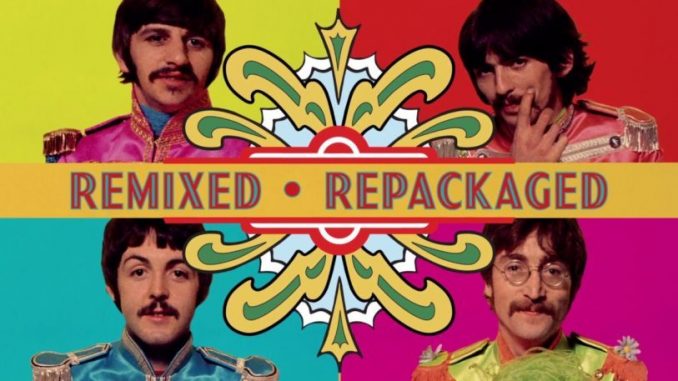 By Stephen Pate – The Beatles Sgt. Pepper's Lonely Hearts Club Band continues breaking record charts on both sides of the Atlantic.
The 50th Anniversary re-issue moved to 4th place on the Billboard 200 June 24th.
AdSense-A]"The Beatles' Sgt. Pepper's Lonely Hearts Club Band. The latter moves 3-4 on the Billboard 200 (47,000 units; down 41 percent, with 41,000 in album sales; down 43 percent), a week after it returned to the list." Billboard 200 moves
"The Billboard 200 chart ranks the week's most popular albums based on their overall consumption. That overall unit figure combines pure album sales, track equivalent albums (TEA) and streaming equivalent albums (SEA)."
In the UK, Sgt. Pepper ended its 423rd week on the charts at #7. BBC
The Beatles are the best-selling music act of all time. They have sold 2.5 billion records since 1963, a record that remains unchallenged. (Source: Washington Post and CBS)
Sgt. Pepper at #2 Billboard Vinyl chart June 24, 2017
I am glad they re-issued the 50th Anniversary. The re-issue is awesome with a big improvement in clarity and much stronger bass. They had tone down the bass on 60's vinyl LP's to keep the needle in the groove.
There are 4 editions of the re-issue and each one has excellent documentation on the tracks and recording process.
What's Inside 4 Editions Of The Beatles Sgt. Peppers 50th
The music has been remastered from the original tapes. The result is a vast improvement over the 1967 mono and stereo vinyl.
The stereo image is more realistic compared with the crude 1967 stereo mix with the vocals on one side and the instruments on another.
---
Shop – Sgt. Pepper's Lonely Hearts Club Band from Amazon.com, Amazon.ca in Canada, and Amazon.co.uk in Great Britain.