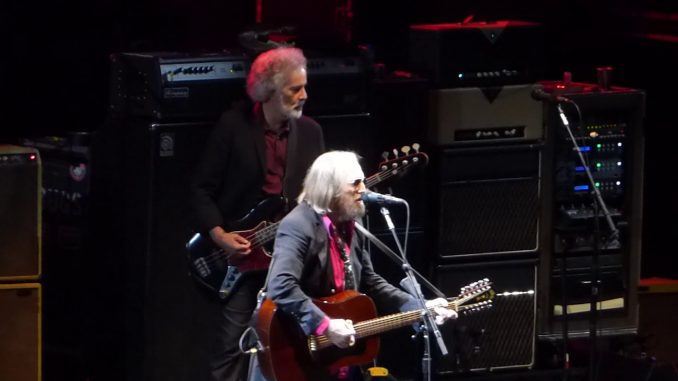 Tom Petty (with Steve Ferronne) at New Orleans Jazz & Heritage Festival 2012 (photo Takahiro Kyono CC)
By Stephen Pate – Update Tom Petty was confirmed dead after suffering cardiac arrest at his home in Malibu in the early hours and was taken to UCLA Medical Center. He died peacefully at 8:40 pm PT.
This was after and evening of conflicting reports of his death and survival from a heart attack at home.
"He suffered cardiac arrest at his home in Malibu in the early hours of this morning and was taken to UCLA Medical Center but could not be revived. He died peacefully at 8:40pm PT surrounded by family, his band mates and friends," Dimitriades said in a statement. CNN

Long Description
Tom Petty's Twitter account announces his death
Update 8:00 EDT apparently there is some confusion about Tom Petty being dead. His daughter's post on Instagram tears a strip off Rolling Stone Magazine for pronouncing her father dead.

Long Description
Instagram post purportedly from Tom Petty's daughter tearing strip of Rolling Stone and TMZ by inference since they reported the story first.
According to sources he did not die on Sunday and is hanging on.
Uproxx reported "Of course, it's easy to understand the outrage a daughter would feel at these false reports, but Rolling Stone was far from the only outlet to run with a report from the LAPD that Petty had indeed passed after initial reports of his heart attack. Although we have not been able to officially verify the account, it contains images of Annakim and Petty that would be difficult to fake, and insidious if faked. It seems to portray a very loving daughter grappling with the grief of her father's imminent passing."
It was earlier reported that Tom Petty, who led the popular band Tom Petty and The Heartbreakers, was found dead unconscious in his Malibu home on Sunday October 1, 2017.
He apparently suffered a heart attack and was found not breathing, unconscious and in full cardiac arrest.
TMZ
reported the hospital found no brain activity and he was removed from life support on Monday. Petty had a do not
resuscitate order.
Tom Petty was known as the leader of Tom Petty and The Heartbreakers, had toured with Bob Dylan in the 1980's and was a member of the supergroup The Travelling Wilburys with Bob Dylan, George Harrison, Roy Orbison and Jeff Lynne.
"It's shocking, crushing news," Petty's friend and Traveling Wilburys band mate Bob Dylan told Rolling Stone in a statement. "I thought the world of Tom. He was great performer, full of the light, a friend, and I'll never forget him."
John Mayer took to Twitter along with scores of other musicians to mourn his passing. "I loved Tom Petty and I covered his songs because I wanted know what it felt like to fly."

Long Description
John Mayer on Tom Petty's death (Twitter)
Tom Petty was born in Gainesville Florida on October 20, 1950. He said The Beatles inspired him to become a rock and roll musician. "The minute I saw the Beatles on the Ed Sullivan Show — and it's true of thousands of guys — there was the way out. There was the way to do it. You get your friends and you're a self-contained unit. And you make the music. And it looked like so much fun."
Tom Petty's hits include "Free Fallin'", "I Won't Back Down", "Runnin' Down A Dream", "Learning To Fly" and "Mary Jane's Last Dance" which are included on the 2-CD release Anthology. The award-winning videos of his hits are on the DVD Tom Petty & The Heartbreakers – Playback.
Click HERE to read more