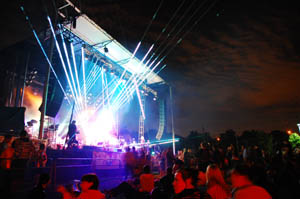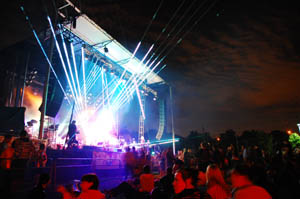 Successful Mississauga Waterfront Festival Concert by Producer Vikas Kohli
Over 20,000 people witnessed the Monster Rock Orchestra performance this weekend at the 16th annual Mississauga Waterfront Festival at the Port Credit Memorial Park.
"The Monster Rock Orchestra was a mind blowing success. It feels great to know we pulled off something that no one has ever done before. The amazingly skilled musicians and tech crew entertained the audience from start to finish with this high quality and creative production," says talented multi-award winning music composer and producer Vikas Kohli of FatLabs, adding, "Hitting the festivals attendance capacity on Saturday night was a high point and I have to thank Joe Natale for overseeing the technical production, the Waterfront Festival board of directors for having the vision to see this through, as well as the City of Mississauga and the many sponsors for supporting us in this venture."

Before the packed Saturday evening performance, there was a special opening ceremony with Mayor Hazel McCallion, MP Stella Ambler, MPP Charles Souza, Councillor Jim Tovey, Festival Chair Pat Anderson, and Festival Director Karen Priest. Then the Monster Rock Orchestra took the audience through 50 years of iconic rock'n'roll by performing hit song after hit song including 'Wipe Out' (The Ventures), 'Surfin' USA' (Beach Boys), 'Help' (Beatles),'Whole Lotta Love' (Led Zeppelin), 'Sweet Child of Mine' and 'November Rain' (Guns 'n' Roses), 'It's a Beautiful Day' (U2) and more!
An amazing surround laser light and water show using technology brought in from MGM Casino in Las Vegas and never before witnessed in the GTA was set in synchronisation with music from The Monster Rock Orchestra to give a superbly spectacular show! The evening ended with the appreciative audience screaming for an encore!
The Monster Rock Orchestra pushed new boundaries and set the Port Credit Memorial Park on fire! This was as magnificent as it gets!