One of my favorite performers, the Man with a Thousand Songs, will be at Stan Rogers Festival and on PEI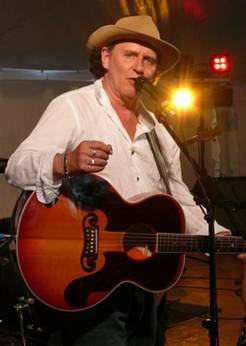 The singer songwriter of "Sonny's Dream" is touring the Maritimes, June 29th to July 1 at the Stan Rogers Folk Festival in Canso.
On July 3rd and 4th, Ron returns to PEI at the Trailside Cafe in Mt. Stewart.
Ron is currently promoting his Stealing Genius CD, a unique collection of songs written or inspired by Newfoundland poets and writers.
In a quiet way, "Stealing Genius" is one of the most intriguing and authentic albums of the man and Newfoundland.
Wherever Ron goes people warm to him and always, always want to hear 'Sonny's Dream'.
By Stephen Pate, NJN Network
Ron Hynes' appearances this summer
Jun 29, 2012
TBA
Stan Rogers Folk Festival
Canso, NS
Jun 30, 2012
TBA
Stan Rogers Folk Festival
Canso, NS
Jul 1, 2012
TBA
Stan Rogers Folk Festival
Canso, NS
Jul 3, 2012
8:00 PM
Trailside Cafe, 109 Main Street
Mount Stewart, PE
Jul 4, 2012
8:00 PM
Trailside Cafe, 109 Main Street
Mount Stewart, PE
Jul 7, 2012
8:00 PM
Gerald S Doyle Folk Song Festival, The Beaches Heritage Centre
Eastport, NL
Jul 14, 2012
8:00 PM
The Garrick Theatre
Bonavista, NL
Jul 15, 2012
7:30 PM
St. George's Heritage Church
Brigus, NL
Jul 22, 2012
TBA
Shamrock Festival
Ferryland, NL
Aug 9, 2012
TBA
Lunenburg Folk Harbour Festival
Lunenburg, NS
Aug 10, 2012
TBA
Lunenburg Folk Harbour Festival
Lunenburg, NS
Aug 11, 2012
8:00 PM
Wonderful Grand Band @ Mile One Centre w/ Hey Rosetta, Amelia Curran, Andrew James O'Brien and more…
Lunenburg, NS
Aug 14, 2012
8:00 PM
Creek View Restaurant, SOLD OUT
Gagetown, NB
Aug 16, 2012
8:00 PM
Creek View Restaurant, SOLD OUT
Gagetown, NB
Aug 18, 2012
TBA
Rising Tide Festival, Fundy National Park
Fundy National Park, NB
Aug 20, 2012
8:00 PM
Victoria Playhouse
Victoria, PE