One of the hottest indie bands will release their new CD 3 years and 1 month after "Sigh No More" in 2009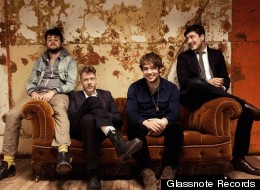 The long-awaited Mumford and Sons new CD called "Babel" will arrive Sept 24, 2012 and is available for pre-order July 23rd.
Mumford and Sons is now on tour in the United States. Tour listings are at the end of the story.
The new album was started 18 months ago working with producer Markus Dravs who was responsible for producing their 2 x Platinum album "Sigh No More."
"We had started writing new songs well before we got into the studio to record. At first, we peeled ourselves off the road quite reluctantly. We love playing live, obviously, but it had also become an important part of our creative process, we had been writing and rehearsing in soundchecks, and sort of 'road-testing' new songs on our very gracious audiences."
"But then we fell in love with recording again. The album started to come together, and with the help of Markus Dravs once more (and engineer Robin Baynton), we started to relish the challenge of making this album."
"As a band, we've never been closer or more collaborative, all working to our strengths. And so we feel that this record is a natural progression that we're proud of, and we cannot wait to take it out on the road."
Some fans worried the new CD would be dark. Ben Lovett told Rolling Stone, "There's similarities, yeah," he said. "Nothing's really changed in our dynamic as a band. We write songs together and they're very much based in our experiences. The instruments are pretty much the same, except for a few we've picked up along the way. For the most part, it's a progression. We don't want to reinvent ourselves."
Babel Track Listing
"Babel"
"Whispers in the Dark"
"I Will Wait"
"Holland Road"
"Ghosts That We Knew"
"Lover of the Light
"Lovers' Eyes"
"Reminder"
"Hopeless Wanderer"
"Broken Crown"
"Below My Feet"
"Not With Haste"
Why did it take 3 years for the new CD?
Market demand for a new Mumford and Sons CD has built through 2012. It is unusual that Mumford and Sons did not capitalize on their success earlier with a follow-up to "Sigh No More" but the story is it took 18 months for the first CD to catch on with the public.
The Beatles released "Please Please Me" in March of 1963 and followed that "Beatlemania" 7 months later in November 1963. Bob Dylan record his eponymous first album in March 1962 and followed with "The Freewheelin' Bob Dylan" 14 months later in May 1963.
Mumford and Sons started in the UK with nothing in 2007. By the time they went to record "Sigh No More", they didn't even own enough instruments to record. So they showed up empty-handed for recording sessions.
The bands big break this side of the Atlantic came in February 2010 when they appeared on the David Letterman Show. Mumford and Sons began a frantic tour schedule that took them around the world.
As their popularity grew, they were nominated for a US Grammy Award. At the February 2011 Award ceremony, the band did not win the Grammy but they got something better. North American audiences saw them perform on the stage with Bob Dylan and The Avett Brothers.
Their performance was so fresh and powerful I wrote Mumford and Sons win on Grammys. Sales of "Sigh No More" shot up 156% and North American audiences fell in love with Mumford and Sons. Here's that performance.
Mumford and Sons, The Avett Brothers and Bob Dylan on The Grammy Awards 2011
Mumford & Sons U.S. Tour
August 1 Hoboken, NJ
August 4 Portland, ME
August 6 Providence, RI
August 7 Canandaigua, NY
August 9 Portsmouth, VA
August 11 Bristol, TN
August 13 Louisville, KY
August 14 Columbus, OH
August 16 Chicago, IL
August 18 Dixon, IL
August 20 Lincoln, NE
August 21 Laramie, WY
August 22 Magna, UT
August 25 – Monterey, CA
August 28 and 29 Morrison, CO
September 9/1 Aspen, CO
Many of the shows are already sold old. Check the official listing for details and new dates.
By Stephen Pate, NJN Network