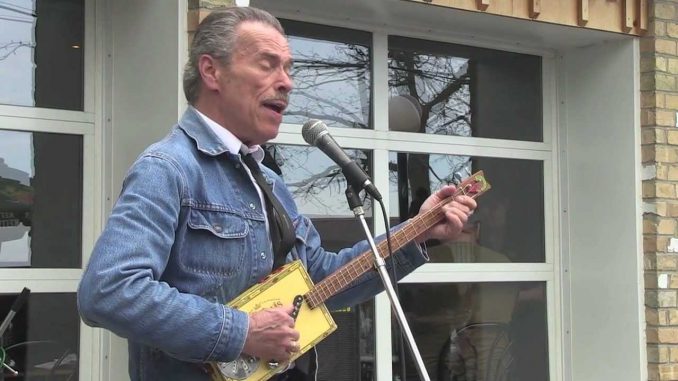 Solo blues man brings it all back home with unique delta blues style
One night last summer we wandered into Bearly's House of Blues and Ribs for some of both.
The wooden floored bar at the down end of Barrington Street is home to Halifax's best ribs and features great artists like Guy Davis, Garret Mason and Morgan Davis.
That night Morgan Davis was up. In the dark blue and purple light he played an eerily lonely guitar and sang from the bottom of despair. But there was also joy and humor in the music. It was so elemental that it grabbed me.
In an unassuming and quiet way, Morgan Davis was transporting the audience back to an old juke joint on the Mississippi delta, a bar so bad they didn't hire the band.
Backed only by a drummer who looked on the edge, it was a low-key but awesome night of music. Before he left, I bought his "Drive My Blues Away" CD.
Morgan Davis has traveled all over North America singing the blues for more than 40 years. He has played in bands but now he likes to ride solo.
He has played with Albert King, amazingly with Sleepy John Estes, Hubert Sumlin, James Cotton and John Lee Hooker among dozens of name blues musicians. Morgan has a pictorial history of those 40 years on his website.
It was delta blues that got Morgan's attention. Whatever he played over those 40 years, it's the delta blues that he is playing now on the road. His motto is "I'll be in your town when I get there."
Drive My Blues Away
"Drive My Blues Away" has songs by Robert Johnson, Lightning Hopkins, Rice Miller and Skip James along with some of his own material. "Thank You Mr. Reed" is a tribute to Jimmy Reed, using the titles of 27 Jimmy Reed songs for the lyrics.
Robert Johnson's "When You've Got a Good Friend" is performed on a cigar box guitar which is something Robert Johnson would have used. It's not a gimmick. It's mesmerizing.

Morgan Davis "When You've Got A Good Friend"
"Drive My Blues Away" was produced by Colin Linden, Nashville Producer and member of Blackie and the Rodeo Kings. When Morgan recorded his first album in 1981, Colin Linden a formidable blues guitar wizard, was in Morgan's band. Linden is a great producer and musician and has put his stamp on this CD.
"Drive My Blues Away" got inside my head. It is on my computer, phone, the network, in the car. I probably drove my wife a little crazy listening to it.
The CD is very much like Morgan's live shows, basic without much ornamentation. Colin Linden plays guitar on "Happy Song". Franz plays percussion on "Sure As You Live." Seymour Townes plays harmonica.

Morgan Davis "Sure As You Live"
Morgan Davis on the Blues
When he is not performing, Morgan Davis gives a 90-minute lecture called Morgan Davis History of the Blues. He has presented it at blues festivals and takes bookings.

Morgan Davis also gives paid house parties called The M.D. House Call. He will come to your party and entertain your guests. "M.D. will show up with all the gear and put on a private show of live blues for you and your invited guests… in your house!"
I was driving along with my wife before the night at Bearly's and she told me she got an invitation to one of the house parties but didn't know I would want to go. Arghh!
She doesn't know he is playing tomorrow night December 13th at Bearly's again. I'll see if she has a hankering for the ribs again.
The CD is also reviewed by the Toronto Blues Society.
4.5 / 5 stars