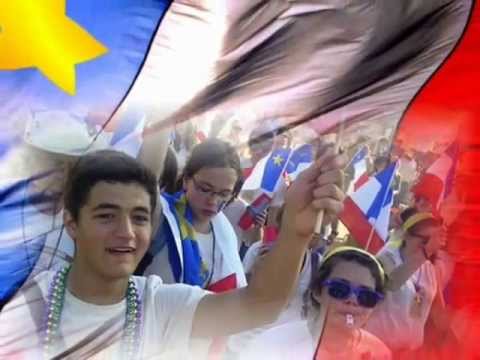 Canada loses one of its beloved chansonnières , Angèle Arsenault, who passed away at the age of 70 years.
Acadians and Canadians are deeply saddened by the passing of Angèle Arsenault of Abram's Village PEI. She died Tuesday in Saint Sauveur, Quebec.
Angèle Arsenault was a much-loved performer of Acadian and her own original music. She began her career in Atlantic Canada, then became a success in Quebec and internationally.
Her style, she told me in an interview, was a combination of Acadian folk songs, Quebec folk singer Mary Travers (not of Peter Paul and Mary) also known as La Bolduc and Bette Milder. From her Acadian roots, Angèle Arsenault took the subjects of the people and their lives. From La Bolduc, Angèle Arsenault took a populist Quebec folk singing style that spoke directly to the people.
"I loved watching Bette Midler," she said explaining the secret of her success. "I wanted my music to be expressive like hers, full of emotion. She held nothing back."
That joy and sense of humor filled her performances. Audiences smiled and sang along her popular songs like "Evangeline Acadian Queen" and "Moi j'mange" (Me I Eat). Her songs both revered the Acadian life and mocked it's clichés with affection. For the audience, every performance from PEI's Acadian charmer was a moment of joy. Angèle had an infectious spirit lifted the audience.

"Evangeline Acadian Queen" – video adaptation of Angèle Arsenault's song.
Angèle Arsenault was born in October 1, 1943 in Abrams Village, Prince Edward Island, the 8th of 13 children. Her family was musical and she learned many of the Acadian folk songs and sang locally in the traditional Island kitchen parties.
Angèle Arsenault received a Master of Arts from the Université de Moncton and a Master of Arts from Université Laval in 1968. After that she moved to Montreal Quebec and started he career included television shows, concert appearances and 13 record albums.
In 1996 Angèle Arsenault returned to Prince Edward Island to be close to her family but she did not retire. Along with local music festivals she recorded two more albums, toured and appeared on television. Angèle Arsenault was the epitome of musical talent, energy and zest for life.
In 2008 she recorded "D'est en Ouest" a short film about PEI and the Acadian Evangeline Region with narration and music by Angele Arsenault.
Angèle Arsenault won many national and international awards for her life's work, including a Lifetime Achievement Award by Music PEI. Angèle Arsenault was a member of the Order of Canada and the Order of PEI.
"Arsenault was commissioned to translate the lyrics for the P.E.I. 2014 celebration theme song Forever Strong, and was recently part of a show that travelled across Canada promoting events on P.E.I. celebrating 2014." CBC
Funeral and other arrangements to be announced.
The exact place of her death is unknown. CBC Radio Canada reported she died in a hospital in Saint Sauveur; however, there is no hospital in Saint Sauveur.
Fan website
L'Acadie perd une de ses étoiles, Angèle Arsenault est décédée
By CBC Radio Canada – (translation) Angèle Arsenault, from Abram -Village , PEI, Prince Edward Island , died Tuesday at the Hospital of Saint-Sauveur, Quebec.
With her round glasses and a bright smile, her simple and true words , Angèle Arsenault has touched the hearts of audiences.
She made her stage debut in 1963 in Moncton. She began her career performing traditional Acadian songs.
"I was not big enough, not thin enough . I could not be like my idols , Hollywood stars . So if I could not be that, what was I? I had to go to see inside myself. " – Angèle Arsenault
By sharing her daily life, which many people recognize , she becomes famous. Her album "Libre" sold over 300 000 copies in 1978.
Acadia also inspired her most beautiful songs , "Grand -Pré and "There's a star for you." Other popular songs include "Moi j'mange , and "Je veux toute toute toute la vivre ma vie."
"My songs are accessible to everyone, my uncles and aunts who do not even read or write." she said "And that all my songs just like that. There must be something that goes to the heart , which also goes to intelligence, which can change something. "
Angèle Arsenault was a regular guest at festivals in Canada and France , in May 2013, she participated in the show "The return of our idols " with Fugain Michel and Jean -Pierre Ferland, the Capitole de Québec .
The date of the funeral has not yet been disclosed.
By Stephen Pate, NJN Network