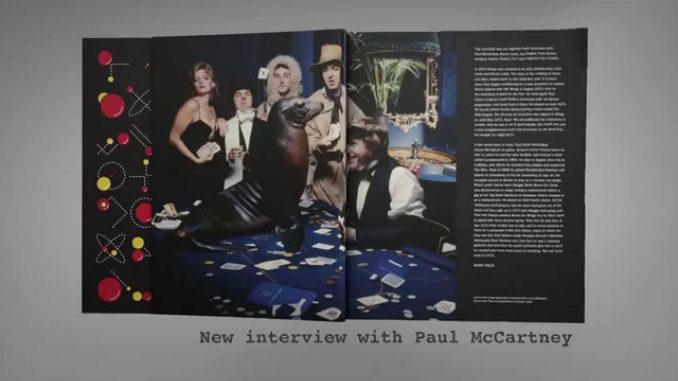 This article was last updated on May 27, 2022
Canada:

Oye! Times readers Get FREE $30 to spend on Amazon, Walmart…
USA:

Oye! Times readers Get FREE $30 to spend on Amazon, Walmart…

Sir Paul McCartney has released remastered Venus and Mars and it costs less in Canada
By Stephen Pate – Despite the people issues in trying to keep a group of unequal talents in play, Sir Paul McCartney succeeded with Wings 4th and 5th albums – Venus and Mars and Wings at the Speed of Sound.
Both albums are re-released with remastered sound in Deluxe packages this month.
Along with Bob Dylan's Basement Tapes, it's an abundance of musical riches for fans.
The original Venus and Mars CD had plenty of hits and familiar songs like "Junior's Farm", "Listen to What the Man Said", "Venus and Mars" and "Rock Show" to keep us happy in 1975.
We were just starting to realize in 1975 that Paul McCartney was fantastically gifted and talented inside and outside The Beatles. I won't make comparisons with Lennon and Harrison but McCartney did keep up the musical output.
We all love Paul's singing on ballads and rock songs and I really dig his bass guitar work. Of course Denny Laine on lead guitar was awesome, which comes through the mix in this re-issue.
This reissue pulls out all the stops with personal re-mastering supervision by Paul at Abbey Road Studios which has fabled sound. The remastered sound does the album justice. Everyone is raving about it.

Four versions to consider and collect
Sir Paul pulls out all the stops to make you feel special with the deluxe package, offering Wings fans materials that are not available otherwise at a reasonable $69 price.
This package and Wings Over America [Deluxe Edition] are very collectible and a treat for fans like myself.
Better in Canada?
You bet things are better in Canada. All three packages cost less!
We get free shipping in Canada after $25 and no US Exchange to pay. Our Canadian $ is sliding down. Gotta love Amazon.ca who want the Canadian business.
Sometimes we save the HST (VAT) on shipments from the US but not always.
Check out Sir Paul McCartney's website. Sign up for free downloads.
Follow me on Twitter at @sdpate or on Facebook at NJN Network, OyeTimes and IMA News Buzz. You can also subscribe and automatically receive notifications of new stories by email. We do not share your email with advertisers. The subscription form is on this page in the left and right columns.
By Stephen Pate, NJN Network
You can publish this article on your website as long as you provide a link back to this page.