This article was last updated on May 27, 2022
Canada:

Oye! Times readers Get FREE $30 to spend on Amazon, Walmart…
USA:

Oye! Times readers Get FREE $30 to spend on Amazon, Walmart…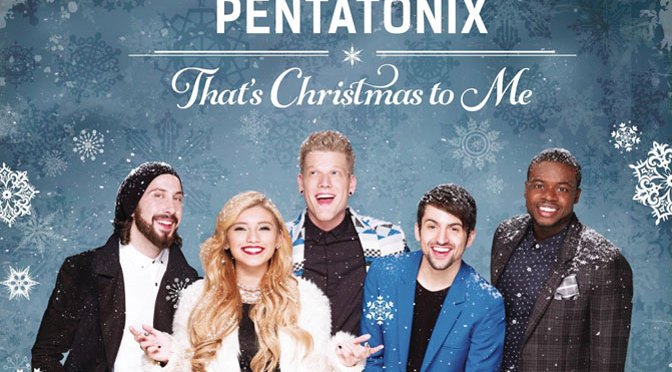 A cappella Christmas CD soars up Billboard 200 with happy Christmas music
By Stephen Pate – I thought there were enough Christmas CDs in my collection until I heard That's Christmas To Me by Pentatonix. It's hard to strike a fresh pose with the old favorites at Christmas but Pentatonix has done it.
Pentatonix is an a cappella group from Texas who are winning hearts and fans this Christmas with their happy music.
The new CD That's Christmas To Me is #1 in top 100 CDs on Amazon.com and # 8 and rising on the Billboard 200.
The CD has fresh arrangements, its musical and there is enough family, season and Christ-child to put us in the right frame of mind.
"The only gift I'll ever need is the joy of family," they sing in perfect harmony. Keep that thought and we might have a chance to keep the joy of Christmas amidst the rush of the season and the ugly newscasts.
Getting the joy of Christmas can be a tough one. Christmas is one of our most emotionally charged holidays. Indulge yourself in a little happiness and hope. It won't hurt and perhaps we'll all raise the level a bit.
Pentatonix hail from Arlington Texas. Formed in 2011, the group won the NBC Sing-Off and specialize in unique a cappella covers of familiar material.
The harmonies are excellent and they are helped by the "basso profondo" voice of Avi Kaplan. It's hard to conceptualize that's a human voice hitting those bass notes and not some synthesizer. Awesome.
On "Sleigh Ride" they conjure up the spirit of Alvin and the Chipmunks for a few lines. "Mary Did You Know" is dramatically reverential. "Winter Wonderland / Don't Worry Be Happy" is a bright surprise. At first I wondered if the song was their hit. Not but it does do Bobby McFerrin proud. "Silent Night" strikes the right note of peaceful beauty and reverence.

In some ways they remind me of the Carpenters but better. It's all good fun and great music. The CD definitely different from anything you normally hear and a joy for my ears. Perfect.
That's Christmas To Me is available from iTunes, Amazon.com, Amazon.ca and your local music store. For more about Pentatonix, check out the official website where you will find some fun holiday activities and Wikipedia.
Follow me on Twitter at @sdpate or on Facebook at NJN Network, OyeTimes and IMA News Buzz. You can also subscribe and automatically receive notifications of new stories by email. We do not share your email with advertisers. The subscription form is on this page in the left and right columns.
5 / 5 stars
You can publish this article on your website as long as you provide a link back to this page.