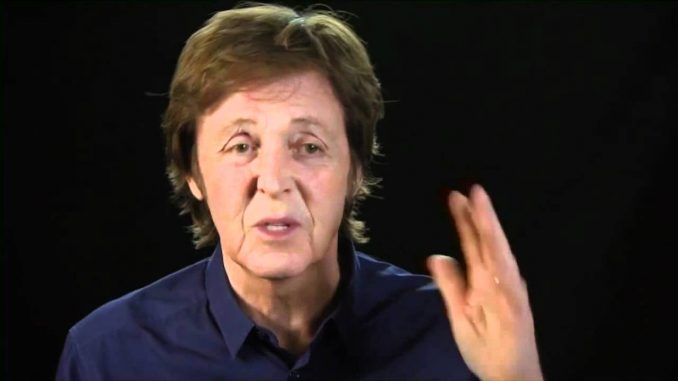 Awesome – the star-studded 2012 MusiCares concert honoring Sir Paul McCartney is now available on home video
By Stephen Pate – Beatles and Sir Paul McCartney fans did not have to wait long for the release of the A MusiCares Tribute To Paul McCartney Coming on Blu-ray and DVD.

Announced at the end of January, the single disc tribute is available as of March 25th, 2015 in the USA and Canada and April 28th in iTunes (link below).
A Musicares Tribute To Paul Mccartney [Blu-ray] [2015]

is scheduled for May 11th release in the UK. You can pre-order now and wait until then or order it from the
USA

or
Canada

in the meantime.
Featured image – Paul McCartney et sa belle epouse Nancy Shevell (with his beautiful wife Nancy Shevell)- Paris Match photo
The Bob Dylan 2015 concert was announced heading to DVD yesterday: Dylan fans wait with keen anticipation for a quick release of Dylan's tribute.
Fans will be relieved to know that they will get a heavy dose of Paul McCartney unlike last year's tribute CD The Art of McCartney

. It only had other artists singing McCartney's music. It is a decent 2-Cd set but nothing compares to Paul McCartney himself.

Performances on the 60 minute McCartney disc include:
| | |
| --- | --- |
| Cirque du Soleil | Get Back / Hello Goodbye/ Sgt. Pepper's Lonely Hearts Club Band |
| Paul McCartney | Magical Mystery Tour, |
| Alicia Keys | Blackbird |
| Alison Krauss & Union Station | No More Lonely Nights |
| Duane Eddy | And I Love Her |
| Norah Jones | Oh! Darling |
| Neil Young and Crazy Horse | I Saw Her Standing There |
| Sergio Mendes | The Fool On The Hill |
| Coldplay | We Can Work It Out – |
| James Taylor with Diana Krall | Yesterday & For No One |
| Paul McCartney | My Valentine & Nineteen Hundred And Eighty Five |
| Paul McCartney, Dave Grohl, Joe Walsh | Golden Slumbers, Carry That Weight, The End |
Blu-Ray or DVD?
If you have a Blu-ray player, it is the best choice. The 1080 HD video is super sharp compared to the DVD and you get a choice of 5.1 or PCM stereo sound. Personally, I prefer the PCM sound since it is less digitally compressed but a great 5.1 surround system can really enhance the concert experience.
Get the Blue-ray or DVD
A MusiCares Tribute To Paul McCartney (BluRay) [Blu-ray]

from Amazon.com or Amazon.ca in Canada

. Pre-Order for May 11th in the UK

.
Available April 28th on iTunes.
User Reviews
There aren't that many reviews yet but 2 out of 4 gave it 5 stars on Amazon.com.
"In 2012, Sir Paul McCartney was honored at MusiCares "Person Of The Year" during Grammy Awards weekend. This benefit concert has now been issued on DVD and Blu-ray by Shout Factory. While much too short – only 60 minutes – the performances are mostly superb, beginning with a medley of "Get Back," "Hello Goodbye," and "Sgt. Pepper's Lonely Hearts Club Band," with Cirque du Soleil and the cast of The Beatles' Las Vegas show Love."
2 people complained about the missing performances but what can you do?Personally I am looking forward to getting my copy.
I've seen Paul McCartney live and on DVD/Blu-Ray and he is a fantastic performer. People that don't like him are few and far between but they always seem to pop up on the internet to express their usual negativity.
Sir Paul McCartney is probably one of the greatest performers of the last 100 years. He writes the songs, plays guitar, bass and piano, sings and charms the socks off audiences where ever he goes.
"During a sold-out gala event on Feb. 10, 2012, 18-time GRAMMY winner McCartney, along with a cast of superstar guests, performed some of the quintessential songs from his celebrated career. The 15 exclusive performances featured on A MusiCares Tribute To Paul McCartney include exceptional solo performances by McCartney of "Magical Mystery Tour," "Junior's Farm," and "My Valentine"; a riveting medley of "Golden Slumbers," "Carry That Weight" and "The End" by McCartney, with Dave Grohl and Joe Walsh joining the performance of "The End"; and incredible performances by a slate of GRAMMY-winning artists, including Alison Krauss & Union Station featuring Jerry Douglas, Coldplay, Norah Jones, Alicia Keys, Diana Krall, James Taylor, and Neil Young with Crazy Horse."
"Proceeds from the sale of A MusiCares Tribute To Paul McCartney will provide essential support for MusiCares, which ensures that music people have a place to turn in times of financial, medical and personal need."
Follow Stephen Pate
Twitter – @sdpate
Facebook at NJN Network
Add the NJN icon to your desktop
Subscribe and get new stories by email
By Stephen Pate, NJN Network