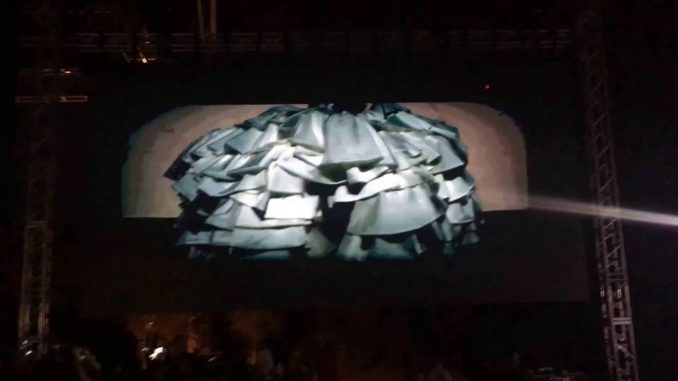 Sia – Nostalgic for the Present Tour Lebanon (photo XNUG.TV)
By Stephen Pate – Sia licked off her Nostalgic For The Present worldwide tour in Byblos Lebanon yesterday.
Byblos Lebanon is one of the oldest cities in the world, continuously inhabited since 5,000 BC. Ancient or what.
Sia is the emerging artist who has captured everyone's attention with her hit song "Cheap Thrills" this summer's top pop song.
She is a totally unique singer who disguises her face on stage by not facing the camera or wearing a face wig.
True to her recent form, Sia wore a huge white bow hat over a black and white wig covering her face in the concert.
Maddie Ziegler danced madly on stage during "Alive" in the video above while dancers joined Sia for other songs more or less after the format of her recent videos.
Sia keeps her face hidden but her emotions were belted out from the stage to the delight of fans.
Sia told reporters she wants to remain anonymous so hides her face in performance. After years of recording and performance she has finally hit her stride. The face wig shtick may be part of her success but it owes more to the strength of her singing and the dance.
I am a recent convert to Sia fans, discovering her on Good Morning America this summer. She is one of my new finds on a quest to get beyond listening to golden oldies from the 60's like Dylan, Paul Simon and the Eagles. I was limiting myself too much.
She has been a feature artist on Ellen, Jimmy Kimmel and The Late Late Show with James Corden for the past year. Her YouTube videos have more than half a billion hits.
The tour continues in Tel Aviv tomorrow and across Europe, the United States and Canada until November 6th. Click here for cities and dates near you. Tickets are reasonably priced.
If I could figure out how to get to Toronto on the cheap I'd get tickets to see her there.
iflix32 is a site that promises to live stream the concerts but I couldn't find any reviews. If you try it and it works, leave a comment below.
To get Sia's music on your smart phone, go to iTunes Store, iTunes Music or Amazon.com.
For more about her career and life, check out Wikipedia. Sia's fan site is siamusic.net.
For more about Sia see – Cheap Thrills
By Stephen Pate, NJN Network